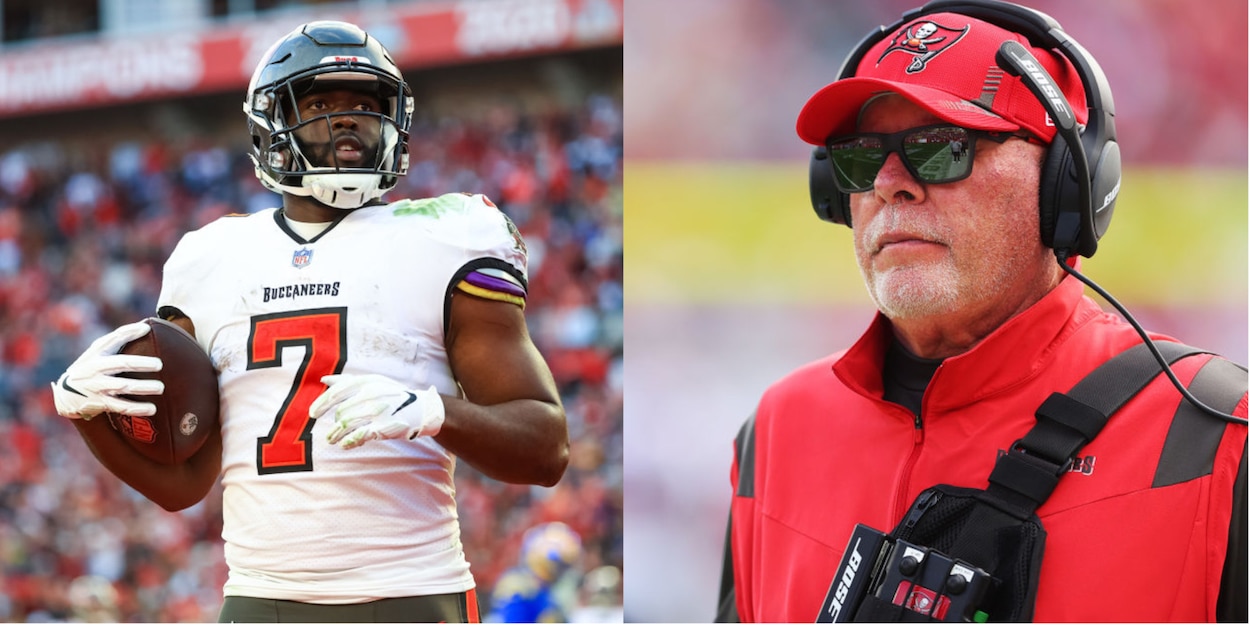 Leonard Fournette Talks About the Real Bruce Arians and the Conversation That Changed His Career
If you've ever wanted to know more about what Bruce Arians is really like, Leonard Fournette has you covered.
When you think of a stereotypical football coach, you probably imagine someone akin to a drill sergeant, blowing their whistle, shouting at players, and demanding they do push-ups. While that style of leadership may have worked back in the day, things are a little bit different now. Just consider Bruce Arians as an example.
Although the former Tampa Bay Buccaneers coach recently left the sidelines to move into the front office, he was known as the sort of guy who coached his players hard but hugged them even harder. Leonard Fournette can speak to that reality firsthand.
At the Collision conference in Toronto, the Bucs' top running back sat down with Sportscasting to chat about his gaming endeavors and a bit of football. During that conversation, he shared his experiences with Arians and revisited a conversation with the coach that changed his career.
Leonard Fournette appreciated his time with the 'old-school' Bruce Arians
In the world of sports, most bench bosses are divided between disciplinarians and players' coaches. While it might seem easy to put Bruce Arians into the former category — he promised his Bucs would have an old-school training camp and, more recently, earned a fine for slapping his own player on the helmet — he's apparently able to speak to both sides of the equation.
"He's a sweet man, man," Leonard Fournette told Sportscasting. "I loved playing for Coach BA."
That doesn't mean Arians is everyone's cup of tea, though.
"And, my two years with him, getting to know him, he's old-school, you know. Tough-nosed, hard-fought grit. That's what he grew up on, that's what he's all about, and a lot of people are not used to hard coaching. But guys like myself, I had my father my whole life who's always been hard on me, so it's no pressure, man. And I enjoyed playing for him."
Revisiting the conversation that changed Fournette's career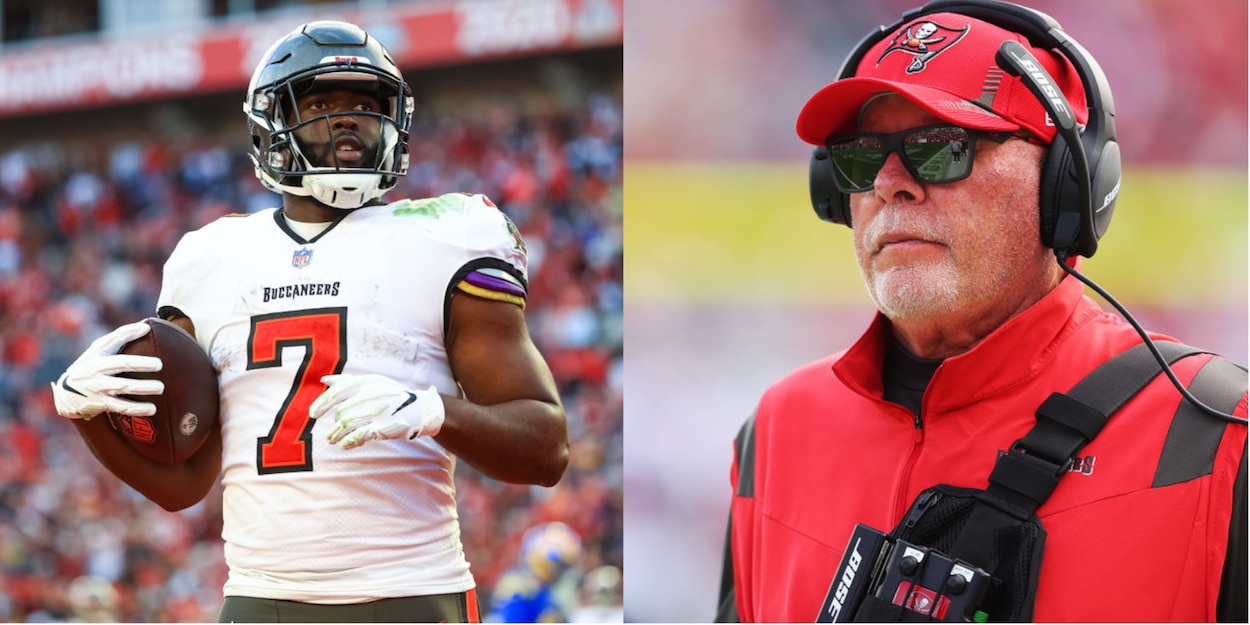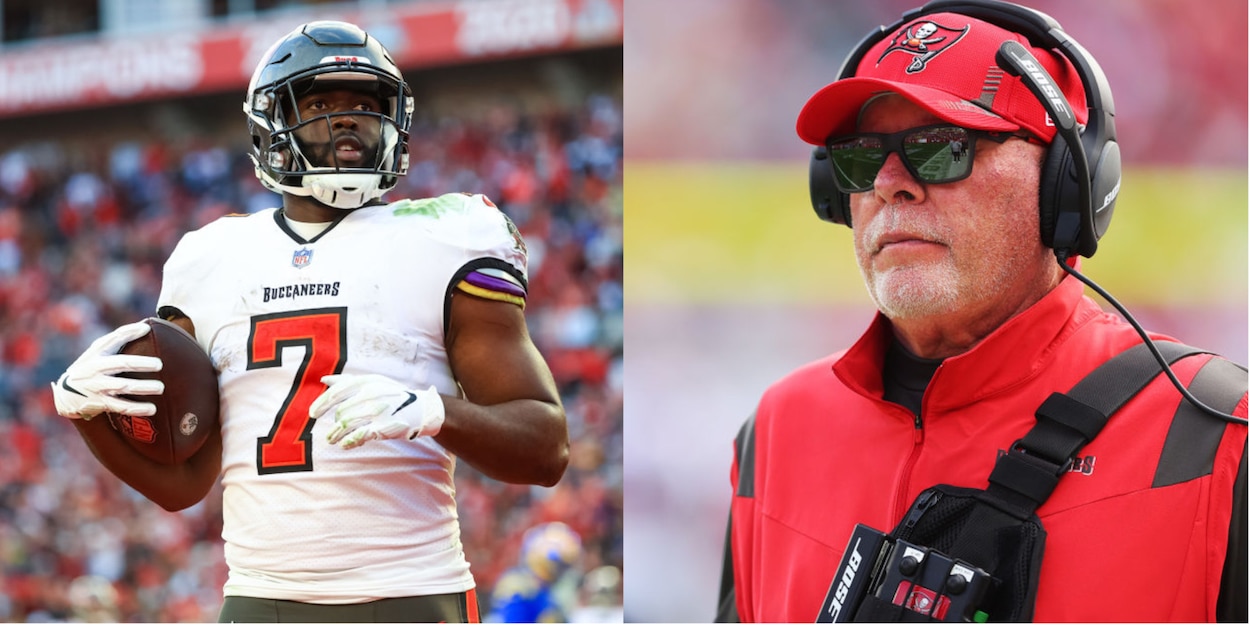 While Fournette enjoyed playing for Arians, he might have had a different impression had the two men not shared a candid conversation during the 2020 NFL season. As the story goes (h/t Sporting News), the running back had grown frustrated with his role in the offense and seemed disinterested during a walk-through. Arians told him that he could either decide to go all-in with the Bucs or leave the team.
At Collision, Fournette shared his perspective on that conversation and what it says about Arians' character.
"So that was the middle of the season against the [Carolina] Panthers," he remembered. "So, I mean, you don't get that. So, by him sitting down with me like as a man and speaking to me like how he spoke to me, you know the NFL's kind of [like] people hide, they throw a rock and hide they hands, but he was straightforward. So that's why he's earned so much respect from me and a lot of guys on the team."
Things worked out well for all parties involved.
After their heart-to-heart, Fournette remained in Tampa Bay. The running back went on to shine as "Playoff Lenny" during the Buccaneers' run to a Super Bowl title. It was his first ring and Arians' first as a head coach.
Without BA's honesty at that moment, both his and Fournette's careers could look much different. While it's easy to focus on X's and O's, that type of interpersonal skill is also a key part of coaching.
Like Sportscasting on Facebook. Follow us on Twitter @sportscasting19 and subscribe to our YouTube channel.