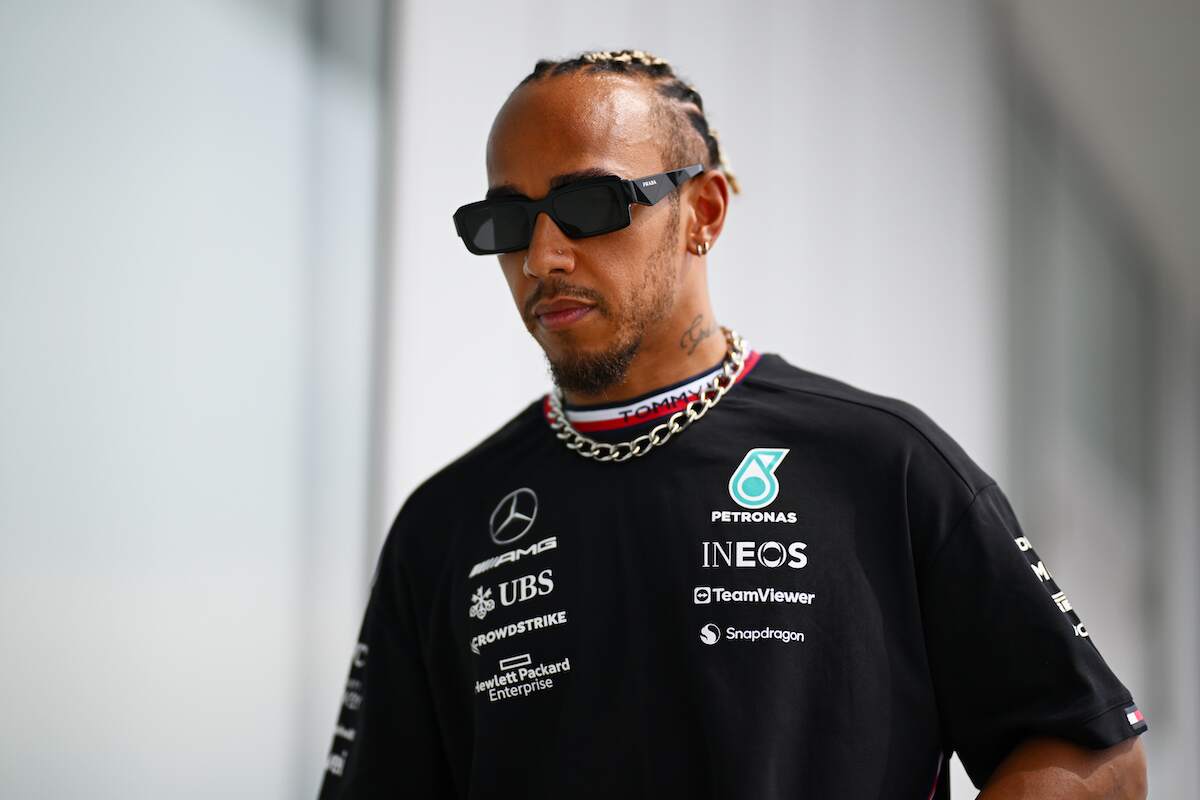 Lewis Hamilton Mercedes Contract: How Much the F1 Driver Is Earning, the Missing Escape Clause, and More
Lewis Hamilton recently signed a new Mercedes contract that will pay him a lot of money and set a record for team loyalty. 
Life as a Formula 1 driver has been very good to Lewis Hamilton. He's won seven World Drivers' Championship titles, and several records further illuminate his genius. Hamilton is also the sport's biggest celebrity. He's cultivated a worldwide fan base off of his talents and willingness to address social issues.
The driver recently signed a new contract with Mercedes that will pay him a lot of money and set another record for team loyalty. 
Lewis Hamilton Mercedes contract through 2025
Hamilton inked a new two-year deal alongside his teammate George Russell. The contract means Hamilton will stay with Mercedes for 13 straight seasons, breaking the record set by Michael Schumacher when he worked for Ferrari for 11 consecutive seasons.
The announcement did not confirm Hamilton's salary. However, reports indicate that Hamilton will pocket about 50 million pounds a year (about $60 million dollars). This puts him in the same bracket as Red Bull Racing's Max Verstappen. 
The short length of the deal may surprise people. But Mercedes Team Principal Toto Wolff highlighted the benefits of extending their partnership this way. 
"This is a dynamic environment. Signing a five-year contract means that you need to discuss is there any escape clause in case we are not providing him with a car that is performing", Wolff said to Sky Sports, according to GP Fans. "We didn't entertain that; we said the foreseeable future is two years and that's what we are committing to each other."
Lewis Hamilton contract: the 7-time F1 champion's prior deals
Hamilton's record-breaking deal is a tad ironic, considering he could've left Mercedes to join Schumacher's former team. 
According to Celebrity Net Worth, Ferrari offered Hamilton a deal worth $50 million earlier this year. The proposal also included a $18.8 million bonus if Hamilton won a title. 
There were two main reasons why Hamilton declined their offer. First, he wanted the bonus to be included in his base salary, which Ferarri wasn't willing to do. Second, he was looking for a much longer contract at the time. 
Hamilton initially asked Mercedes for a 10-year deal worth about $25 million per year in exchange for being a brand ambassador. He and Mercedes couldn't agree on those provisions, so they settled on a shorter compromise.
Lewis Hamilton's net worth
Hamilton and Mercedes's relationship has resulted in excellent results over the years. The driver won six of his seven world championships with their team. Celebrity Net Worth estimates his current net worth at $285 million. But an eighth title, which would make Hamilton the most successful Formula 1 driver of all time, proves to be elusive. 
The first winless season of his career occurred in 2022, and this downward trend has continued into 2023. The sole bright point in Hamilton's season was taking pole position at the Hungarian Grand Prix. Like every other racing team, Mercdes is struggling mightily to find ways to interrupt Red Bull's dominance. 
No one doubts the capabilities of Hamilton or Russell as drivers. The solution is for the engineering team to create a car that lives up to the pedigrees of the people behind the wheel. It's safe to assume that if Hamilton had any doubts about Mercedes' ability to do that, he wouldn't have re-signed with the team. 
"Overall, it's physics, it's not mystics. We are not getting it to a point yet that the car performs in a way that both of them can win championships or win races," Wolff said. "So, this physics thing, we need to solve, but it's not lacking any motivation or energy."