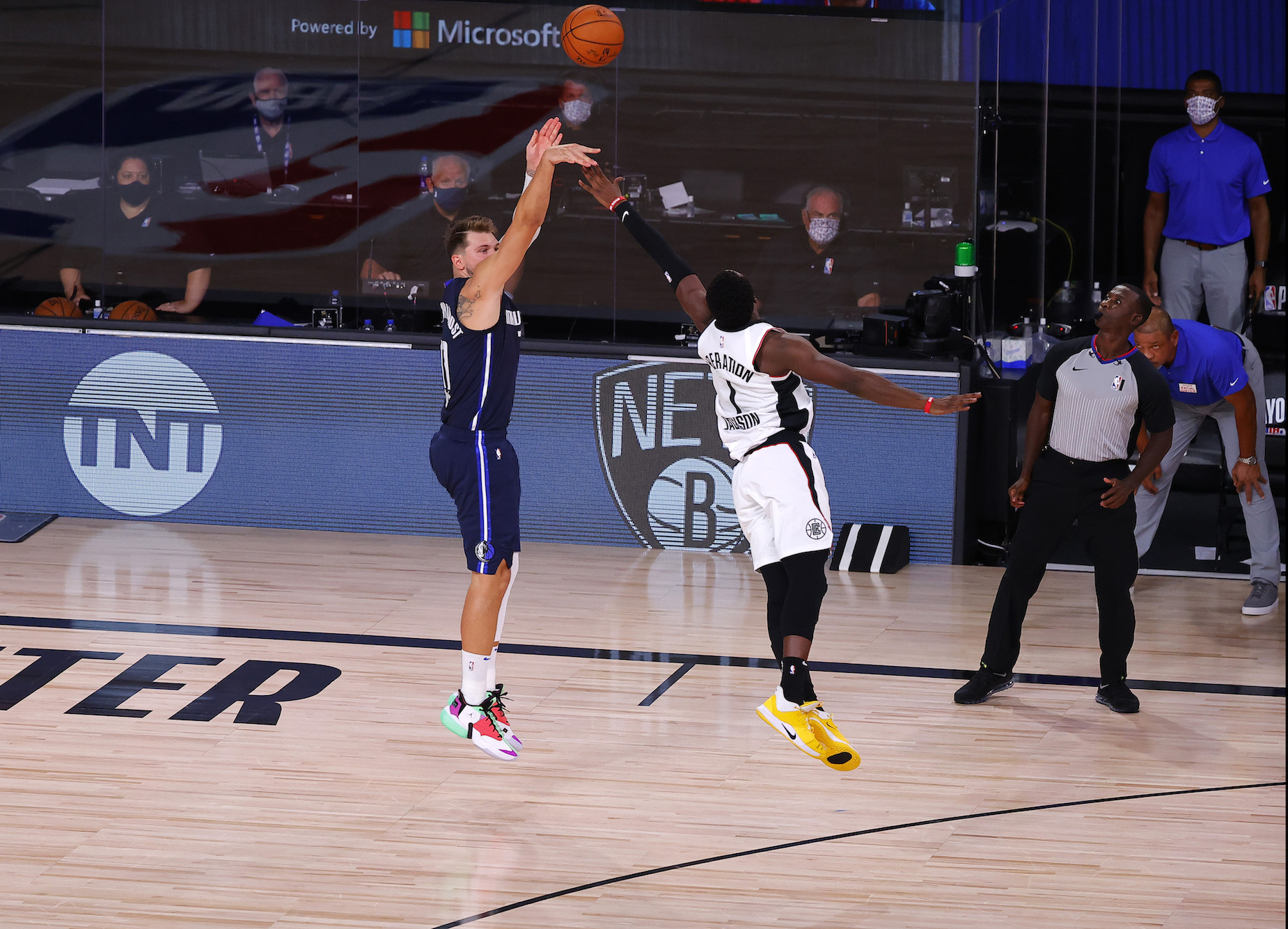 Luka Doncic Is Already an NBA Star, But Twitter Doesn't Seem to Know That
During the 2020 NBA playoffs, Luka Doncic has confirmed his status as a legitimate star. Twitter, however, seems to think otherwise.
While it's not exactly fair, professional athletes make or break their reputation in the playoffs. Based on the first four games of the 2020 NBA postseason, it's safe to say that Luka Doncic is a legitimate star. Although the Dallas Mavericks guard has shown plenty of talent during his first two seasons in the association, he's been even more impressive against the Clippers.
Despite his talent and headline-worthy performances, however, not everyone has taken a shine to the young Slovenian. In fact, Twitter itself recently disrespected Luka Doncic's talent.
Luka Doncic's impressive basketball career
It goes without saying that, in the grand scheme of things, Luka Doncic hasn't been in the NBA for a long time. That hasn't stopped the Slovenian guard from making quite a name for himself, though.
Doncic's basketball began in his native Slovenia, where he first suited up for his hometown team, Union Olimpija. His talent couldn't be ignored, however, and, before long, he made the move to Real Madrid. In the Spanish capital, he first became a star.
After making a name for himself in the EuroLeague, Doncic decided to make the jump to North America and enter the 2018 NBA draft. The Atlanta Hawks selected him third-overall but promptly traded him to the Dallas Mavericks; shortly after, Rick Carlisle said that his club had just landed a future star.
Since then, the coach's comments have come to pass. In 2019, Doncic cruised to the Rookie of the Year title; this season, he's done even better. During the regular season, the Slovenian guard averaged 28.8 points, 9.4 rebounds, and 8.8 assists per outing. Barring an injury-shortened performance in Game 3 of the Clippers series, his playoff performances have already been the stuff of legends.
Twitter seems to think that the Dallas Mavericks play soccer
In the year 2020, social media is an inescapable part of reality. Twitter, however, seems to have gotten a bit confused about Luka Doncic.
On Sunday night, Twitter was buzzing about Doncic's overtime heroics in Dallas' Game 4 win over the Clippers. As noted by Mark Cuban, however, the website apparently thought that the young guard was a soccer player rather than an NBA star.
While it's impossible to know what happened behind the scenes—there could have been a simple error or, as at least one user theorized, Doncic's affiliation with Real Madrid may have thrown off the site's algorithm—it's still surprising to see Twitter get something this big this wrong. Luka Doncic isn't a rookie sitting on the bench and handing out Gatorade; at this point, he's a legitimate star on his way to becoming a household name.
No matter what Twitter thinks, Luka Doncic's star is still on the rise
At the end of the day, though, no one is losing sleep over Luka Doncic's Twitter classification; it's probably more of a simple mistake than anything else. As anyone who's watching the NBA playoffs—or even following social media—can confirm, the young Slovenian is continuing to prove that he's a legitimate star.
During Game 1 of the series, Doncic made NBA history by pouring in 42 points in his playoff debut; that game ended in a loss, however, and the guard called his performance "terrible." On Sunday night, however, he didn't have much to complain about.
Despite injuring his ankle in Game 3, Doncic dominated on Sunday, posting another triple-double and nailing the game-winning jumper. He officially became the second player in league history, after Magic Johnson, to post two triple-doubles in his first four playoff games. Thanks to the Slovenians' heroics, the Mavericks have tied the series at two games apiece; at this point, a legitimate upset could be brewing.
According to Twitter, Luka Doncic is a professional soccer player. Based on the guard's performances, however, there's no doubt that he's already an NBA star.
Stats courtesy of Basketball-Reference