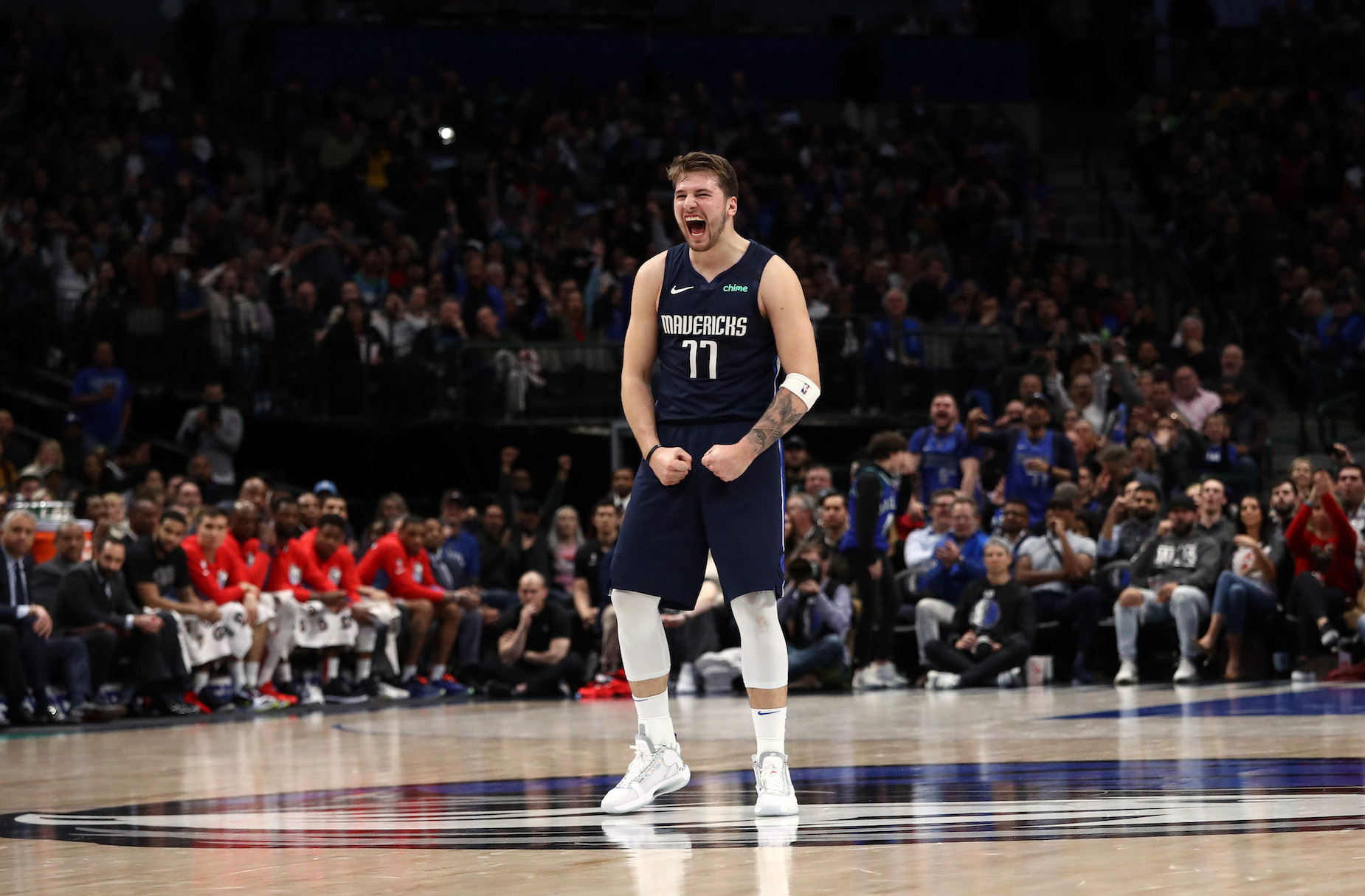 Luka Doncic Received an Incredible Compliment From Doc Rivers Ahead of the 2020 NBA Playoffs
Every basketball fan knows that Luka Doncic is pretty talented. Ahead of the Mavs-Clippers playoff series, Doc Rivers made it clear that he feels the same way.
If you've watched any basketball over the past two years, you're probably well acquainted with Luka Doncic. While the young Solivenian hasn't been in the NBA for long, he's already proven to be a true talent. With the Dallas Mavericks slated to meet the LA Clippers in the first round of the NBA playoffs, Doc Rivers knows what his team will be dealing with.
While some coaches may be hesitant to praise the opposition, Rivers didn't let the competition cloud his judgment. In fact, the NBA veteran paid Luka Doncic an incredible compliment, comparing him to two NBA greats.
Luka Doncic's rapid rise to stardom
Even the most talented athletes can have some growing pains when they make the leap to the NBA. Luke Doncic, however, hasn't missed a beat during his young basketball career.
Growing up in Slovenia, Doncic got his start with his hometown team Union Olimpija. From the beginning, it was clear that he was a cut above the rest; after making a name for himself as a youth player, he made the move to Real Madrid. Before long, he forced his way into the senior squad.
After three impressive seasons and a EuroLeague MVP award, Doncic decided that he was ready for a new challenge and entered into the 2019 NBA draft. While the Atlanta Hawks snagged the guard with the third-overall pick, they promptly flipped him to the Dallas Mavericks; from there, the rest is (modern) history.
During his first North American campaign, Donic exploded, averaging 21.2 points, 7.8 rebounds, and 6 assists per game en route to the Rookie of the Year title. While his second season featured a few injuries, the young Slovenian improved across the board; he ended up suiting up for 61 appearances and averaged 28.8 points, 9.4 rebounds, and 8.8 assists.
Doc Rivers has high praise for the Mavericks star
During his time as both a player and a coach, Doc Rivers has crossed paths with some legendary basketball players. Based on his recent comments, it sounds like he already considers Luka Doncic to be one of them.
Ahead of the Clippers' first-round playoff series against the Mavs, Rivers was asked Dallas' explosive offense. Unsurprisingly, he highlighted Doncic as the straw that stirs the drink.
"[Doncic] has the ability to score, he gets to the paint, he's strong, and he's an elite passer," Rivers explained in his recent media availability. "So, there's no great offense that doesn't start with a great player, and he's a great player."
The veteran coach fielded a question about Mavs coach Rick Carlisle comparing Doncic to Jason Kidd and Larry Bird. While those are some pretty big names in the world of basketball, Doc didn't take issue with the assessment.
"Luka, to me, is a little bit of both," Rivers continued. "He has the passing of Jason Kidd, but he has the scoring ability of Larry Bird, and that's what makes him such a difficult cover."
The NBA playoffs will be a new experience for Luka Doncic
Even if you think calling him a blend of Larry Bird and Jason Kidd is a bit hyperbolic, Luke Doncic clearly has plenty of talent. The 2020 NBA playoffs, however, will be a new test for the young Slovenian.
While Doncic has played plenty of playoff basketball in Europe and faced off against the Clippers before, the NBA playoffs are a different beast. In a series, individual match-ups and tactical choices matter much more than they would in a one-off game. To make matters worse, the Clippers boast both Kawhi Leonard and Paul George; dealing with their defense across multiple games would be a tough ask for anyone.
At the end of the day, though, great players find a way to rise to the occasion and show up in big moments. Based on everything we know of Luka Doncic, he'll still make an impact, no matter what Doc Rivers and the Clippers throw at him.
Stats courtesy of Basketball-Reference