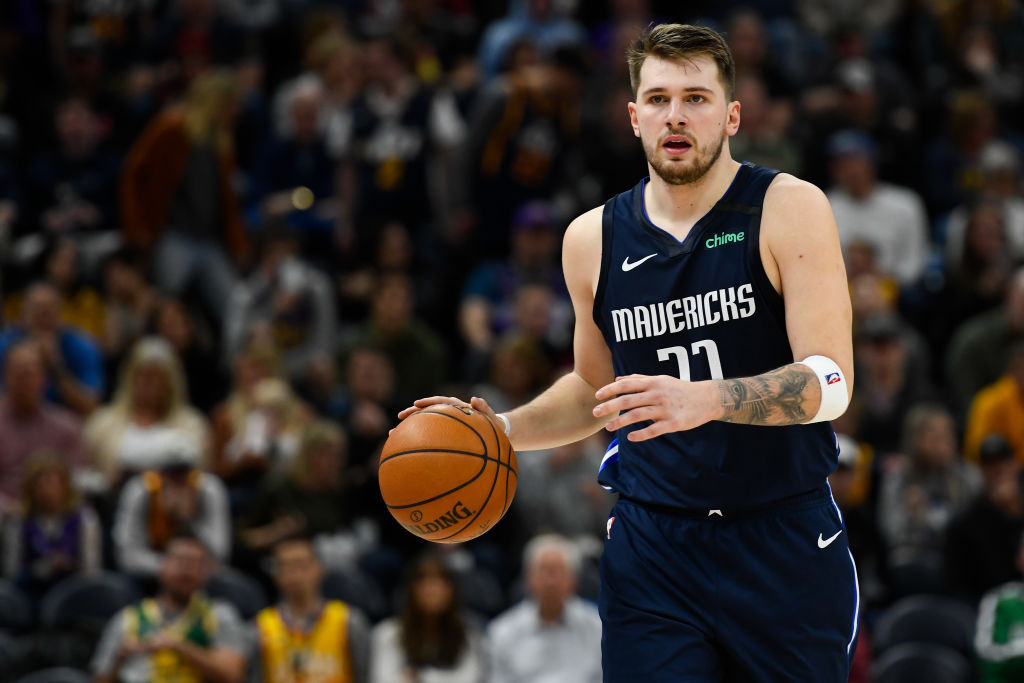 Luka Doncic Just Took Another Step Towards NBA Domination
On the basketball court, Luka Doncic is incredibly dominant. Off the court, the young guard is also moving towards total NBA domination.
While Zion Williamson has been getting most of the attention lately, the NBA is full of exciting young stars. Dallas Mavericks guard Luka Doncic is indisputably one of the brightest. While the young Slovenian is only in his second NBA season, he's already being compared to basketball legends rewriting the league's record books.
Stardom, however, doesn't solely consist of what you do on the court. Recently, Doncic took another step towards NBA domination. The young star is already building his brand.
Luka Doncic's rapid rise to NBA stardom
Ordinarily, adjusting to a new team or league takes a little bit of time. Luka Doncic, however, has dominated the NBA from the start.
Doncic started his career in Europe, where he played for his hometown team before starring for Real Madrid. After three seasons full season with the Spanish giants, he was ready for his next step: the NBA. The Atlanta Hawks snagged the guard third-overall in the 2018 NBA draft but promptly traded him to Dallas. Mavs' head coach Rick Carlisle said the young Slovenian could be a franchise player; those words have turned out to be shockingly prescient.
Doncic immediately proved his coach correct. In his first NBA campaign, the guard averaged 21.2 points, 7.8 rebounds, and 6 assists per game and cruised to the Rookie of the Year award. As a sophomore, he's only gotten better. Through 43 outings in 2019, Doncic has been posting 28.8 points, 9.5 rebounds, and 8.7 assists a night. Despite opposing defenders' best effort, he's dropping triple-doubles and smashing NBA records with shocking ease.
Signing a new sneaker deal
On the court, Luka Doncic's pure talent has earned him plenty of attention. That attention, however, also extends into the commercial sphere.
During Doncic's time with Real Madrid, he inked a sneaker deal with Nike. That contract, however, expired in the fall of 2019, making the guard a 'sneaker free agent.' Although Nike maintained exclusive negotiating rights for 180 days, Doncic tried out plenty of other shoes, ranging from Pumas to Kawhi Leonard's New Balance OMN1S.
At the end of the day, however, Doncic still returned to Nike, agreeing to a new deal with the Jordan brand. "For me, when I knew Jordan Brand was interested, I was really excited," the Slovenian explained in a statement. "It's a brand with an amazing history. The more I learned about their plans and how much they believe in me, it became an easy decision."
Luka Doncic might not have a signature sneaker, but he has a new logo
While Luka Doncic's Jordan deal confirmed his star status, the guard isn't resting on his laurels. He recently took things even further, unveiling his own logo—which features two 7s and a letter D—and adding it to the tongue of one sneaker.
Despite the logo, though, Doncic isn't wearing signature shoes; he can earn his own sneaker, though, if he achieves certain incentives during his contract. The guard, however, is still poised for global domination.
Doncic is performing at historic levels on the court, coming within touching distance of a triple-double every time he steps on the floor. He's young, exciting, and speaks to the NBA's international audience. Basketball fans all over the world know Luka Doncic's name; with his new logo, the young star has taken another step towards becoming something even bigger: a globally dominant brand.