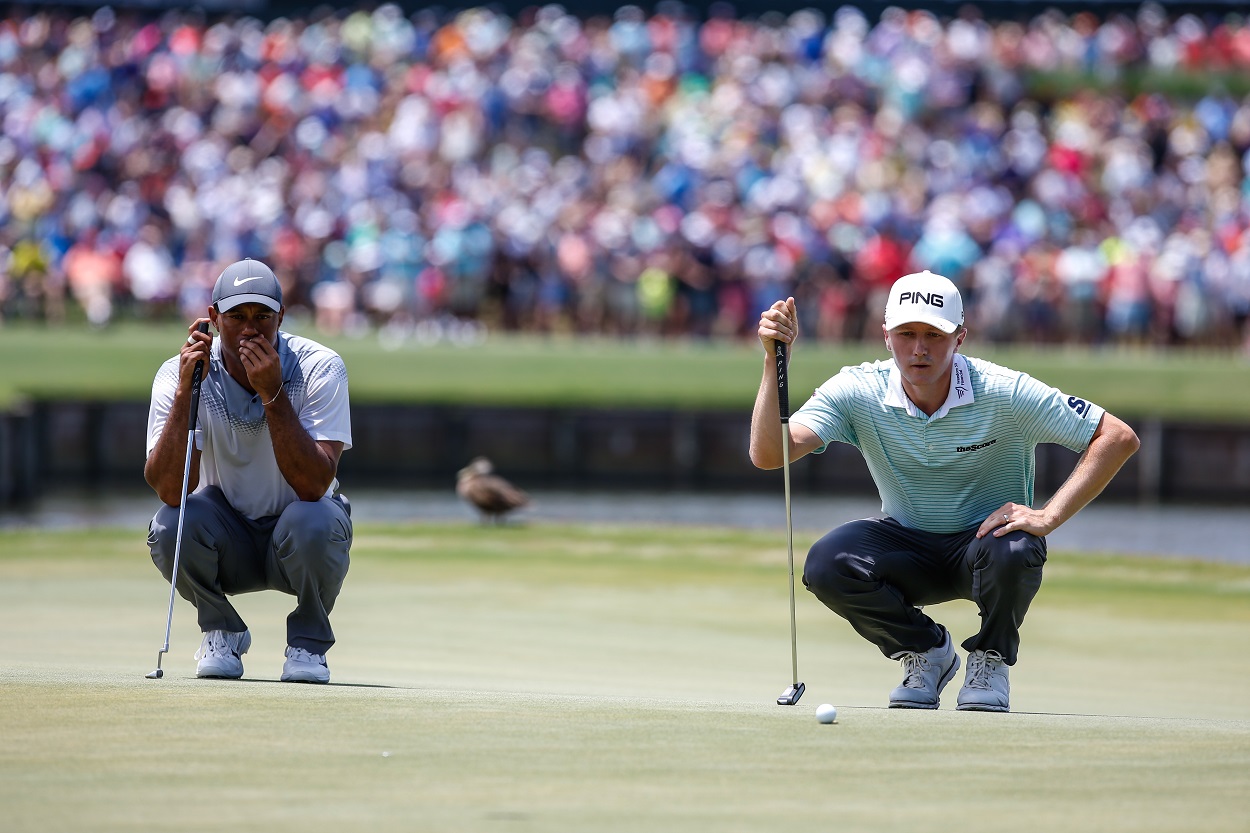 Mackenzie Hughes Had 'Goosebumps and Shivers' the First Time He Played With Boyhood Idol Tiger Woods
Mackenzie Hughes got "goosebumps and shivers" the first time he played with Tiger Woods and now has a chance to win a U.S. Open at Torrey Pines, just as Woods did in 2008.
It's safe to say that the vast majority of this young generation of golfers on the PGA Tour were inspired to play the game by Tiger Woods. Mackenzie Hughes considers himself one of those golfers as he idolized Tiger growing up in Canada as he became the country's top amateur before turning pro in 2012.
In 2018, Hughes finally got his first chance to play alongside Woods at The Players Championship and was understandably nervous. As many pros have said in the past, playing with Tiger is different than playing with anyone else as he's long had the largest galleries in golf, regardless of his position on the leaderboard.
But while admitting to getting "goosebumps and shivers" during his first-ever round with Tiger, Hughes, who actually had a chance to meet Woods about two months earlier and chickened out, shot his best round of the season and even got Tiger to engage in some friendly conversation, which isn't always easy.
More than three years removed from that round, Hughes now has the chance to do something only Tiger has done: win a U.S. Open at Torrey Pines.
Mackenzie Hughes had his first chance to meet Tiger Woods at Bay Hill in March 2018 and chickened out
As Hughes joined the PGA Tour on a full-time basis ahead of the 2016-17 season, he really didn't get the chance to interact with Tiger as Woods only played one event in 2016 and three in 2017 after undergoing multiple back surgeries.
Tiger finally returned to the tour on a full-time basis in 2018 and his fifth event back was one of his usual stops on the PGA Tour, the Arnold Palmer Invitational at Bay Hill, where he's won eight times. And it was there that Hughes had his first chance to meet his boyhood idol.
Hughes was sitting just five feet away from Woods in the locker room but just couldn't muster up the courage to walk over and say hello, later saying he "just sat there quietly and listened in" to what Tiger was saying.
The two were paired together two months later at The Players Championship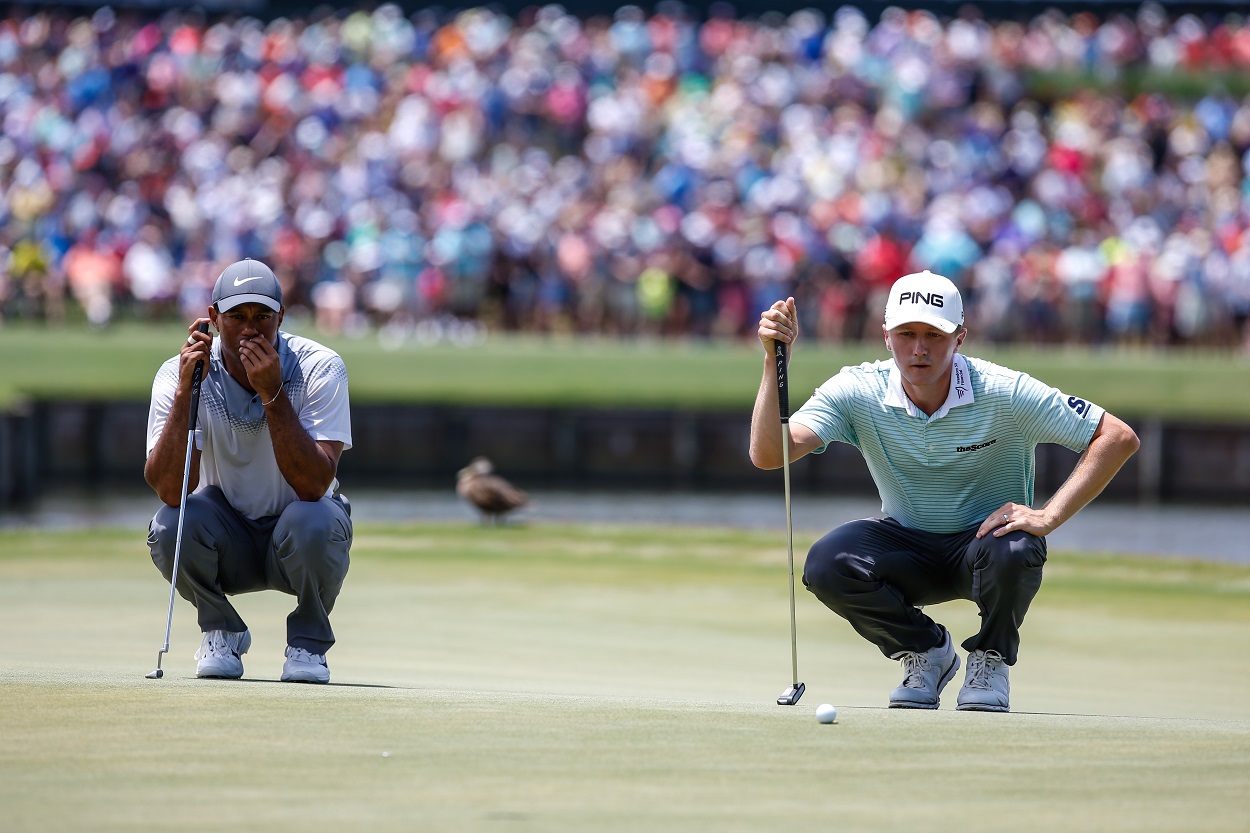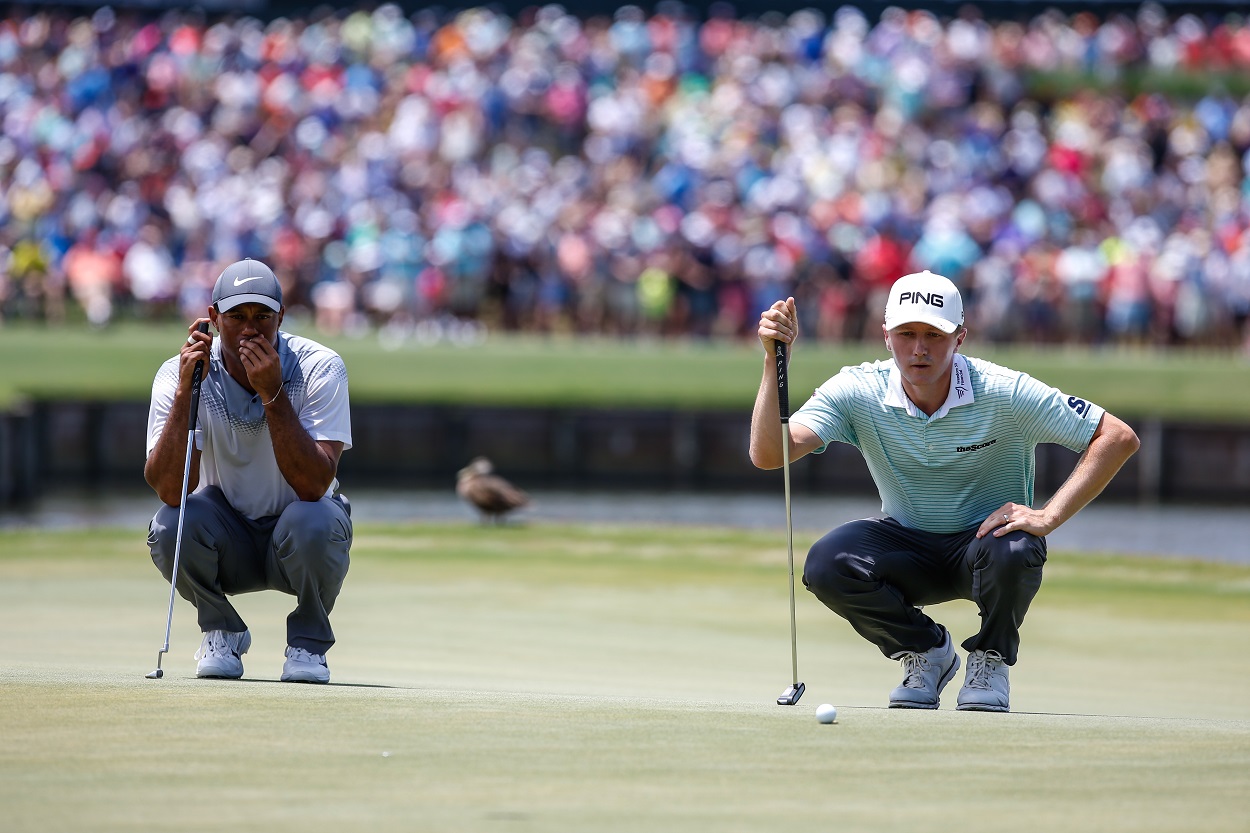 Two months later at The Players Championship, both Hughes and Woods were well back of the leaders through 36 holes and were paired together for the third round at TPC Sawgrass, teeing off five hours before the final group.
Hughes hadn't been playing particularly well and his made cut at The Players was just his fourth in 16 starts for the 2017-18 season. But he took the adrenaline of playing alongside his idol and went out and shot a 4-under round of 68, his lowest score to par all season. Woods also played well, firing a 7-under 65 and briefly getting himself into the top 10 on the leaderboard.
Following the round, Hughes spoke with the media and said he had an absolute blast playing with Woods for the first time, although he did admit to being very nervous, even telling himself not to "sound like a total dork" when engaging Tiger. But he was very pleased with how he played, even if those butterflies in his stomach before the round didn't go away immediately (h/t Golfweek).
"I've had a pretty poor year and to be in an environment like that really gets the juices flowing. It's 90 degrees but I can assure you I had goosebumps and shivers at times out there when you hear some of the roars and realize, 'Hey, I'm playing with Tiger Woods!' It was fun."

Mackenzie Hughes on playing with Tiger Woods for the first time
As for what the two discussed during the round, Hughes said he was careful to pick his spots as Woods is famous for not overly engaging with his playing partners as he's focused on his game. Hughes said that the two talked a little football and just "standard stuff." But he was certainly sure to say how cool it was getting to know Tiger a little bit.
Hughes has put himself in position to win the U.S. Open at Torrey Pines, just as Tiger did in 2008
It's been more than three years since Hughes played that round with Tiger and the now-30-year-old has put himself in position to win the 2021 U.S. Open at Torrey Pines, the same course where Woods famously won his final U.S. Open, even predicting his victory despite having a broken leg.
After beginning his week with a 2-over round of 73, Hughes came back with a brilliant 4-under round of 68 on Friday, leaving him just three shots behind co-leaders Russell Henley and Richard Bland heading into the weekend. Hughes then shot a 3-under 68 on Saturday, putting him in a three-way tie with Henley and Louis Oosthuizen atop the leaderboard heading into Sunday's final round.
The highlight of Hughes' third round came at the par-5 13th, where he holed a 63-foot putt for eagle on the way to a back-nine 32. During Tiger's third round of the '08 U.S. Open, he made a very similar putt for eagle on that very same hole and Hughes knew it. Following his round, he made reference to Woods' putt, saying the situations were a little different as his putt was more left to right while Woods' was more right to left. And he's absolutely right on that. Take a look.
Will Hughes join Woods as a U.S. Open champion at Torrey Pines? We'll find out soon enough.