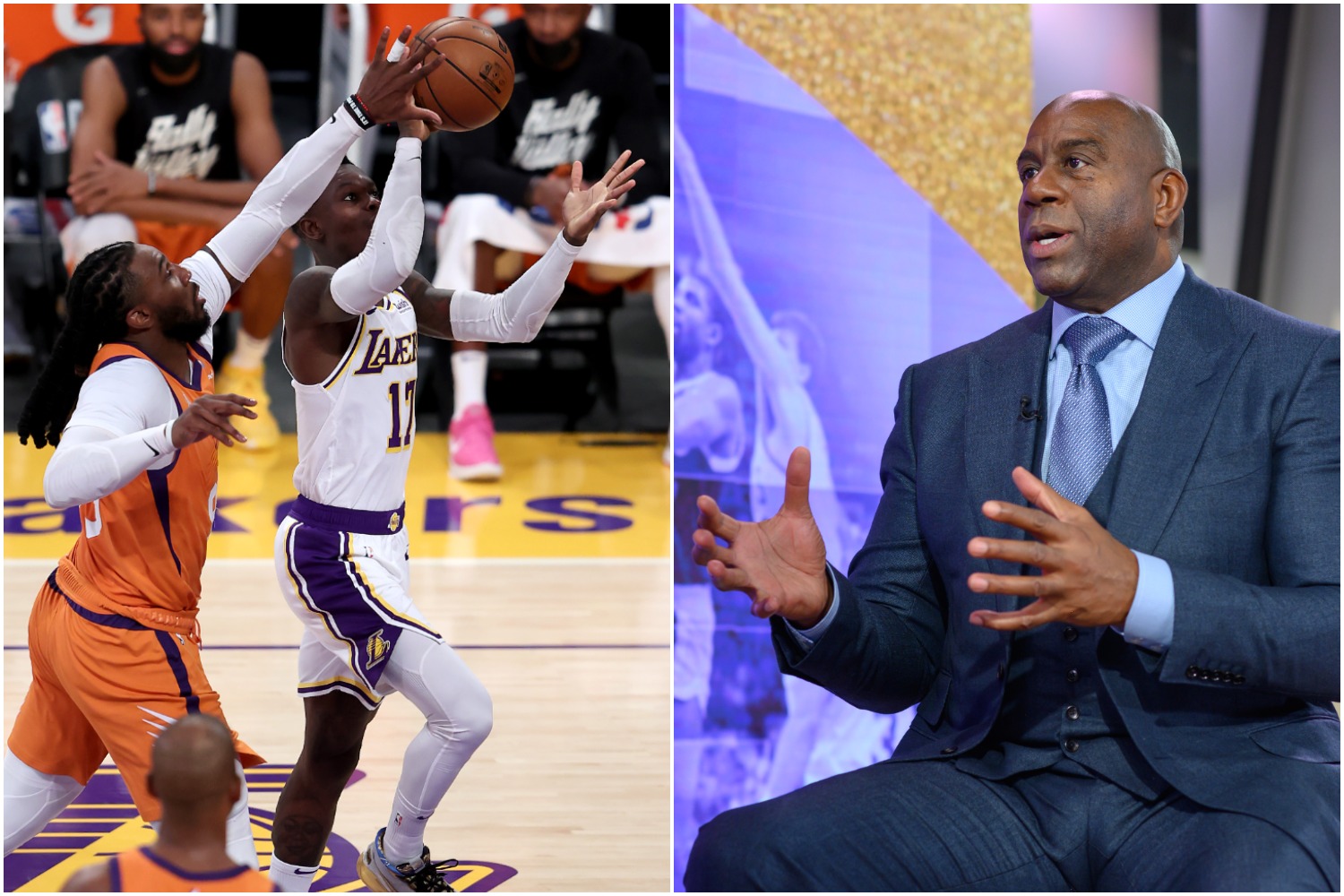 Magic Johnson Blasts Lakers' Dennis Schroder in Brutally Honest Radio Segment: 'He Failed in This Series'
Magic Johnson refused to hold back when discussing Dennis Schroder's first season with the Lakers. Will the point guard be forced to find a new NBA home this summer?
Dennis Schroder should feel lucky that the Los Angeles Lakers don't pay Magic Johnson to make roster decisions anymore. Because if the NBA legend had it his way, the Lakers would make at least one significant change to their starting lineup this summer.
During a recent radio appearance, Johnson didn't hold back one bit in putting Schroder on blast. And in doing so, he made it abundantly clear what he thinks the team should do with the inconsistent point guard.
But for Lakers general manager Rob Pelinka, Schroder's future isn't the only thing he has to deal with this summer.
Dennis Schroder didn't exactly live up to the hype in his first season in LA
The Lakers attempted to fill a big hole in their lineup by trading for a player who spent the last two years mostly coming off the bench. While Schroder started 61 regular-season games for the Lakers, he showed some obvious struggles.
Coming off a year in which he set career-highs in field-goal percentage (46.9) and 3-point percentage (38.5), Schroder couldn't replicate the success he had in his last season with the Oklahoma City Thunder. The German-born point guard watched those percentages plummet to 43.7 and 38.5, respectively. As a result, after averaging 18.9 points per game during the 2019-20 season, Schroder only averaged 15.4 per game despite playing more minutes per game (32.1) than ever before.
Entering the playoffs, he had an opportunity to make Lakers fans forget about his rocky regular season. Unfortunately for Schroder, he only gave people more reason to speculate about his NBA future.
Although he eclipsed the 20-point mark in three of the Lakers' six playoff games, Schroder had back-to-back clunkers that caused understandable frustration among LA fans. In Game 4, the Phoenix Suns held the 6-foot-3, 172-pound guard to eight points on 3-of-13 shooting. Schroder followed up by becoming the first player in Lakers' history to go scoreless in a playoff game while attempting at least nine shots. His horrific performances both occurred in losses that ultimately proved too much for the defending champions to overcome.
Magic Johnson rips Schroder in brutally honest radio segment
Schroder's first season with the Lakers featured up-and-down moments. So heading into this summer, it's fair to question whether he belongs in the team's long-term plans.
So what does the biggest star in franchise history think about the situation? During an appearance on AM 570 LA Sports, Johnson put Schroder on blast during a brutally honest segment about the veteran point guard.
"I don't think he's a Laker," Johnson said. "That's just my opinion. I don't know if they're gonna sign him back or not. I don't think he brings the winning mentality and attitude that we need, and he had a chance to show that in this series, and to me, he failed in this series."
He further added, "But again, if he comes back a Laker, I'm gonna support him, I'm gonna cheer for him and all that, but I just don't think he's a Laker."
Johnson made a bold move by calling out Schroder on such a public stage. But if anyone knows what it means to be a Laker, it's certainly him. So if the front office agrees with the Hall of Famer's assessment, it seems like LA will assuredly have a new starting point guard next season.
The Lakers will have to make some difficult decisions this summer
Schroder isn't the only member of the Lakers' 2020-21 roster facing an uncertain future.
While it remains to be seen how LA will handle business with the unrestricted free agent point guard, there are several other players in need of new deals. Alex Caruso, Talen Horton-Tucker, Andre Drummond, and Markieff Morris are also set to hit free agency. Will the Lakers decide any of them are worth bringing back?
Meanwhile, Montrezl Harrell could also be gone. The 2020 NBA Sixth Man of the Year signed a two-year contract with the Lakers last November. However, after playing only 22.9 minutes per game in his first year in LA, he may explore other avenues. Harrell can decline his $9.7 million player option for next season and become a free agent.
And with LeBron James approaching the final stage of his career, the Lakers can't afford to make any mistakes in their roster-building process during the ensuing months.
All contract data courtesy of Spotrac.