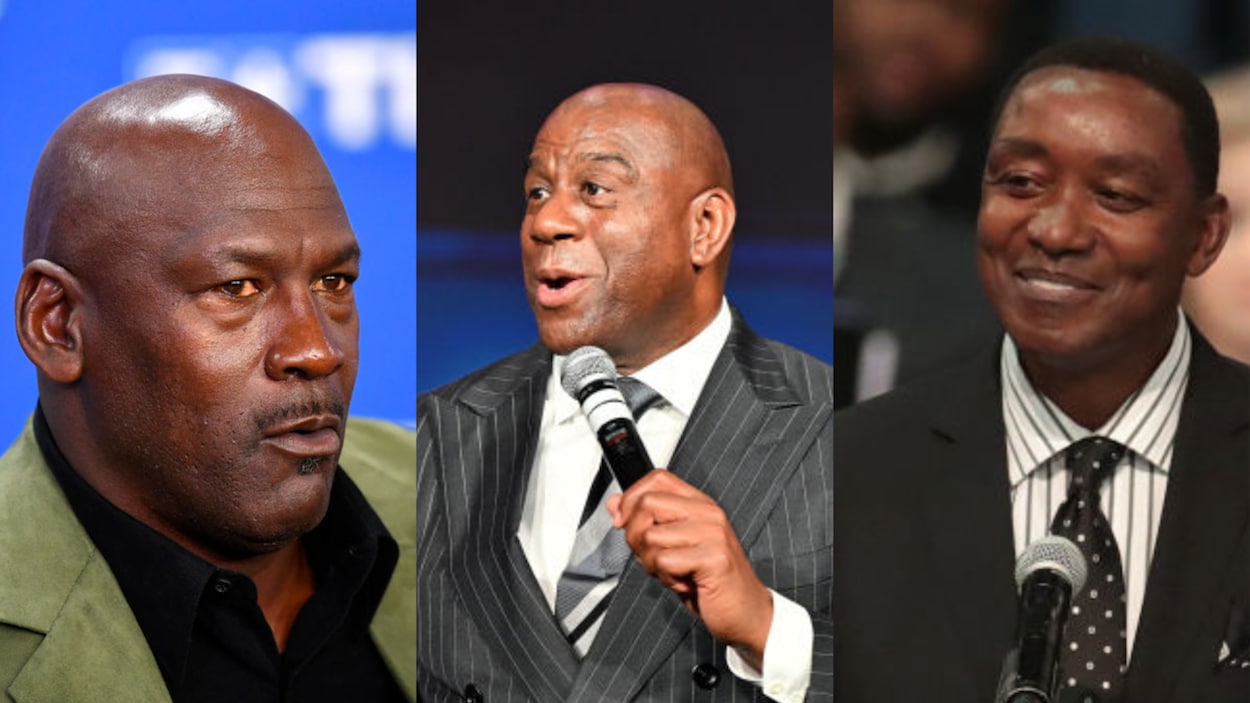 Magic Johnson Perfectly Highlights the Stupidity of the Michael Jordan-Isiah Thomas Beef
At this point in time, there's nothing new about Isiah Thomas and Michael Jordan refusing to bury the hatchet. Magic Johnson exposed just how stupid that reality is.
During his time on the hardwood, Michael Jordan proved to be one of the best NBA players we've ever seen. His Airness had an incredible inner fire, which never seemed to dim. While that caused some issues over the years — punching teammates isn't ideal behavior — most of those hatchets have been buried with time. Isiah Thomas, however, hasn't forgotten his disagreements with MJ.
During an appearance on the All the Smoke podcast, Magic Johnson was asked about the two legend's simmering tension. While the guard may not be able to patch things up between Jordan and Thomas, he did highlight the sheer stupidity of their feud.
Isiah Thomas still seems unable to let his old issues with Michael Jordan go
When two competitive players go head-to-head, it's natural for a rivalry to develop. While that's certainly true of Michael Jordan and Isiah Thomas, things didn't cool down in retirement.
Things started on the hardwood, where Zeke's Pistons proved to be an early roadblock for MJ's Bulls. There was also the 1985 All-Star freeze-out, although it's unclear what actually happened behind the scenes, and the fact that Detroit refused to shake Chicago's collective hands after the 1991 Eastern Conference Finals.
When that final event was shown in The Last Dance, it kicked off a new round of tension. Jordan took issue with Isiah's assertion that the Pistons didn't do anything wrong. It's safe to assume that take made it back to Thomas.
Since then, Zeke has repeatedly suggested that MJ isn't the greatest player of all time. The guard has also called out Jordan on Twitter (despite missing the point himself) and even directly addressed the running feud with his old rival.
"Until I get a public apology, this beef is gonna go on for a long long time, cause I'm from the West Side of Chicago," Thomas said in late 2022. He also added The Last Dance was "a whole documentary about him being an asshole," which His Airness probably won't appreciate.
Magic Johnson doesn't like the beef and thinks it's time for Thomas and Jordan to move on
Ever since his playing days, Magic Johnson had a knack for being a popular figure who could bring NBA stars together. That reality wasn't lost on Stephen Jackson, who asked the legendary Laker for his take on "the back and forth with Isiah and Mike."
"I don't like it," Magic responded. "I think they should be done with that. Listen, we played. When we played, we all had to dislike each other to win a championship. We all had to do what we had to do. But now, what Michael is doing is incredible. To be an owner in the NBA, to … his shoe is still number one. I mean, you can put all those guys' shoe sales together, they can't even mess with Michael Jordan's shoes. And so, and then, Isiah is a businessman himself. … So, why are we still [living in the past]?"
And while the guard didn't say anything groundbreaking, he did make some valid points that highlight the stupidity of the feud. Both Isiah and MJ have long since retired. They're nearly senior citizens. They have business obligations, families, and all sorts of actual obligations. Maintaining a foolish rivalry shouldn't even be on the to-do list.
After Magic's comments, Stephen Jackson had a telling interjection. "We all look up to both of them," he added.
While there's room for some personal wrinkles there — perhaps you're too young to have watched Isiah Thomas in his prime or think Kareem Abdul-Jabbar is the all-time GOAT — Jackson isn't wrong. On the whole, both Thomas and Jordan sit in the pantheon of NBA greats. We should be remembering their exploits on the court, not rolling our eyes at the latest verbal barb. We're not at Scottie Pippen levels just yet, but refusing to move on from things that happened in the late 1980s and early 1990s isn't the best look.
Can Magic Johnson bridge the divide and get Isiah Thomas and Michael Jordan to turn the page? As a neutral party, one would hope that he can work some diplomatic, well, Magic. Looking at things impartially, though, it seems like he'll probably face an uphill climb.
That, unfortunately, is a shame.