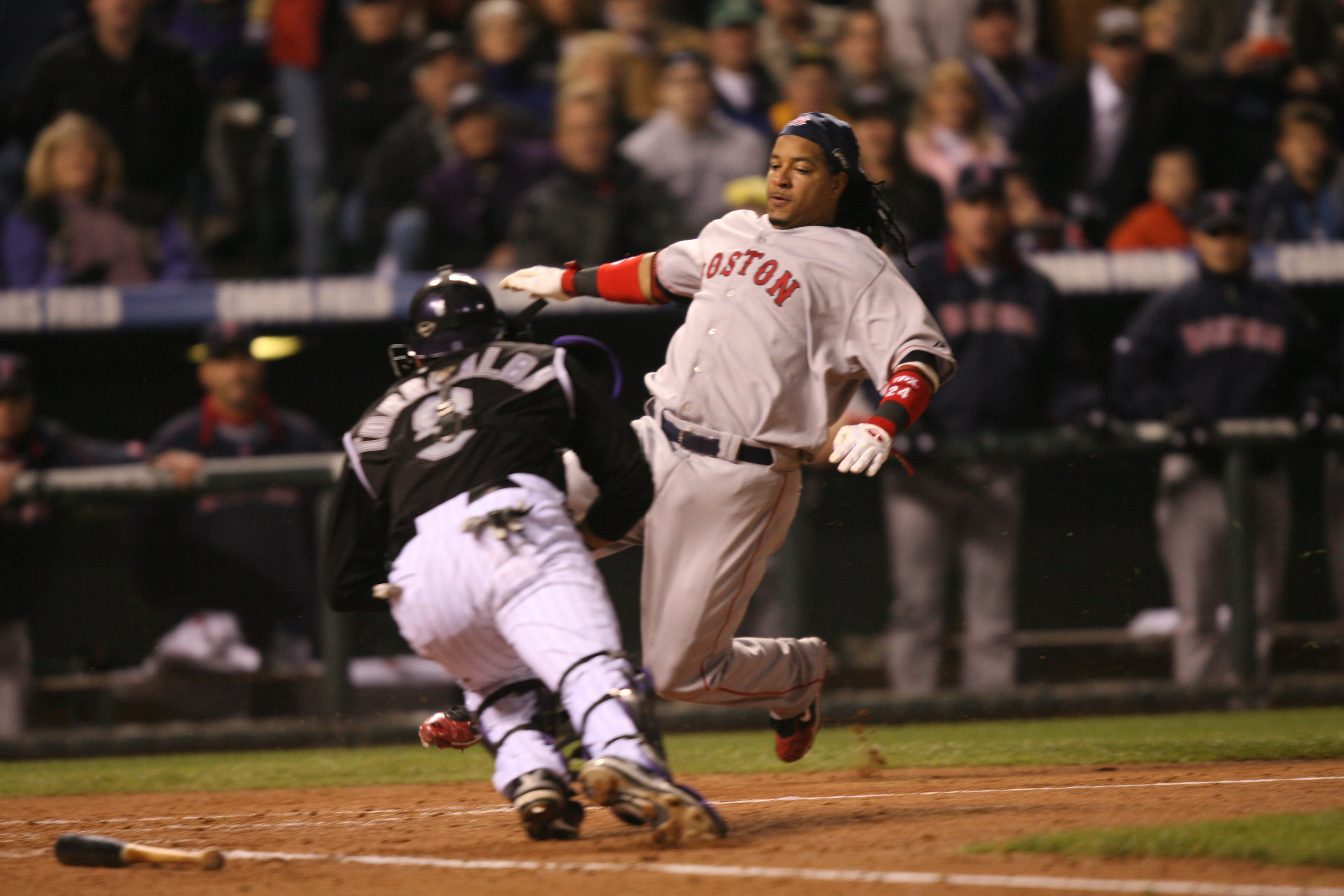 Manny Ramirez Blown off by So-Called Boston Red Sox Fan
Former World Series MVP Manny Ramirez gets blown off by a so-called Boston Red Sox fan at a bar in Australia.
Manny Ramirez spent eight of his 19 years in Major League Baseball with the Boston Red Sox. Despite some lackluster hustling efforts, he was a fan favorite. Ramirez was an MLB All-Star in every season he played with the Red Sox. Despite all the recognition and love he received in Boston, one so-called Sox fan recently blew off the two-time World Series champion without realizing it.
Manny Ramirez's MLB career
Manny Ramirez was that player who had a rare mix of power and could hit for average. Ramirez was a first-round pick of the Cleveland Indians in 1991 after a stellar career at George Washington High School in New York. He made his Major League Baseball debut at age 21 with a September callup in 1993.
After playing in 22 games at the end of the 1993 season, Ramirez finished second in the Rookie of the Year voting in 1994. In 91 games, he smacked 17 home runs and drove in 60 runs. The following season, Ramirez made the first of his 12 MLB All-Star Game appearances after hitting 31 homers and driving in 107 runs, while batting .308. Prior to the 2001 season, Ramirez signed with the Boston Red Sox as a free agent.
In his eight seasons with the Sox, Ramirez hit 274 home runs, collected 868 RBIs, and finished with a .312 batting average. He won the batting title in his second season in Boston, hitting .349. In 2004, Ramirez led the big leagues in homers with 43 and he finished third in the MVP voting that season. He was traded to the Los Angeles Dodgers during the 2008 season. He finished his career with brief stints with the Chicago White Sox and the Tampa Bay Rays.
Ramirez became a Red Sox legend in 2004
Manny Ramirez was always well-received in Boston, but his legacy grew in 2004. The Red Sox hadn't won the World Series in 86 years and Ramirez played a key role in ending the 'Curse of the Bambino.' The Sox were able to get to the World Series after rallying from a 3-0 series deficit against the rival New York Yankees in the American League Championship Series.
Ramirez was a significant contributor in getting the Sox into the postseason. During the regular season, Ramirez played in 152 games and smacked a league-leading 43 home runs while driving in 130 runs. He also led the big leagues in slugging percentage at .613. Ramirez finished with a .30 batting average and scored 108 runs. He was third in the MVP voting.
During the World Series, Ramirez stayed red-hot. In a four-game sweep of the St. Louis Cardinals, Ramirez hit .412. He added a home runs and drove in four as the Sox made quick work of the Cardinals. He also helped guide the Sox to another World Series title in 2007 when they swept the Colorado Rockies.
Brushed off by so-called Red Sox fan
In August, Manny Ramirez, 48, signed a one-year deal to play baseball as a player/coach for the Sydney Blue Sox of the Australian Baseball League. According to CBS Sports, Ramirez last played in 2014 when he was a player/coach with the Chicago Cubs AAA affiliate in Iowa. His last stint in the big leagues was in 2011.
In a recent TikTok video shot by Rachel Balkovec, a New York Yankees hitting instructor who also works for the Blue Sox, Ramirez tries to surprise a fan at a bar in Australia. The fan is wearing a Boston Red Sox cap and Ramirez taps him on the shoulder and says, "Excuse me, Nice hat. Can I ask you a question? Who's your favorite player?"
The fan, sitting with his girlfriend, responds. "Are you serious? It's my girlfriend. Why?" Manny, being Manny, simply walked away and said, "No, no. Just a nice hat." Ramirez clearly tried to make conversation with a so-called Red Sox fan, but if you don't recognize Manny Ramirez, can you really be considered a Sox fan?