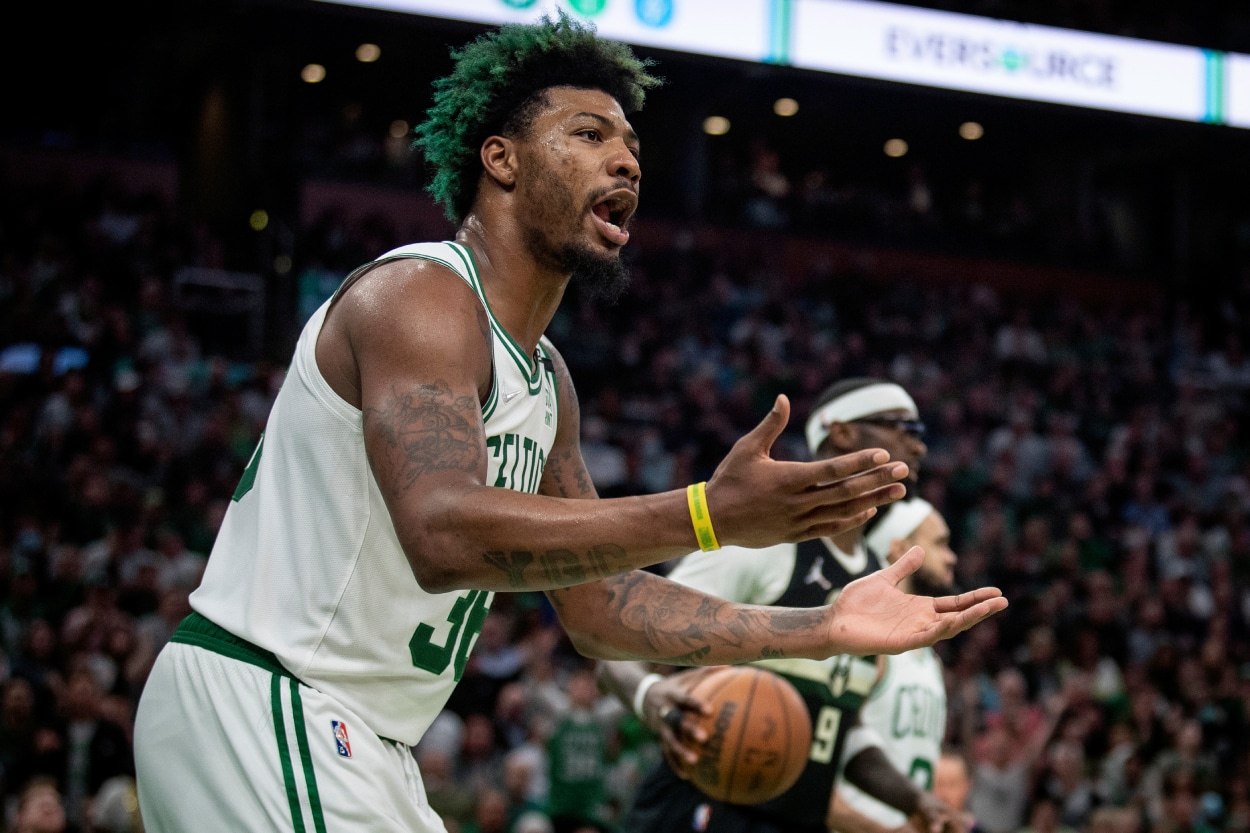 Marcus Smart Had a Bold Statement After the Boston Celtics Won Game 6, but He's Absolutely Right
Marcus Smart is always going to go all-out when he's on the court for the Boston Celtics.
Marcus Smart admitted he didn't sleep a whole lot for two nights after the Boston Celtics blew a 14-point lead in the fourth quarter of Game 5 to the defending champion Milwaukee Bucks. After 40 minutes of great basketball, the Celtics collapsed. Smart played a key role in the crumbling.
The desperate Celtics bounced back nicely on the road in Game 6 to even the series and set up a winner-take-all Game 7 on Sunday. After Smart played a significant role in helping his team get even with the Bucks, he made a bold statement that teeters between confidence and cockiness. In any case, Smart was telling the truth.
Marcus Smart and the Boston Celtics bounced back nicely in Game 6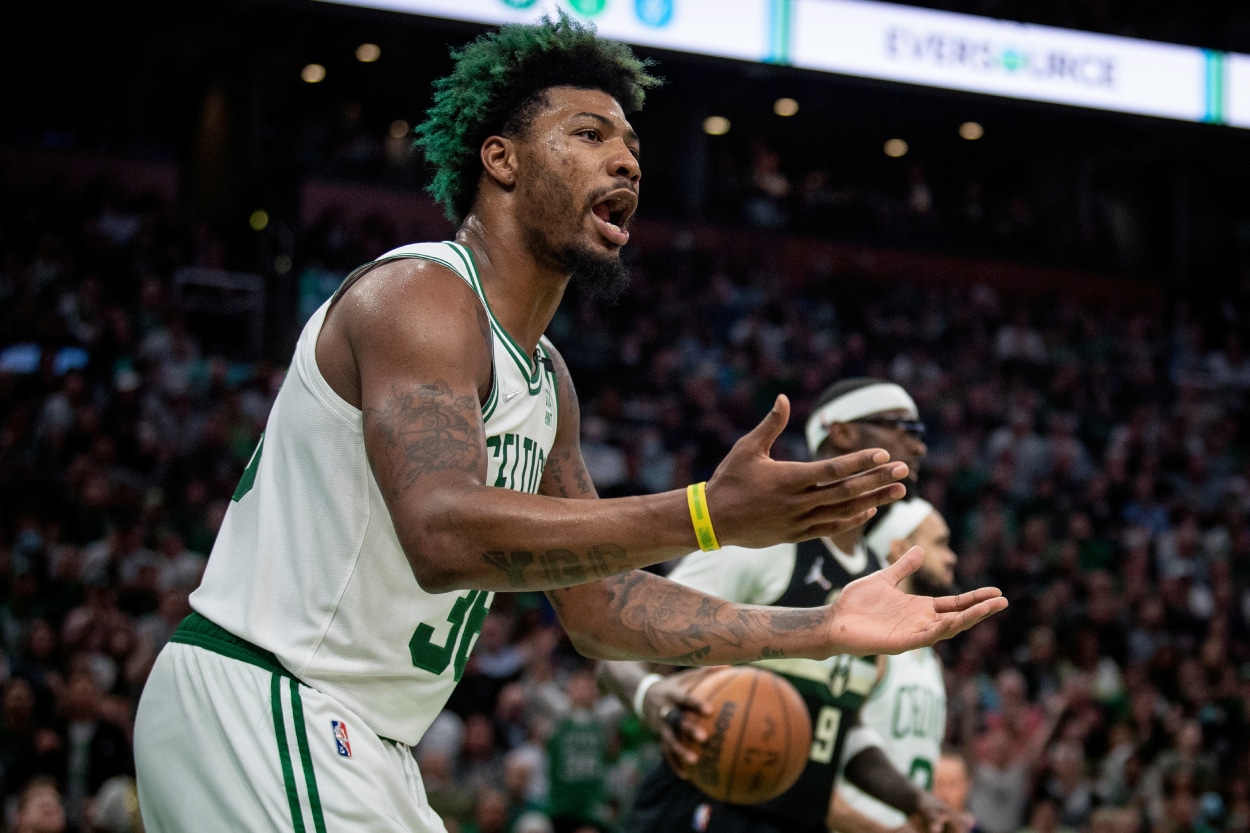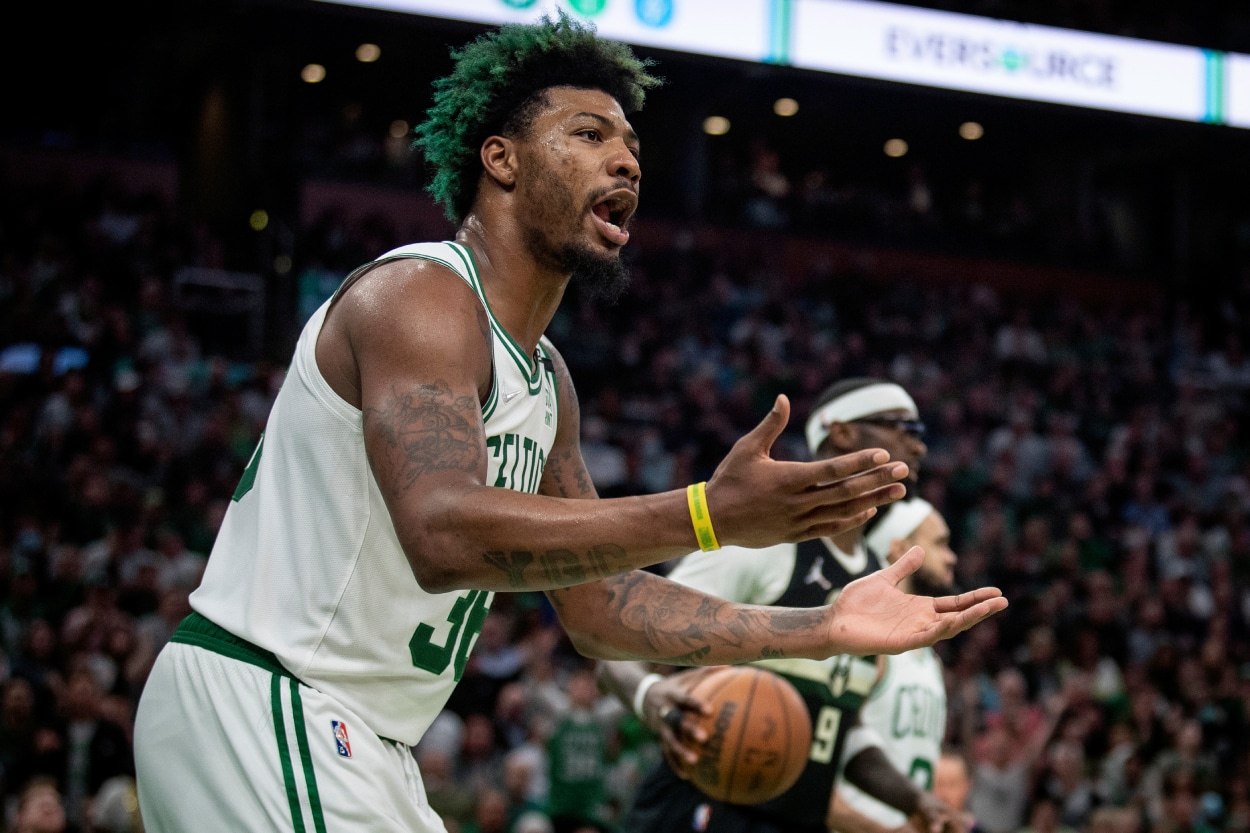 The Celtics and Bucks have entertained basketball fans with one of the most intense playoff series in recent memory. Just when you think you have figured out what's going to happen, you get fooled. In six games, the visiting team has won four times. The Celtics have held 14-point leads in the fourth quarter in each of the last two games, winning one and losing one.
Smart and the Celtics knew they let one get away in the Game 5 loss at home. They blew a perfect opportunity to seize control of the series. Instead, they wilted. They surrendered homecourt advantage once again, just two days after reclaiming it in Milwaukee.
At home in Game 6, they showed resolve. Their fourth-quarter 14-point lead dwindled, but the Celtics didn't let it get away this time. They hung tough and won, 108-95.
"Tonight will be the first night since that game that I'll get some sleep," said Smart of the Game 5 meltdown, per ESPN.
Jayson Tatum, who poured in a game-high 46 points in Game 6, said the Game 5 meltdown was still fresh in his memory.
"They were tougher than us in that fourth quarter of Game 5," Tatum said. "That was in the back of my mind. That was in the back of everybody's mind, that we couldn't get beat on those kind of plays. Our season was on the line."
Smart made a bold statement after Game 6, and he's spot on
Tatum stole the show for the Celtics Friday night. Boston's three-time NBA All-Star hasn't had a great series, but was outstanding from start to finish in Game 6.
Although Tatum led all scorers, it was Smart who got things rolling with 14 points in the opening quarter. He finished with 21 points and led the team with seven assists. Smart was bold enough to say the Celtics go as he goes.
"I had to come set the tone," Smart said of Game 6. "We go as I go. I'm the heart and soul of the team.
"My teammates say that to me all the time. I try to be that for them. The energy that I bring is contagious. I know that. I try to bring that every game."
Cocky statement? Possibly, but it's the truth.
Nobody gives more on the court than Smart. He is the heart and soul of the team. Named the NBA's Defensive Player of the Year this season, Smart guards anyone at any position. He'll dive. He'll flop. Whatever it takes to win, Smart does it.
Off the court, he shows the same passion. After an early-season game in which the Celtics blew one of many leads late in the game, Smart called out his team's two stars. He publicly blasted Tatum and Brown for being selfish with the ball.
"Every team knows we're trying to go to Jayson and Jaylen," he said after the Celtics blew a 19-point, third-quarter lead against the Chicago Bulls in November. "Every team is programmed and studied to stop Jayson and Jaylen. I think everybody's scouting report is to make those guys pass the ball. They don't want to pass the ball."
Maybe it was wrong to say this publicly, but maybe he got through to them by doing so. The Celtics went on to have a dramatic in-season turnaround, vaulting them to the No. 2 seed in the Eastern Conference after a dreadful start.
Whether it was right or wrong, Marcus Smart will always be Marcus Smart — and that's good news for the Celtics.
Like Sportscasting on Facebook. Follow us on Twitter @sportscasting19 and subscribe to our YouTube channel.