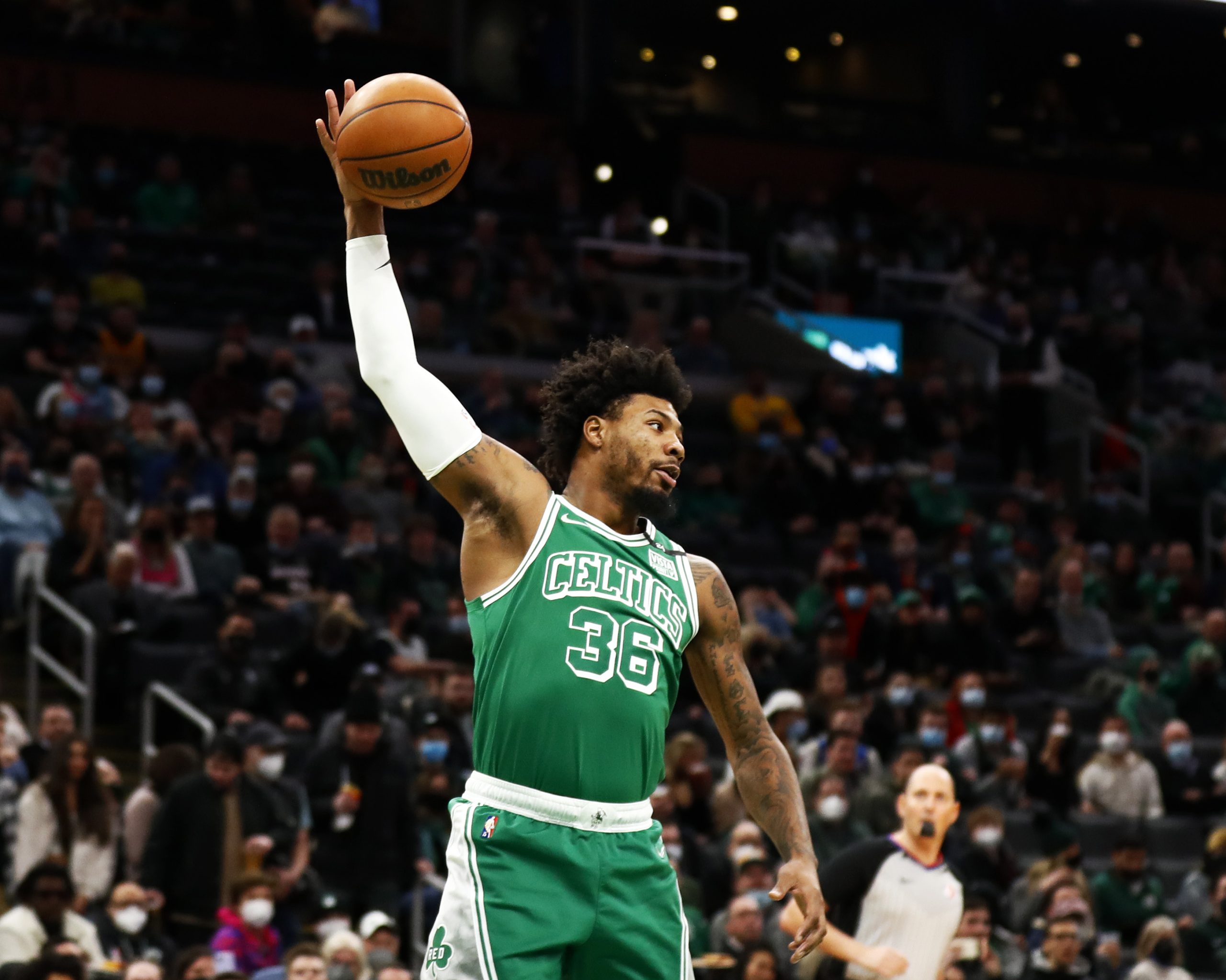 Kendrick Perkins Has Odd Way of Stressing Marcus Smart's Value to the Boston Celtics
Kendrick Perkins sort of compared Boston Celtics point guard Marcus Smart to a soft pair of shoes.
The Boston Celtics earned their most impressive victory in a month when they dominated in a 122-92 victory over the visiting Miami Heat on Monday. The win was the fourth in their last five games as the Celtics continued their roller-coaster season. The defense, led by Marcus Smart, has been the catalyst for the Celtics lately, and former Boston center Kendrick Perkins had a strange way of saying how valuable Smart is with this team.
Kendrick Perkins always has an opinion of the Boston Celtics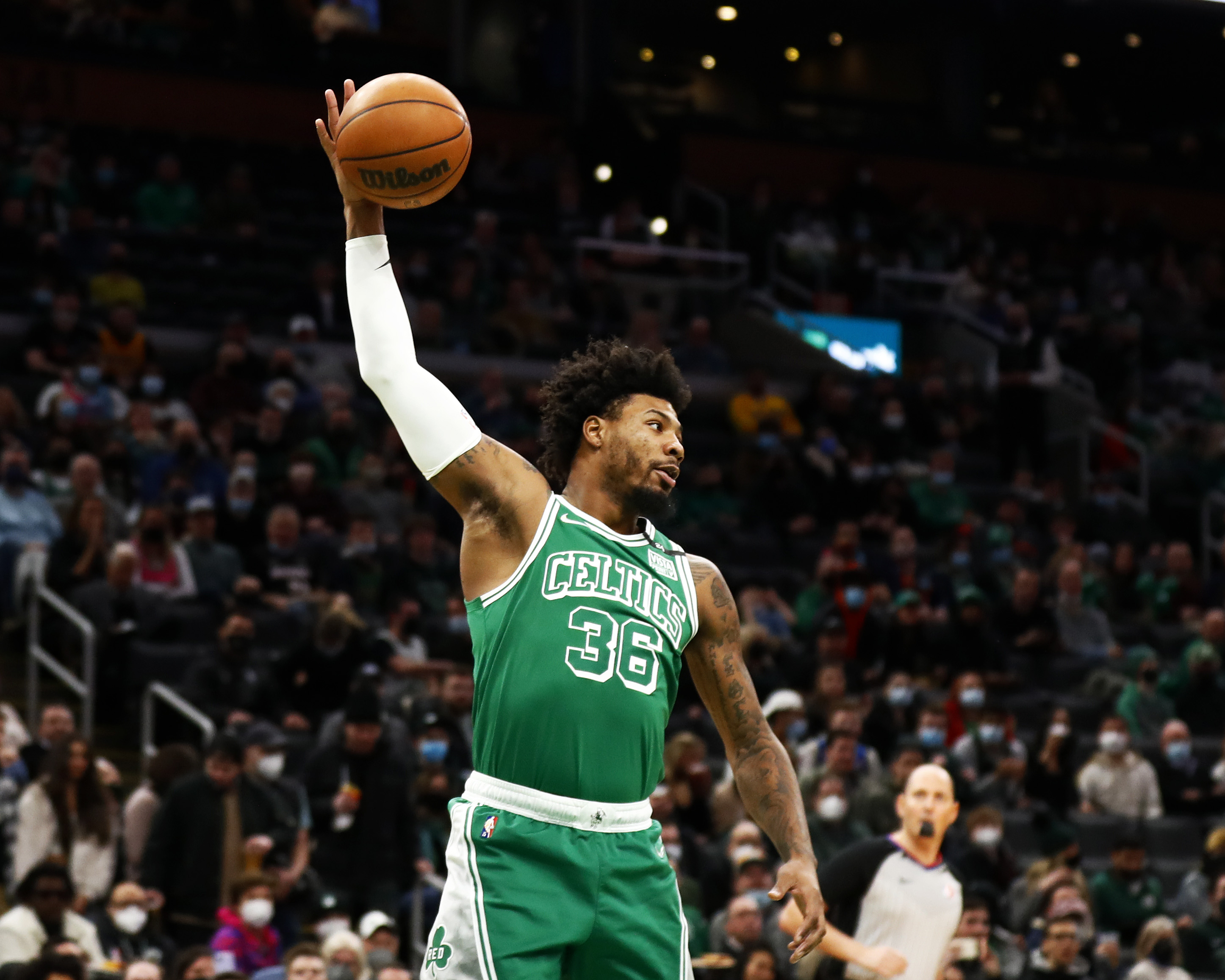 After the Celtics selected Perkins late in the first round of the 2003 NBA Draft, the 6-foot-10 center played eight seasons with the team. With Perkins as a defensive presence in the middle, the Celtics won one NBA title and played in another. Now, Perkins works as a basketball analyst and is never shy about sharing his opinion, especially of his former team.
The Celtics have struggled the last two seasons, even with their two All-Stars in Jayson Tatum and Jaylen Brown. A year ago, they finished 36-36 and were bounced in the first round of the playoffs by the Brooklyn Nets. Perkins didn't hold back last year when he called out the two stars for that lack of leadership after an ugly loss to the Atlanta Hawks.
"Here's the problem I have," Perkins said then, per NBC Sports Boston. "No heart and it starts with Jayson Tatum and Jaylen Brown. Tonight, all I saw out of Jaylen Brown and Jayson Tatum was bad body language, shooting up a whole lot of shots, complaining to the referees, not playing any type of defense.
"This was the worst loss of the season just because of the effort. All the veterans, they had no fight whatsoever."
Perkins has even gotten on Celtics fans, calling them "soft" in a January Twitter exchange.
"Y'all Celtics fans are changing!." Perkins wrote. "Getting soft. I remember y'all used to boo us for underachieving. I guess times has changed or shall I (say) expectations."
Kendrick Perkins recently gave some odd praise to Marcus Smart
The Celtics have been up and down all season. While their shooting has been wildly erratic, their defense has been consistent lately. In those last four victories, no opponent has scored more than 97 points.
When it comes to Boston's defense, it always starts with Smart. The fiery guard can defend at any position. He's never afraid to take a charge. Smart takes a lot of heat for some of his offensive play, but his tenacity on defense doesn't get enough credit.
How much do the Celtics need Smart to be a contender?
"They need him like old people need soft shoes," Perkins said. "That's how bad they need him."
Perkins wasn't even talking about defense when he stressed the importance of Smart on the court.
"You can tell when he goes off the floor, guess what?" he said. "The Celtics team, they struggle offensively getting into sets. It's no knock to Dennis Schroder. It's just facts. That's how important Marcus Smart is when he's the point guard and the facilitator."
Smart's name has come up as the trade deadline nears
Maybe it's just talk, but Smart's name had been mentioned in potential deals before next week's trade deadline. Losing Smart would be a disaster for Boston.
Smart is the heart and soul of the team. He brings toughness to the team that nobody else does. The return for a guy like Smart wouldn't be close to matching his worth because of all the intangibles he brings.
If Boston is to make a splash at the deadline, it will need to move one of its stars. If that were the case, Brown would likely be the guy.
Brad Stevens has said he'd rather build around his two All-Stars instead of breaking them up. Stevens is a loyal guy, and if he's to make a move, it's likely going to center around Schroder or Josh Richardson. If he can move Al Horford and his contract, that's a possibility as well.
Smart needs to stay. Celtics fans may cringe when he jacks up one of his three-pointers, but he just may be the most valuable player on that team.