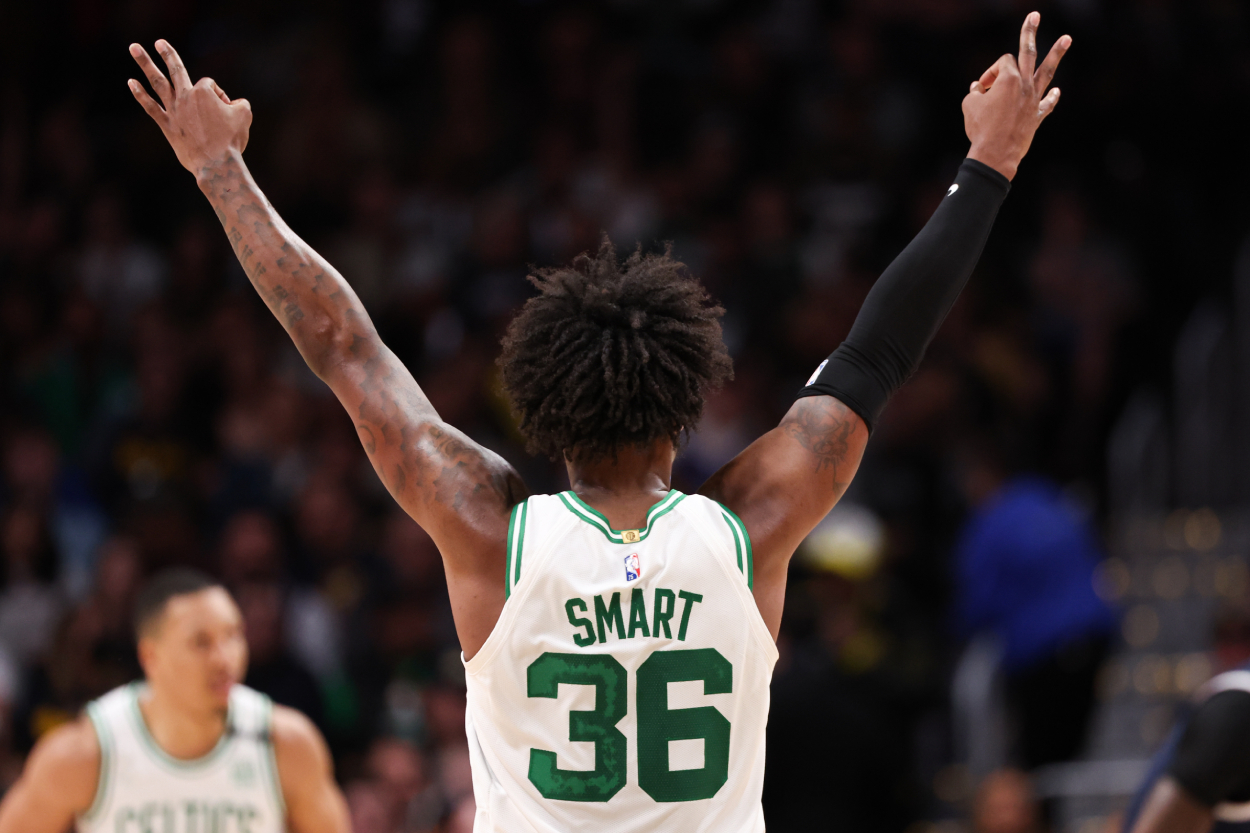 Marcus Smart on Robert Williams' Injury and Celtics' Early-Season Adversity: 'Everything Happens for a Reason'
Marcus Smart and the short-handed Boston Celtics put up quite a fight against the Toronto Raptors on Monday.
Even though the Boston Celtics tasted defeat for the first time in two weeks, there were a lot of positives. The Celtics played Monday's game against the Toronto Raptors without four starters, including Jayson Tatum and Jaylen Brown. They were also missing their two starting big men, Al Horford and Robert Williams. The short-handed Celtics went on the road and took the Raptors to overtime before falling 115-112.
Williams' absence is the most concerning. He left Sunday's game against the Minnesota Timberwolves with a knee injury. An MRI on Monday showed a meniscus tear, and his return this season is questionable. Veteran point guard Marcus Smart has seen the blows the Celtics have experienced right before the playoffs in years past. He's also had an up-close view of the adversity the team faced much of this season.
Smart believes all those issues will benefit them in the long run. He also continues to believe "everything happens for a reason."
Marcus Smart stepped up for the short-handed Boston Celtics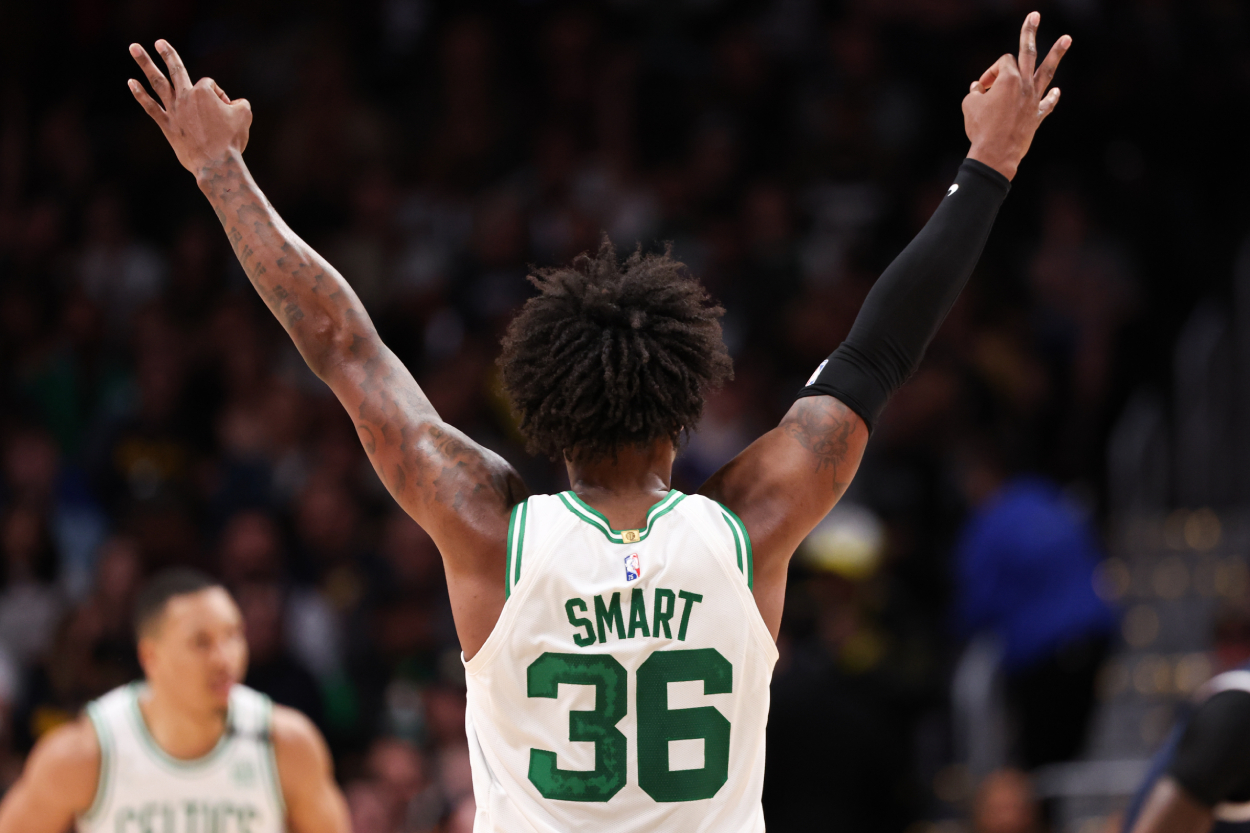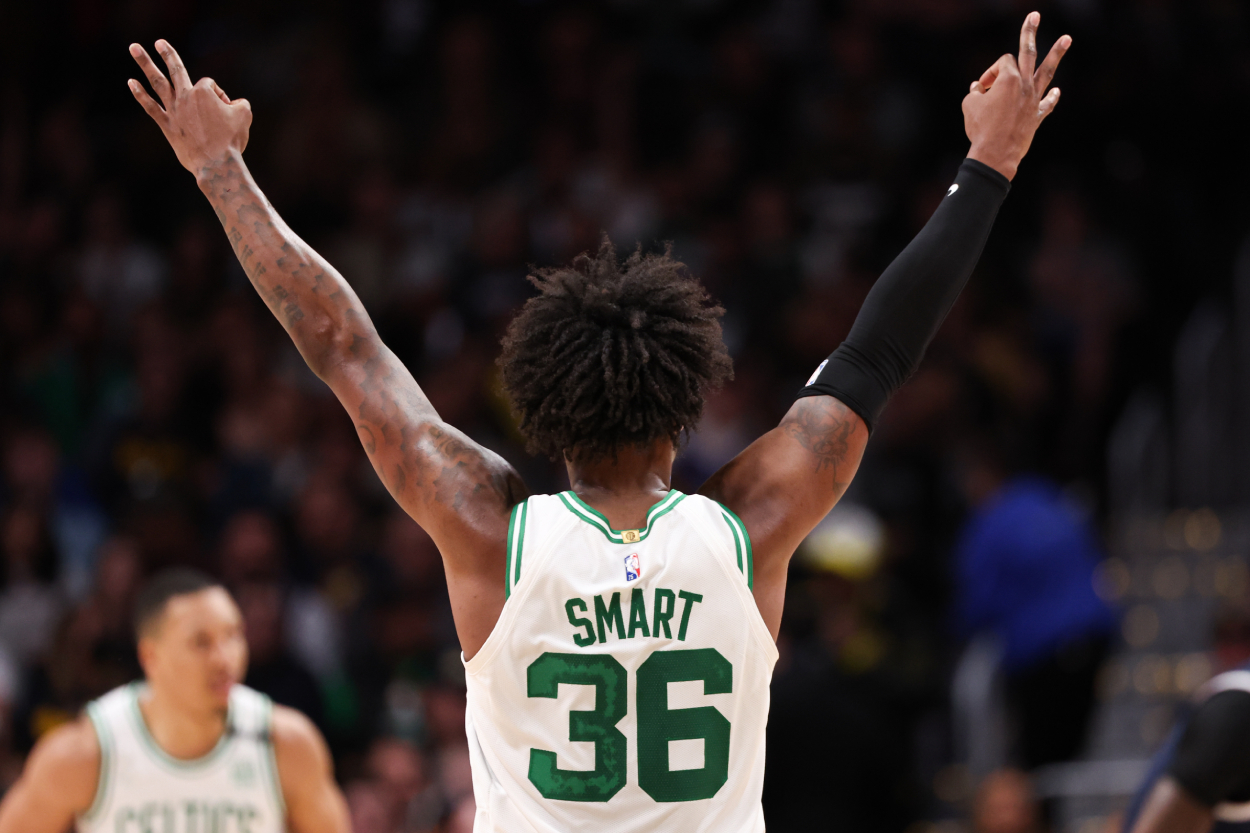 The game shouldn't have been this close. The Celtics didn't even bother to bring everybody to Toronto for the second leg of a back-to-back. Smart was the lone starter to play against a Raptors team gearing for the playoffs.
He finished with team-highs in points (28) and rebounds (10) as the Celtics gave everything they had in the overtime loss. It was just the fifth loss for Boston in their last 29 games.
"Great night by a lot of guys," Celtics first-year coach Ime Udoka said, per ESPN. "A lot of guys stepped up. We had our chances and felt we should have won."
The Celtics used eight players, and seven of them finished with 10 or more points, including Payton Pritchard and Sam Hauser with 10 each off the bench. Smart, however, was the leader on the court, as he usually is. This time, however, he was the statistical leader as well.
"It was a tough game," Smart said. "The fact that we did what we did and had chances, I'm proud of us."
Marcus Smart addressed the Robert Williams injury and the Celtics' early-season woes
Not much has gone against the Celtics in the last three months. Monday's loss was only the second in March for Boston, and it was a good loss, considering the circumstances.
As the Celtics position themselves for a playoff run, one can't help think of the string of tough luck the team has had recently in the playoffs. Last year, they were without Brown, who had season-ending wrist surgery. They've also had to deal with a season-ending injury to Kyrie Irving in 2018. Now, it's Williams.
Smart looked at the positives.
"The advantage that we have with that is, you know, we went through 30-something games without our full roster," Smart said after Monday's loss. "We had to learn and adjust to play like that. It definitely is a hit to us, but we know Rob wouldn't want us to hold our heads, and we're not gonna do that."
Smart looked at the whole season, knowing the team struggled early. Williams' injury is another form of adversity the Celtics must deal with.
"Everything happens for a reason," he said. "That's my motto. That's how I grew up and that's how I was raised. I've always said you've gotta go through the storm to get to the other side of that rainbow when it's done. The safest place in the storm is right in the center. You can't run from it and you can't hide from it. You gotta go right through it.
"Everything happens for a reason. We don't know what that reason is, but we can't worry about that. We gotta go and focus on what's in front of us."
Ime Udoka unsure how long Williams will be sidelined
Williams needs surgery to repair the torn meniscus in his left knee, but his return date is unknown, according to Udoka. The coach said it depends on the type of surgery they decide to go with.
"We'll know in the next few days, just evaluate some surgical options, look at those over the next few days and we'll know more then," Udoka said, according to Boston.com.
The Celtics only have six more regular-season games remaining. Udoka said he hasn't ruled out Williams returning for the playoffs.
"There are some [surgical options] that keep you out longer than others and we're hoping for the best as far as that," Udoka said.
"He has some optimism that possibly he can come back and guys have to step up in the meantime. We've done it all year and hopefully, he'll be back sooner than later. We'll see in the next few days, but that should give him some hope and optimism to heal up and rely on everybody else to kind of take his spot for now."