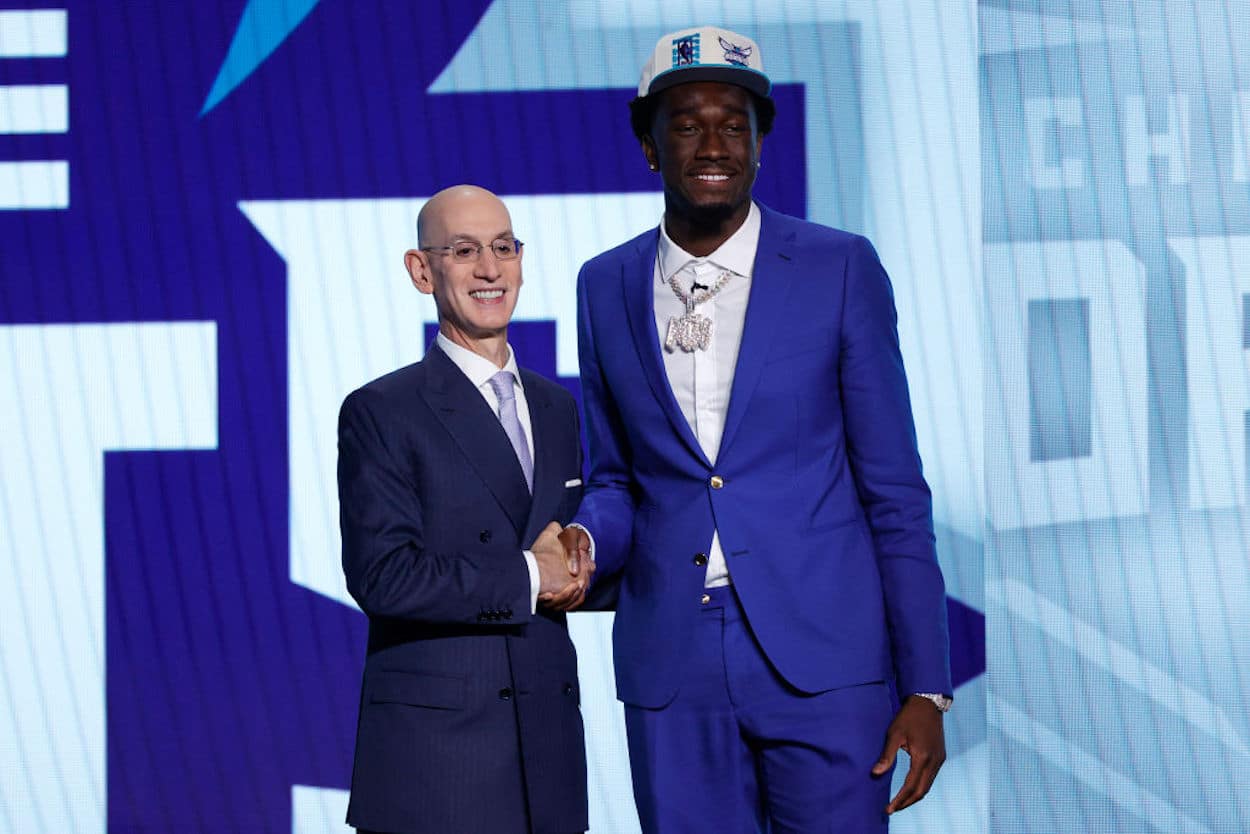 Mark Williams Had the Perfect NBA Draft, Despite Paolo Banchero Stealing the Show
While traditional big men don't dominate the NBA like they once did, Mark Williams seems like a perfect fit with the Charlotte Hornets.
On the whole, the Duke Blue Devils men's basketball program has to be pretty pleased with the 2022 NBA draft. Five of their players — Paolo Banchero, A.J. Griffin, Mark Williams, Wendell Moore Jr., and Trevor Keels — heard their names called, which set an all-time ACC record. Banchero also stole the show on an individual level by making an unexpected leap and becoming the first overall pick.
While it would be easy to say that means he had the best draft night, Williams shouldn't be overlooked. Although Banchero will probably find significantly more fame and fortune in Orlando, the center landed in the perfect spot to optimize his potential.
Mark Williams and the Charlotte Hornets are a match made in defensive Heaven
If you've watched your fair share of NBA drafts, you'll know that some picks seem completely nonsensical while others appear to make perfect sense. Thankfully for those in Charlotte, landing Mark Williams firmly sits in the latter category.
During the 2021-22 campaign, the Hornets' biggest issue was their porous defense. While it's dangerous to make judgments based on one single event, consider their brief foray into the Play-In Tournament. Charlotte gave up 132 points to a less-than-dominant Atlanta Hawks squad, ending the season with a whimper.
After that game, Zach Kram of The Ringer penned a story that was literally titled, "The Hornets Have to Get LaMelo Ball a Defense." When James Borrego lost his job during the offseason, reports suggested that it was at least partially because Michael Jordan was unhappy with the club's defensive efforts.
Enter Mark Williams.
Beyond his sheer size — Brendan Marks of The Athletic notes that the center "stands at 7-foot-2 in shoes, with a monstrous 7-7 wingspan and 9-9 standing reach" — Williams proved to be a capable shot-blocker at Duke. As the cliche goes, his mere presence will force players to alter their shots.
The big man is also a capable rebounder and, based on Marks' reporting, spent practice time trying to contain a 5-foot-8 scout team guard on the perimeter. While you probably want to keep Williams pretty close to the block, the ability to survive in those switch situations will only serve him well in the Association.
Even if Williams takes some time to mature and smooth out his rough edges, Charlotte now has a legitimate defensive stopper who can grow up alongside the rest of their talent.
Williams isn't going to dominate offensively, but he'll be a natural target for LaMelo Ball
To be clear, Mark Williams didn't become the 15th overall pick because of his offensive ability. That doesn't mean he'll be a complete non-factor on that end of the floor, though, especially when paired with LaMelo Ball.
During his time at Duke, Williams actually shot incredible well from the floor, converting 70.4% of his attempts. As that number may lead you to believe, he primarily focused his efforts on transition dunks, put-backs, and dives to the rim out of the pick-and-roll.
Take that reality, and now picture him playing a two-man game with Ball. Say what you will about LaVar and his antics, but LaMelo has already proven to be a prolific scorer and a capable passer. He should have a field day tossing lobs to Williams and feeding him bounce passes on dives to the rim.
It's also worth noting what Mike D'Antoni could bring to the table, assuming he lands the Hornets head coaching gig at the second attempt. While it's easy to focus on how he'll affect Ball, the bench boss did help A'mare Stoudamire turn into a legitimate offensive threat. While Williams doesn't have the saw raw talent as Stat, he does seem well-suited for an offense that asks him for a quick backdoor cut or screen-and-roll.
On draft night, Paolo Banchero was the exciting pick who stole the show. Mark Williams, however, looks to be just who the Charlotte Hornets need.
Stats courtesy of Sports-Reference.