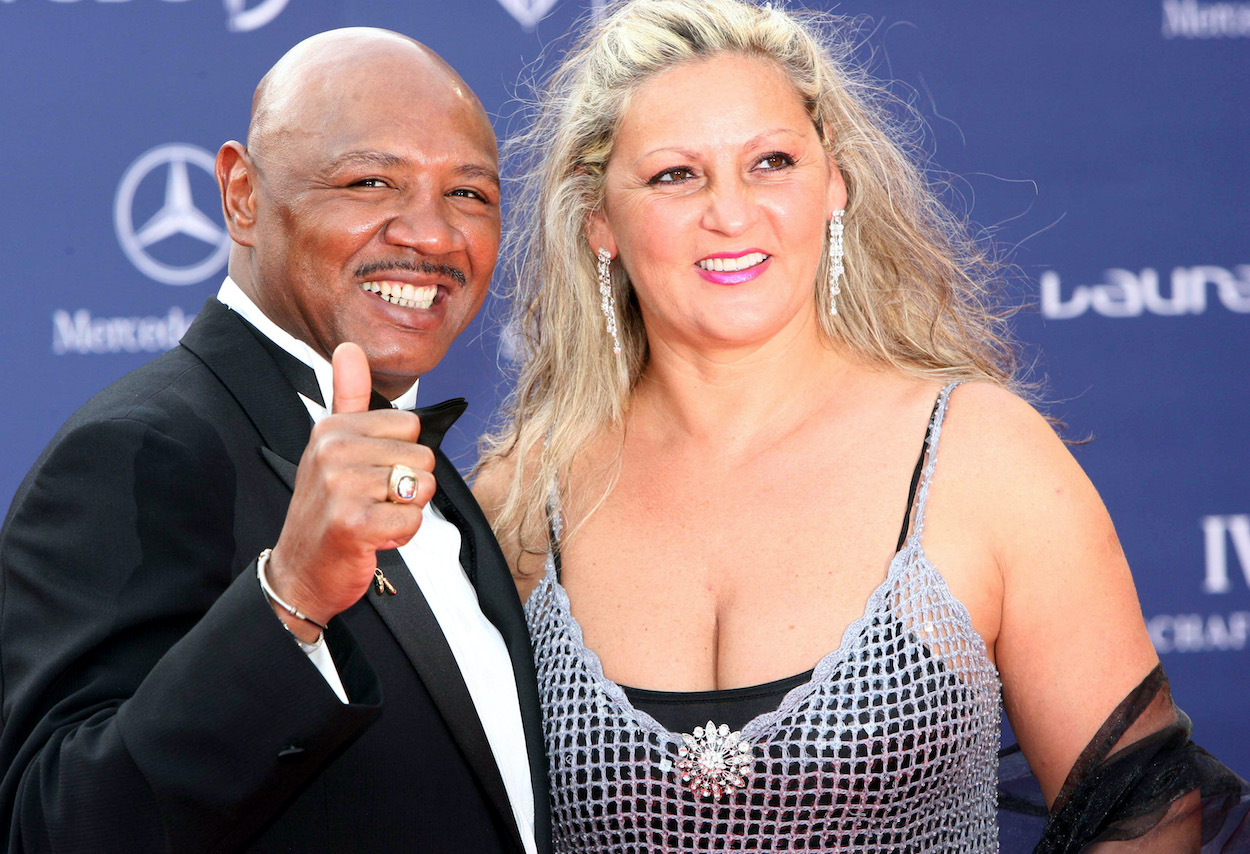 Marvelous Marvin Hagler's Widow Aggressively Denies the Vicious Rumor About His Death
A vicious rumor recently emerged about Marvelous Marvin Hagler's death being caused by the COVID-19 vaccine, but his widow just ended it.
The boxing world was stunned and saddened to learn that legendary former middleweight champion, Marvelous Marvin Hagler, passed away over the weekend. Hagler's longtime wife, Kay, announced his unexpected death on Saturday via Facebook. But what should've been a celebration of the boxing legend's life turned into a vicious rumor about his death and a heated debate about vaccines.
On Monday, Kay took to Facebook yet again to deny the rumor that Hagler died from complications from the COVID-19 vaccine.
Marvelous Marvin Hagler passed away over the weekend
On Saturday, March 13, boxing lost a true legend of the sport in Marvelous Marvin Hagler. His wife of more than 20 years, Kay, announced his passing on Hagler's official fan club page.
"I am sorry to make a very sad announcement. Today unfortunately my beloved husband Marvelous Marvin passed away unexpectedly at his home here in New Hampshire. Our family requests that you respect our privacy during this difficult time," she wrote on Facebook.
Hagler held his title as the undisputed middleweight boxing champion from 1980-87. He was inducted into the International Boxing Hall of Fame in 1993.
Hagler's former boxing rival and anti-vaxxers stir up controversy about his death
Shortly after Hagler's passing was announced, rumors started swirling about the boxing legend's cause of death. Kay said he passed away unexpectedly at his New Hampshire home, but fans gravitated toward a different claim.
Earlier on Saturday, Thomas Hearns posted a since-deleted photo of Hagler on his Instagram page with the following caption:
"A real true warrior Pray for the king and his family.. he's in ICU fighting the after effects of the vaccine! He'll be just fine but we could use the positive energy and Prayer for his Full Recovery!"
The Instagram post sent the Internet into a frenzy with rumors and anti-vaccine conspiracies. Those who are firmly against the COVID-19 vaccine used Hagler's death as a new point of argument in their debates.
Kay, who saw her husband's death being used as a pawn in political arguments about a worldwide pandemic, decided on Monday to dispel the rumors once and for all.
Marvelous Marvin Hagler's widow aggressively denies the vicious rumor
After a few days of rumors and controversy surrounding Hagler's death, Kay took to Facebook again to vehemently deny the rumor that Hagler passed away from the effects of the COVID-19 vaccine.
"After 31 years the love of my life is gone and my life without him no longer makes sense ,but I can feel him next to me even now and he's telling me not to give up and be strong for him," she wrote. "Thank you for your love , he loved people so much, he loved you all he was happy when he read your comments he was a special person the most beautiful person i had ever met in all my life.
"I was the only person close to him until the last minute , and I am the only person that know how things went not even his family know all the details and I do NOT accept to read some stupid comment without knowing really what happen . For sure wasn't the vaccine that caused his death . My baby left in peace with his usually smile and now is not the time to talk nonsense."