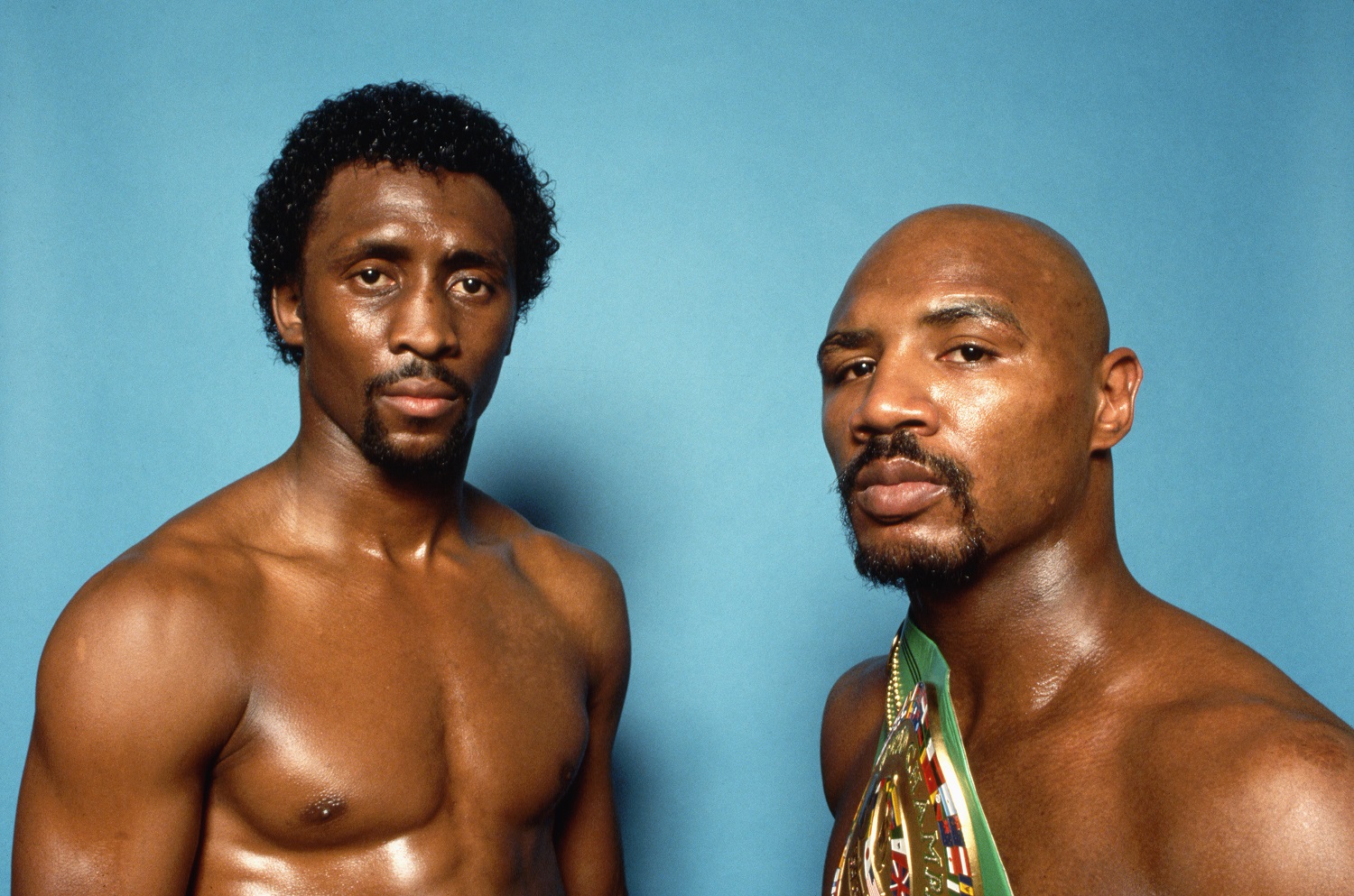 Marvelous Marvin Hagler's 6-Word Response During the Classic Thomas Hearns Fight Was as Good as the Bout Itself
Marvelous Marvin Hagler fought in 1985 in a matchup regarded as one of the greatest and most memorable in the sport's history.
Here's everything you need to know about the 1985 fight between Marvelous Marvin Hagler and Thomas Hearns: It didn't last three full rounds — and yet no one leaving Caesars Palace in Las Vegas went home disappointed.
To this day, two simple words – "Hagler-Hearns" – bring a smile to the face of a boxing fan fortunate enough to have witnessed the epic title fight. But six words spoken by Hagler in the heat of battle that night epitomized the man's toughness and determination.
Boxing legend Marvelous Marvin Hagler has died
A posting made by his wife on the retired boxer's Facebook page on March 13, 2021, announced that middleweight champion Marvelous Marvin Hagler died unexpectedly at the family's New Hampshire home. He was 66.
It was the final chapter in the life of one of boxing's greatest champions. In an era of title designations watered down by the politics of competing sanctioning bodies, Hagler was his division's undisputed champion from 1980-87. The only dispute to be found came in Hagler's final bout, a split-decision loss to Sugar Ray Leonard that remains questioned more than three decades after the fact.
The champion took on all contenders
Three aspects of his reign qualified Marvelous Marvin Hagler as a great boxing champion:
Hagler made the most of his opportunity after waiting too long for a title shot.
He took on all challengers.
He was a finisher, piling up 52 knockouts en route to a 62-3-2 record.
Hagler made 12 successful title defenses after beating Alan Minter in September 1980. His 79-month reign was the second-longest for a middleweight in more than a century, and only one of his successful title defenses went the distance. Along the way, he beat the biggest names in a great era for middleweights: Vito Antuofermo, Roberto Duran, Juan Roldan, and, of course, Thomas "Hitman" Hearns. It earned him the Boxer of the Decade designation from Boxing Illustrated.
An overlooked aspect of Hagler's career is that he had to wait until his 50th professional fight – which turned out to be a draw vs. Antuofermo – for his first title shot. After that, it would be another 10 months and four fights before he was given a second chance, this time against Minter. The problem for Hagler was that he was a powerful puncher and a southpaw, a combination that managers did not want their fighters to face.
Marvelous Marvin Hagler's response was as good as the Tomas Hearns fight itself
Though he took on multiple great challengers, the fight that defined Marvelous Marvin Hagler's career was his epic showdown with Thomas Hearns, who moved up from light middleweight in April 1985. The fight was 7 minutes and 52 seconds of brutal violence.
By the time the first round ended, Hagler had already been badly cut and Hearns had broken his right hand. The second round was no less intense than the first, and Hagler was gaining the upper hand even as blood oozed from his cut.
Concerned in the third round, referee Richard Steele stopped the clock to have the ringside doctor look at Hagler's cut. The doctor asked the champion if he was able to see.
Hagler's reply was priceless: "I'm not missing him, am I?"
The referee allowed the fight to resume. Less than a minute later, Hagler connected with an overhand right that buckled Hearns. The ensuing flurry sent the challenger to the canvas. Hearns made it back to his feet at the count of eight but was staggering, prompting Steele to stop the greatest three-round fight in history.
Like Sportscasting on Facebook. Follow us on Twitter @sportscasting19.