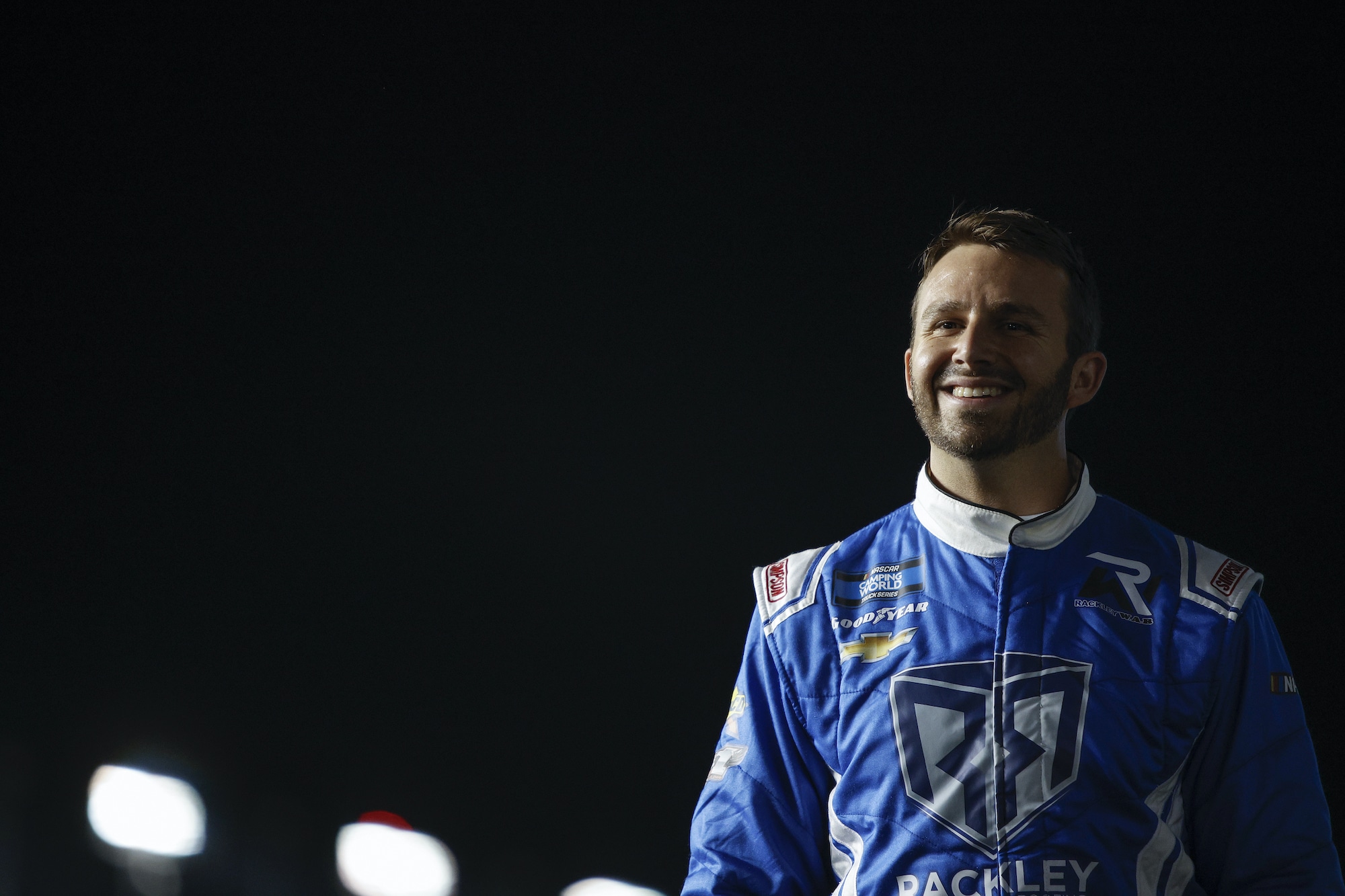 Unhappy Matt DiBenedetto Responds After Truck Series Team Unexpectedly Announces His Early Departure
Matt DiBenedetto didn't hide his disappointment after learning his NASCAR Truck Series team was kicking him out of the No. 25 in the final three races.
Since leaving the Wood Brothers and Cup Series racing after 2021, Matt DiBenedetto has kept his head down and worked hard in the NASCAR Truck Series. He's found some success with the Rackley WAR Team, including his first win in a national series race last year at Talladega.
This year, the 32-year-old hasn't won a race but did make the postseason. And then, seemingly out of nowhere, in the middle of the playoffs, the driver announced that he wouldn't be returning with the team in 2024. Something seemed amiss.
This week, the team, once again, out of nowhere, announced that Matty D wouldn't be piloting the car for the final three races. The upset driver didn't hide the disappointment in his response.
Matt DiBenedetto made playoffs in second Truck season
Matt DiBenedetto came into the 2023 Truck Series season with high expectations after recording his first win late last year at Talladega. This season started slowly with four finishes of 25th or worse in the first nine races.
However, the No. 25 truck got it in gear at North Wilkesboro, scoring a third-place finish on the historic track. DiBenedetto followed that up with five consecutive top-10 results and made his way into the playoffs. 
In the first race of the first round, he scored a solid 10th-place finish at Indianapolis Raceway Park. Unfortunately, the following race at Milwaukee, he finished 27th. Despite tying his season-best result with a third place at Kansas the following week, he was eliminated from the playoffs.
He scored a 10th-place result at Bristol last Thursday. 
DiBenedetto surprisingly announces he won't return in 2024 
Going back to late August, days after DiBenedetto suffered his worst finish in the back half of the season on the Milwaukee Mile, he surprised his fans by announcing on social media that he would not return to Rackley WAR in 2024.
"After careful consideration, I have decided not to return to Rackley WAR for the 2024 race season. I'm very thankful to have been a part of the team's tremendous growth over these two years. We've shared many accomplishments together such as the team's first win, making the playoffs, 6 top 10's in a row, and much more. I'm thankful for the opportunity to Rackley WAR, Curtis, Willie, Chevrolet, and all our partners have given me these past 2 years for believing in me.
"I'm looking forward to what the future holds, as of right now I don't have any 2024 plans but I'm exploring all options in all series. Thank you to my dedicated and awesome fan base, as well as NASCAR and the whole industry for being able to make a career of what I love!"
Team reveals driver out for final three races
As mentioned, DiBenedetto has finished third and tenth, respectively, since that announcement. This week, the Truck Series team made an unexpected announcement of its own on X, revealing that DiBenedetto would not be competing in the final three races for the organization.
"Rackley WAR has reached a decision to make a driver change for its No. 25 NASCAR Craftsman Truck Series (NCTS) entry for the remaining three events of the 2023 race season, including Talladega Superspeedway, Homestead-Miami Speedway, and Phoenix Raceway.
"The team, in its third year as a full-time NCTS team, sponsored by Rackley Roofing Co., and WAR Shocks, will release further details of the transactions once they are finalized." 
Several hours later, an understandably unhappy DiBenedetto responded. 
"No words can express the disappointment I'm feeling right now and also not being able to finish the season out. I really want to thank my fans for always being there for me, it means the world to me and I'll always be there for you. Thank you NASCAR and Craftsman for such an awesome series that I love competing in with all my heart! Working on 2024 and will update you all soon!"
This all has a very weird vibe to it. We likely will never know what happened and why it ended the way it did. But it's safe to say based on the unexpected nature of both announcements, it wasn't on good terms.
To stay up to date on the latest happenings in NASCAR, including breaking stories you can't find anywhere else, follow Kyle on YouTube and Twitter.