Matt LaFleur Implies the Packers Need Jordan Love to Perform Like Aaron Rodgers, Not Brett Favre
The Aaron Rodgers era with the Green Bay Packers is winding down under terms of the truce between the quarterback and the front office. Maybe, just maybe, he lasts two more years. More likely, Rodgers exits after the upcoming NFL season. The if, when, and where of Rodgers' departure depend largely on what he decides. Head coach Matt LaFleur possesses no such control over his own future, which is why he has an interest in Jordan Love's progress.
If Love produces a 5-12 record instead of 12-5 as Rodgers' eventual replacement, the Packers could whack the coach and QB as part of a franchise reset. It helps explain why the coach is striving to mold Love into the next Aaron Rodgers rather than the next Brett Favre.
The Green Bay Packers aren't sure what they have 16 months later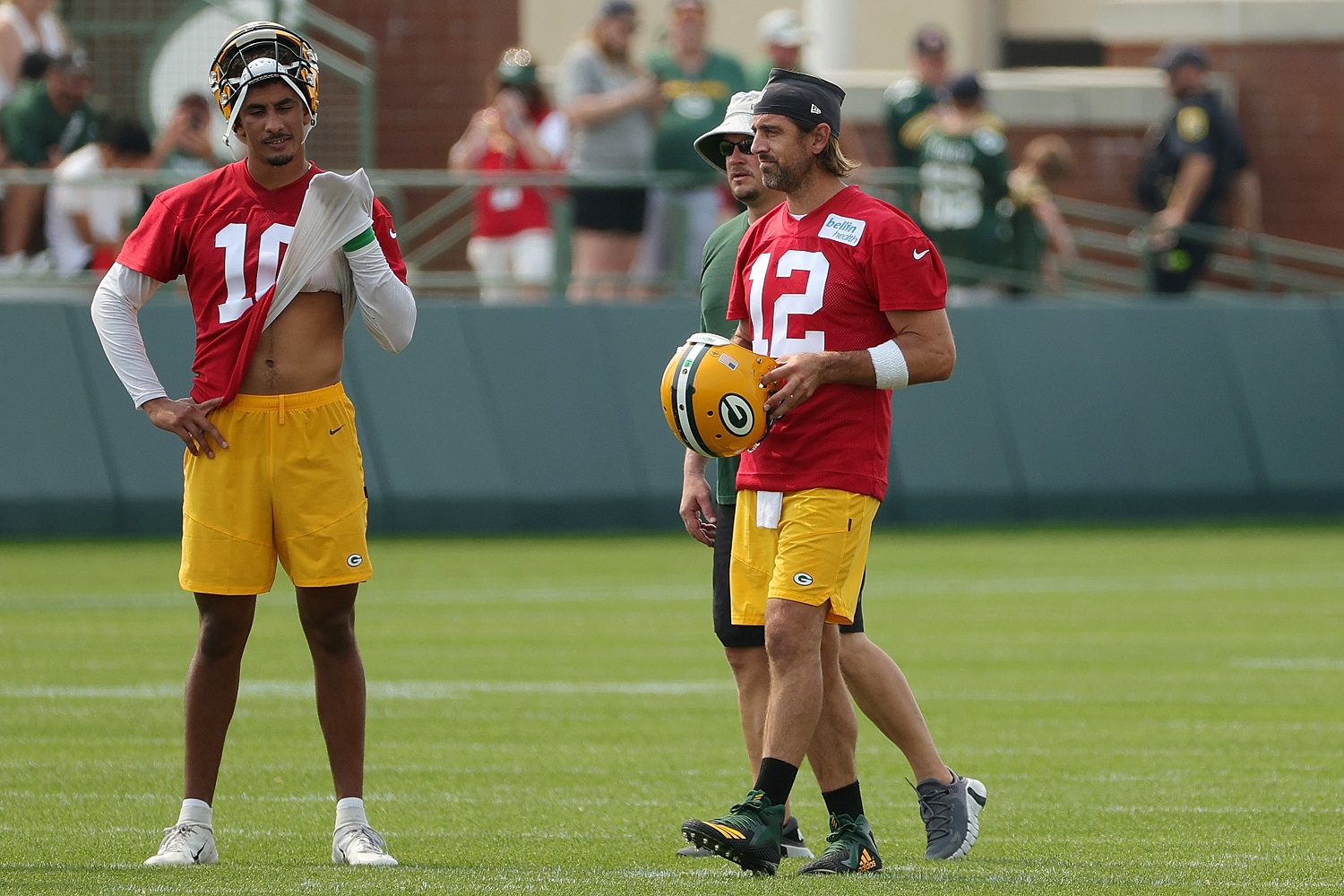 The Cincinnati Bengals selected Joe Burrow as the No. 1 pick in the 2020 NFL Draft, but the Packers made Jordan Love the No. 1 topic of conversation by handing the Miami Dolphins an extra fourth-round selection to move up four spots late in the first round. Green Bay then took Love, a 21-year-old QB out of Utah State.
The move set off fireworks. Rodgers was 36 years old, but he was coming off a year in which he had thrown 26 touchdown passes and just four interceptions in the eighth 4,000-yard season of his career.
Packers fans were bewildered, and surely Rodgers was, too. Coming off a 13-win season and a trip to the conference title game, Green Bay could have used the pick to address a pressing need. Instead, Love spent the entire season on the bench while the three other first-round signal-callers saw significant playing time.
So, the Packers came to their 2021 training camp still uncertain about what Love has to offer at quarterback. Considering all the is-he-or-isn't-he drama associated with Rodgers since the playoff loss to the Tampa Bay Buccaneers in late January, the doubt was distressing.
Matt LaFleur needs Jordan Love to emulate Aaron Rodgers
The Packers' quarterback situation has spoiled their fans. The team made Rodgers the quarterback-in-waiting behind Favre in 2005. One of those two has started behind center since 1992, other than while Rodgers recovered from injuries in parts of 2013 and '17.
But Favre and Rodgers are different quarterbacks. Favre was the gunslinger and risk-taker right from the start. He led the NFL in touchdown passes four times and threw for 30 or more scores five straight seasons. But he also led the league in interceptions three times. Favre's career ratio of 508 TD passes to 336 interceptions is not especially good in the modern era, and the playoff ratio of 44 to 30 speaks to why he possesses just one Super Bowl ring.
Rodgers is the more methodical quarterback. He hasn't thrown more than eight interceptions in a season since 2010. At 65.1%, his completion percentage is superior to Favre's mark (62.0), but it's not as though the play-calling is more conservative; Rodgers' yards per attempt and per completion outshine his predecessor.
With 412 TD passes and 89 interceptions, Rodgers is the quarterback that LaFleur needs Love to emulate. Whether that's in 2022 or '23 remains to be seen.
The Packers are right to worry about Jordan Love
NFL preseason games are about as meaningless as it gets. But those games and the occasional joint practices with other teams are about all the Packers have to go on in assessing Love's progress.
The 19-0 loss to the Buffalo Bills over the weekend was no better than a mixed bag. Logging some time against what passed for the Bills' starting defense, Love completed 12 of 18 attempts for 149 yards and an interception. The pick, a high-risk throw to the end zone on first down, was particularly disconcerting, but he threw other balls that amounted to questionable decisions.
"I just told him that you can't ever just risk it quite like that unless it's fourth down and the game's on the line, then certainly you can throw one up," LaFleur said, according to ESPN. "But we never want to take points off the board and those, the interception and then the one (gamble) at the end of the half, certainly could've taken points off the board."
Said Love: "That's one I've just got to obviously learn from and just dump that to the sideline right there and play the next play."
Added LaFleur: "I think you have to experience those and go through those in a game setting to really learn from them, so I'm pretty certain that he will learn from those mistakes and hopefully he doesn't repeat them."
There's a simple translation for that, and it doesn't require a Google plug-in: Play like Aaron Rodgers, not Brett Favre.
Like Sportscasting on Facebook. Follow us on Twitter @sportscasting19.