Max Verstappen Warns 1 Development Would Send the Formula 1 Champion Into Premature Retirement
Article Highlights:
Max Verstappen is coming off his first Formula 1 World Drivers' Championship after a duel with Lewis Hamilton
Red Bull Racing executives would like to extend the Dutch driver's contract beyond its 2023 expiration
Verstappen says losing race engineer Gianpiero Lambiase would be a blow that leads him to leave
The Red Bull Racing team reportedly wants to start negotiations on a long-term contract extension with Max Verstappen this offseason. Given that the Dutch Formula 1 driver just snared his first World Drivers' Championship at the ripe age of 24, the objective makes sense even though Verstappen is already locked in through 2023.
But if Red Bull wants to keep the man who dethroned four-time defending champion Lewis Hamilton, then perhaps the team should focus on Gianpiero Lambiase, too. Lambiase may not drive one of the team's cars, but he absolutely drives Verstappen throughout the long F1 season.
Red Bull Racing is understandably eager to keep Max Verstappen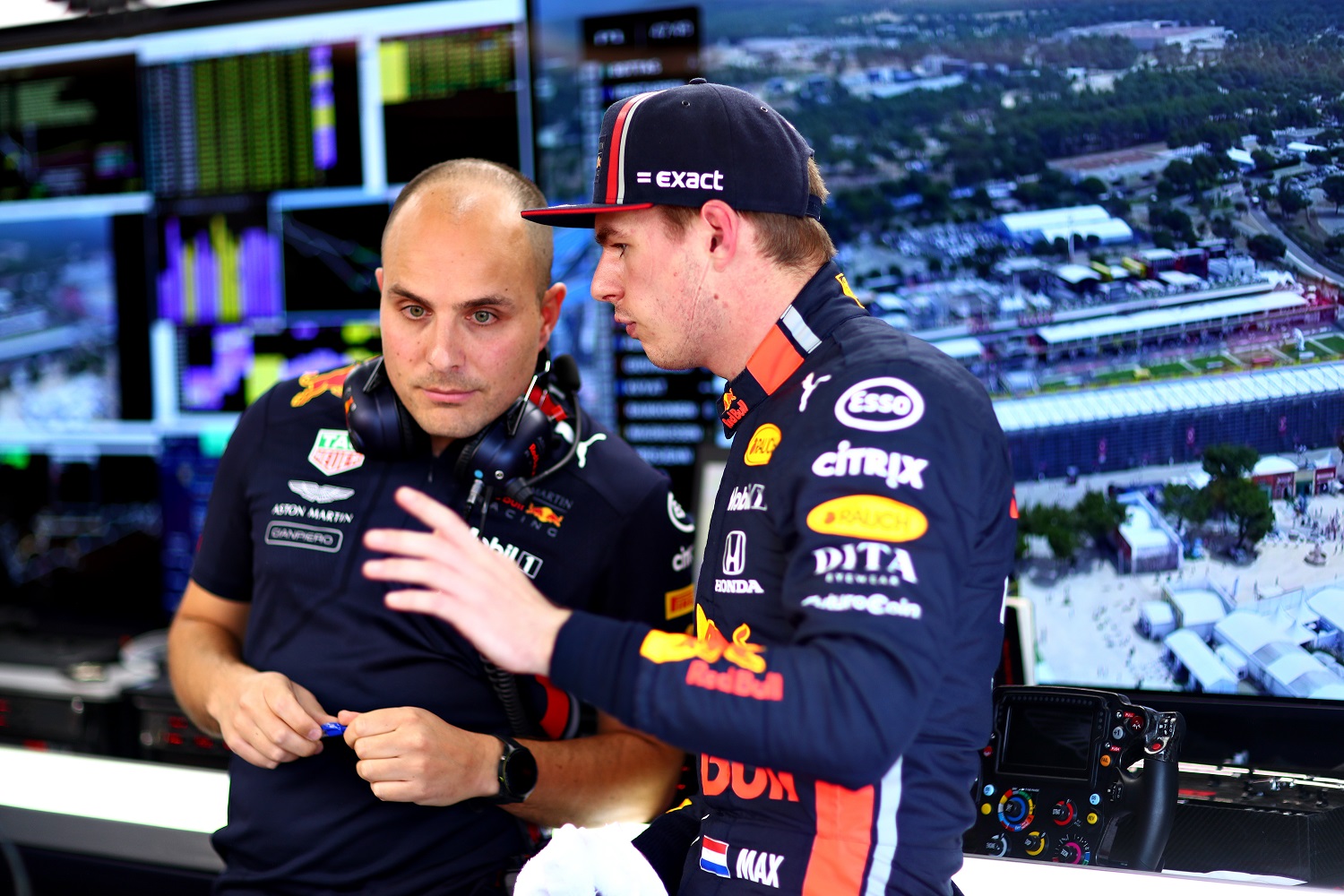 Max Verstappen did more than just win his first Formula 1 championship this month. He won it in dramatic fashion with a late pass in the season-ending Abu Dhabi Grand Prix, roaring past seven-time champion Lewis Hamilton. It made for thrilling viewing and capped a season in which F1 continued making inroads into growing its audience.
Verstappen began the season with 10 victories in 124 starts. He doubled that win total in nine months while also scoring 18 of a possible 22 podium finishes. He led more laps than in his previous six seasons combined. It was a spectacular year that enhanced his reputation as an elite driver and drove up the value of Red Bull Racing.
According to Motorsport.com, Red Bull consultant Helmut Marko said he intends to begin discussing a contract extension with Verstappen at the earliest opportunity. With Hamilton turning 37 before the start of next season and the Mercedes team having a penchant for spending big, it only makes sense for Red Bull to pursue the extension as a preemptive move should Hamilton retire by 2023.
Max Verstappen warns there is a development that would cause him to retire prematurely
New Formula 1 champion Max Verstappen has at least a decade of racing in front of him. He has already outgunned Lewis Hamilton over the course of a full season, and the gap between him and other F1 competitors will be substantial once the British legend retires.
Interestingly, Verstappen has revealed the development that would send him into an early retirement, theoretically even sooner than Hamilton chooses to leave.
Speaking to Ziggo Sport, a Dutch news site, Verstappen said losing Gianpiero Lambiase, a British/Italian race engineer who has been in Formula 1 since 2005, would be a career-altering blow.
"I have said to him I only work with him," Verstappen said, according to an interview translation by The Sports Rush. "As soon as he stops, I stop too."
Lambiase worked with Sergio Perez, now Hamilton's racing teammate, in 2014 and then joined Red Bull. He has worked on Hamilton's car since 2016, but his handling of the driver sometimes trumps what he does with the car.
"He has to tell me when I'm being a jerk and I have to tell him. I always told him that. He can tell me that on the radio as well, but it's been going really well lately. Last few years I tried to be the engineer and he tried to be the driver."

Max Verstappen
The rumblings about Lewis Hamilton retiring are interesting
It's doubtful that Max Verstappen would walk away from Formula 1 — or even just Red Bull Racing — over the loss of one employee, no matter how talented. On the other hand, there has been constant chatter recently that Lewis Hamilton might not return to Mercedes next season, fallout from the heartbreaking end to the Abu Dhabi Grand Prix.
Team principal Toto Wolff spoke openly last week about the possibility of Hamilton quitting. However, Verstappen isn't buying it, no matter how upset Hamilton was immediately after the season-ending race.
"Normally, Lewis has to come back," Verstappen told Servus TV. "Those words came to my mind after the race, but I think for him it was a normal emotional reaction. So, I count on him coming back."
Verstappen may very well be right. Though it did not cite a source, the Daily Express wrote this week that Hamilton has decided to return for the 2021 season.
That's great news for Formula 1 fans anticipating another season-long duel.
All stats courtesy of Racing Reference.