Mel Kiper Jr. Was Once Ripped On Live TV by an Angry GM in Epic NFL Draft Moment: 'Mel Kiper Has No More Credentials Than My Neighbor, and My Neighbor's a Postman!'
Some NFL draft moments will stick in our heads forever. Dan Marino dropping all the way to the Dolphins at No. 27. Eli Manning posing with a Chargers jersey after stating he would never play for the franchise. Laremy Tunsil slipping in the draft after a fan hacked his Twitter account and released a video of the lineman smoking marijuana through a gas mask.
But one of the most memorable draft moments ever didn't involve a player at all. Mel Kiper Jr.'s feud with former Indianapolis Colts general manager Bill Tobin spilled over to the television screen in 1994, and it created one of the most iconic sound bites in draft history.
Mel Kiper Jr. wanted the Colts to draft Trent Dilfer in 1994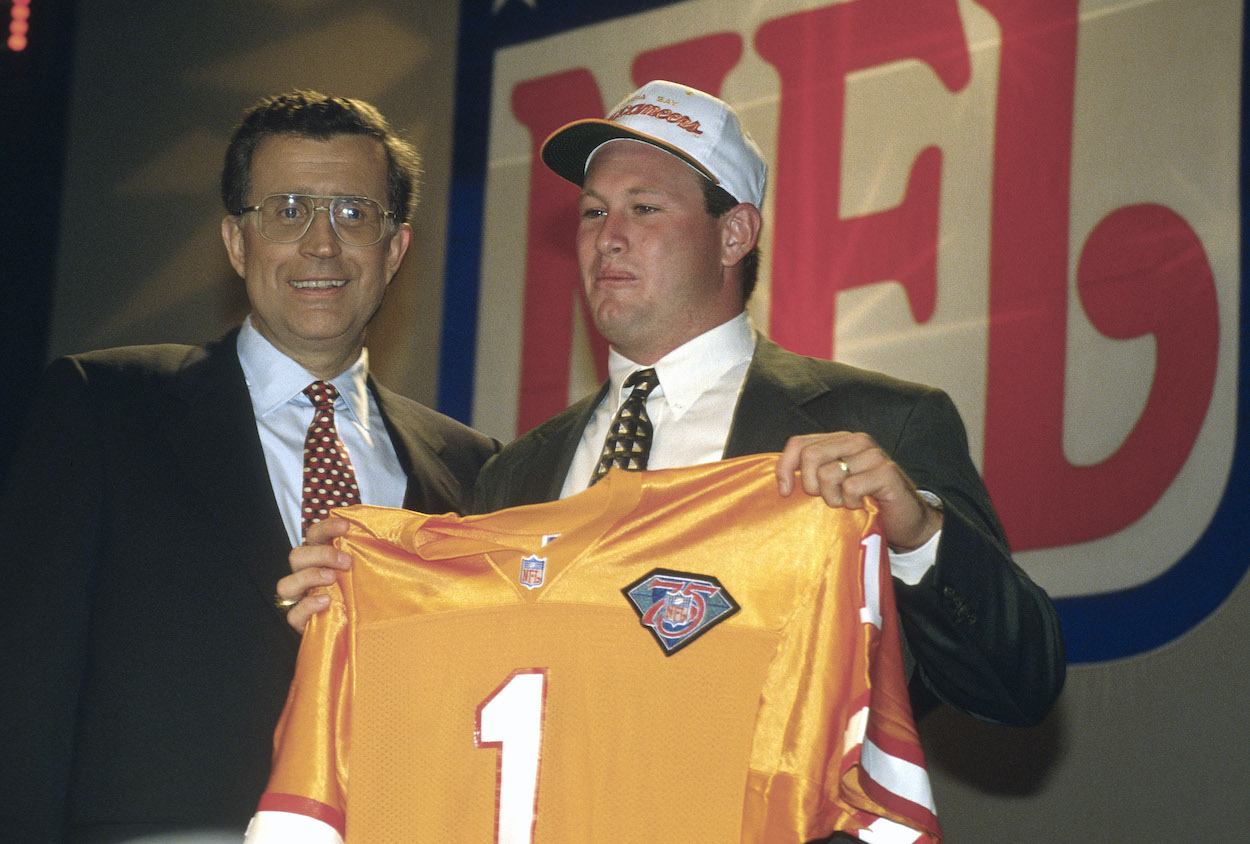 Back in the early 1990s, draft analysts weren't nearly as prominent as they are today. Kiper Jr. was still pumping out mock drafts for ESPN and covering the event on television, but he wasn't the famous expert he's considered in 2021.
Prior to the 1994 NFL draft, Kiper was adamant that the Colts needed to draft a quarterback with one of their two top-10 picks. Indianapolis had recently traded QB Jeff George to the Atlanta Falcons, and the only other signal-caller it had on the roster was Jim Harbaugh.
The Colts went with running back Marshall Faulk at No. 2 overall, which was understandable considering his impressive talent. But, surprisingly, Indy then traded up to No. 5 overall and selected Nebraska linebacker Trev Alberts instead of a QB.
It was safe to say Kiper didn't agree with the pick.
"I think it was a typical Colts move," Kiper said live on ESPN. "The Colts needed a quarterback. To pass up a Trent Dilfer when all you have is Jim Harbaugh — give me a break. That's why the Colts are picking second every year in the draft and not battling for the Super Bowl like other clubs in the National Football League."
Tobin ripped Kiper in a hilarious post-draft interview
After the draft, Tobin joined ESPN's Chris Mortensen for a live television interview. Mortensen opened the interview by asking about not taking a quarterback in the first round, and Tobin proceeded to give us the best sound bite in NFL draft history.
"Who in the hell is Mel Kiper anyway?" Tobin asked. "Here's a guy that criticizes everybody, whoever they take. He's got the answers to who you should take and who you shouldn't take. And my knowledge of him: he's never ever put on a jockstrap, he's never been a coach, he's never been a scout, he's been an administrator, and all of a sudden he's an expert.
"We don't have to take anyone Mel Kiper says we have to take," Tobin continued. "Mel Kiper has no more credentials to do what he's doing than my neighbor, and my neighbor's a postman! And he doesn't even have season tickets to the NFL."
Absolute gold.
Kiper got the last laugh over Tobin
Tobin might've made headlines for his epic rant, but Kiper eventually had the last laugh in the feud. Alberts, the LB Indianapolis traded up for in 1994, only lasted three years in the NFL, while Dilfer went on to win a Super Bowl with the Baltimore Ravens.
Three years after the 1994 draft, Tobin was also fired by the Colts. Meanwhile, Kiper is about to work his 37th NFL draft for ESPN.