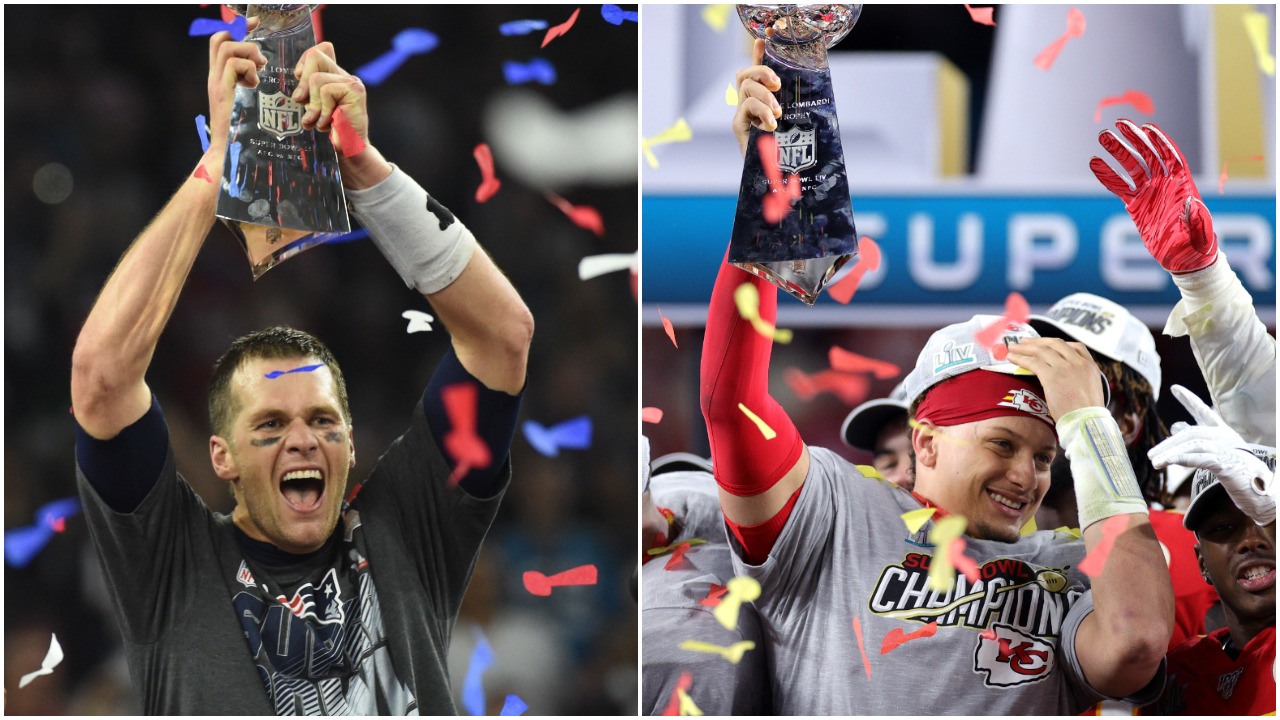 Michael Irvin Goes Absolutely Ballistic in Screaming Tirade on NFL Network, Tired of Comparisons Between Patrick Mahomes and Tom Brady
Michael Irvin went ballistic screaming his frustration with the constant comparisons between Patrick Mahomes and Tom Brady. Irvin said the GOAT has spoken and the conversation is over.
The GOAT vs. The Kid. Tom Brady vs. Patrick Mahomes. Many NFL pundits predicted the Kansas City Chiefs would upend the Tampa Bay Buccaneers in Super Bowl 55, and it would be the official passing of the torch from the legend to the legend-in-the-making. That, however, did not happen.
On the NFL Network's GameDay Final after the Super Bowl ended, Michael Irvin acted like he had just come off the field and scored the winning touchdown. When discussing what Tom Brady had just accomplished, Irvin went on an absolute tirade, angrily screaming his frustration with the comparisons between the two quarterbacks and describing how Brady put an emphatic ending to any debate. 
Tom Brady vs. Patrick Mahomes in head-to-head matchups
In the four years since Patrick Mahomes joined the NFL, he has faced Tom Brady on four occasions. The first occurred in October 2018, Mahomes' first full season under center. Brady threw a lone touchdown while Mahomes answered with four of his own on a Sunday Night Football primetime matchup. The Patriots still escaped with a 43-40 victory.
Several months later, the two teams met in the AFC championship game in Kansas City. Once again Brady walked away with the victory, 37-31. The Patriots then went on to defeat the LA Rams in Super Bowl 53. 
In the lone game between the AFC teams in 2019, both quarterbacks threw for a single touchdown, but Mahomes and the Chiefs got the better of the matchup, winning 23-16. This season, Mahomes picked up his second win against Tom Brady, who had joined the Buccaneers, earning a hard-fought 27-24 win in Tampa. Mahomes had three touchdowns. 
Tom Brady outperforms Patrick Mahomes in Super Bowl 55
Tom Brady and the Tampa Buccaneers had an advantage playing in their home stadium. And the Bucs looked like they felt right at home jumping out to an early lead on a Brady to Rob Gronkowski touchdown toss. Like the NFC championship, Brady guided the Bucs on a last-minute scoring drive to close out the half with a 21-6 advantage.
The second half was much of the same. The Bucs offense added another touchdown while the defense limited Patrick Mahomes and a normally potent Chiefs' offensive unit to another field goal.
The final statistics showed Tom Brady convincingly won the head-to-head matchup. Brady finished the game, completing 21-of-29 for 201 yards and three touchdowns. Mahomes, who was under considerable pressure much of the game from Todd Bowles' blitz-heavy attack, finished 26-of-49 for 270 yards, with no touchdowns and a pair of interceptions. 
The individual statistics, combined with the 31-9 final score, Tom Brady was undoubtedly the better quarterback for Super Bowl 55 and in earning his seventh Super Bowl title, further validated his status as the GOAT.
Michael Irvin goes on tirade about GOAT conversation
Moments after the game, NFL Network's Chris Rose started to discuss Rob Gronkowski's contribution during Super Bowl 55 when Michael Irvin, who just moments earlier had raved about Tom Brady's greatness, felt compelled to interrupt Rose.
"Every one of those guys that Tom brought over scored tonight," Irvin said, talking about Gronkowski and Antonio Brown. And Irvin was just getting started.
"He didn't just throw it; he built it. That's what I'm saying," Irvin said, his voice getting louder with each word while vigorously wagging his finger. "I want y'all to give Tom his love in here tonight! And another thing I want to put a stop to! I want to put a stop to all of this well, Patrick Mahomes is going to take over for Tom. I kept saying stop that mess, too! And Tom, just stopped it!"
Just a few seconds later, when Rose asked Steve Mariucci a question about how the Tampa Bay defense controlled Mahomes, Irvin once again took over. "When we were watching the game, I was on in their ear; I said y'all better not put me on this TV. And now we are here. I can tell you how they did it, Chris. It's called reciprocation. 
"Like you said, they (Tampa Bay) hadn't been here in 13 years, and they know Tom Brady has got them a shot to get here. And we kept comparing this young kid to the GOAT Tom Brady. Everybody on that defense said, 'Tom we'll take care of you tonight. And they showed up and showed it.'"
Irvin's rant was a wild ending to an otherwise unspectacular Super Bowl, if only because the matchup didn't live anywhere near the hype. It wasn't even close. On the biggest stage in the biggest game, Tom Brady played like the GOAT that he is. And Michael Irvin wants to make sure everyone understands that.
Like Sportscasting on Facebook. Follow us on Twitter @sportscasting19.