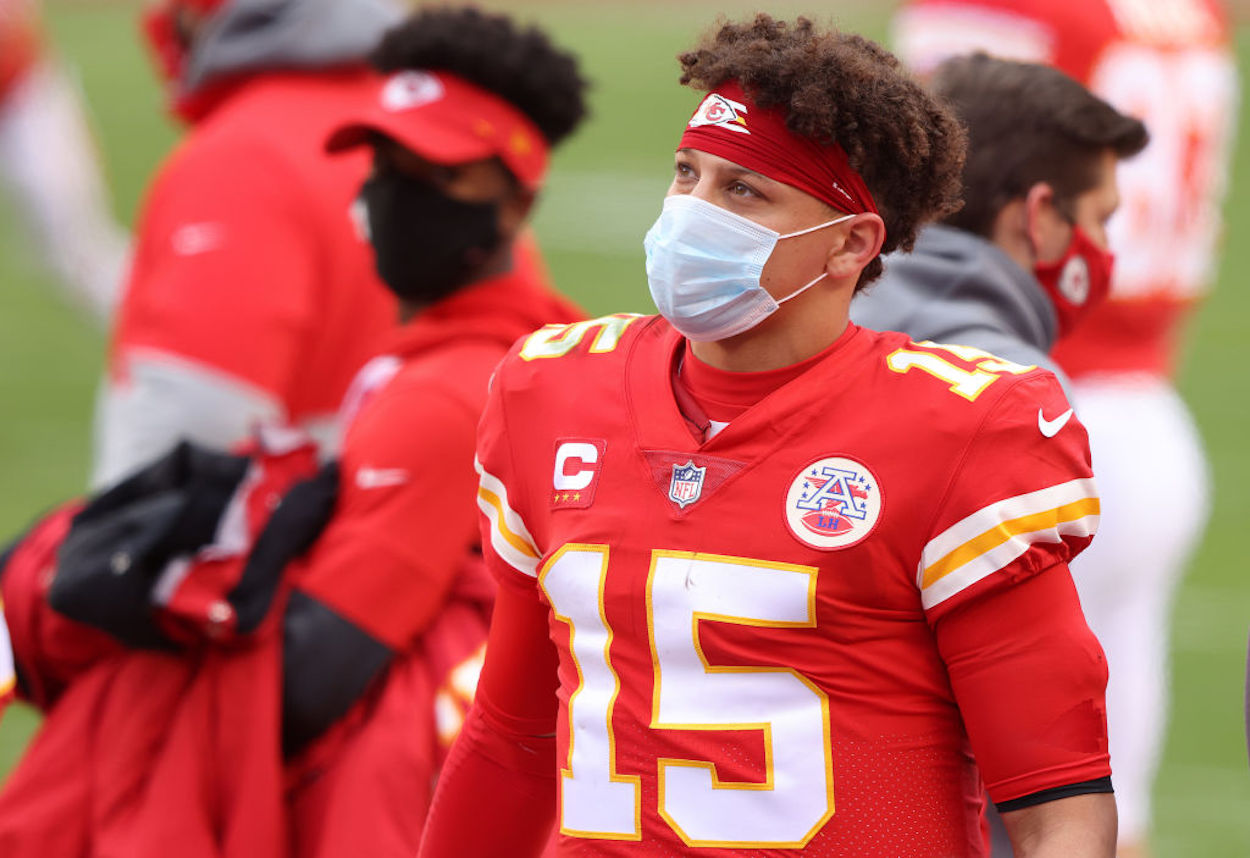 Patrick Mahomes Receives Frightening Update on His Toe Injury Ahead of Super Bowl 55
Patrick Mahomes will play in Super Bowl 55 despite battling turf toe, but the latest update on his injury should frighten Chiefs fans.
Patrick Mahomes is hours away from starting in his second consecutive Super Bowl for the Kansas City Chiefs, this time against Tom Brady and the Tampa Bay Buccaneers. Mahomes might be the most important player suiting up for either team this Sunday, but he might not be at 100% come game time.
Mahomes is still dealing with the nagging turf toe injury he suffered in the AFC divisional-round game against the Cleveland Browns, and he just received a frightening update ahead of Super Bowl 55 that Chiefs fans won't be happy to hear.
Patrick Mahomes suffered a turf toe injury against the Browns
When Patrick Mahomes went down with a scary head injury in the AFC divisional-round game against the Browns, Chiefs fans were worried he suffered a concussion and wouldn't be able to play the next week in the AFC Championship Game. Kansas City was able to escape the game with a win thanks to Chad Henne's late heroics, and they received more good news a few days later when Mahomes was cleared to play the next week.
But what slid under the rug was Mahomes' turf toe injury he suffered in the same game against the Browns. Turf toe is a common football injury that can be a nuisance to play with depending on the severity. For Mahomes, he suffered the injury on his left foot, which can cause pain and uncomfortableness when he plants his foot to make a throw.
Mahomes carried no injury designation leading into the AFC Championship, and he played through the pain with little issue.
Mahomes provides an update on his nagging injury
Ahead of Super Bowl 55, Mahomes spoke to the media about his nagging toe injury, and he seemed confident he will be "close to 100%" come game time.
"Having these two weeks to let it rest and heal up, especially being almost three weeks, over three weeks away from the injury itself," Mahomes said. "If you look at those type of injuries, that kind of gives you the normal timeline. Definitely every single day that I get to rest it, makes it better."
Patrick Mahomes is expected to have toe surgery after the season
Mahomes might be putting off his turf toe injury as an insignificant detail for Super Bowl 55, but doctors might be telling a different story. According to Ian Rapoport of NFL Network, Mahomes will see a foot specialist after the season and is "likely" to have surgery to repair his injured toe. His turf toe is so significant that it won't be able to heal on its own.
This can't be encouraging news for Chiefs fans, as Mahomes' toe injury clearly won't be 100% healed by kickoff Sunday night. The All-Pro QB played just fine against the Buffalo Bills in the AFC Championship, but one unlucky stub of the toe or awkward tackle in Super Bowl 55 could hobble Mahomes the rest of the game, or worse, knock him out completely.