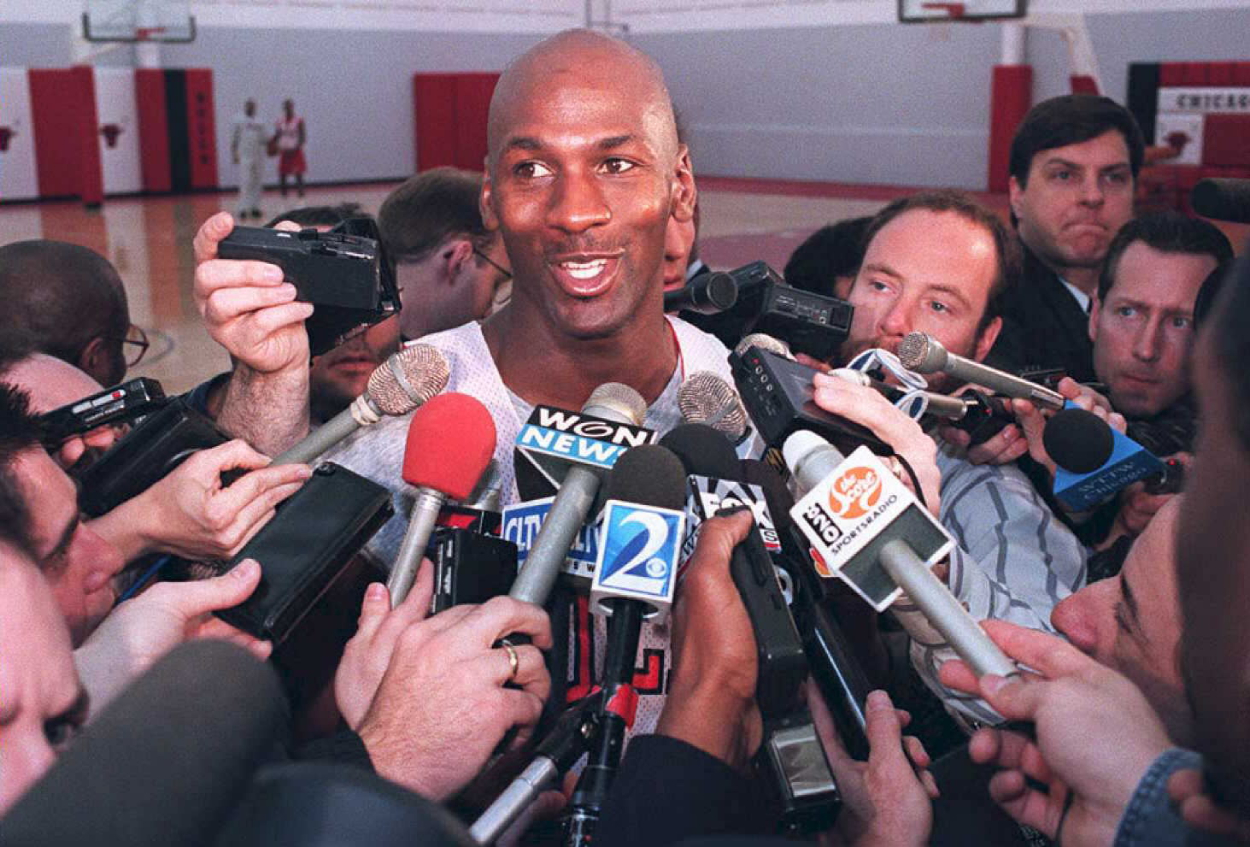 Michael Jordan Is a $1.6 Billion Celebrity but Showed No Shame When Asking for Another Star's Autograph
Michael Jordan is one of the biggest celebrities of all-time. However, he showed no shame when asking for another celebrity's autograph. This looks at his basketball career and his superstardom. It also looks at the time Michael Jordan asked Ken Griffey Jr. to sign a baseball bat, and what Griffey later said about Jordan's competitiveness.
Michael Jordan is one of the biggest celebrities of all-time. It's hard to imagine meeting someone who has never at least heard of him. Jordan's influence transcended basketball as he has been just as successful in the business world as he was as the face of the Chicago Bulls. However, although he is a massive superstar, Michael Jordan once actually asked another star for their autograph — that star was baseball legend Ken Griffey Jr.
Michael Jordan is one of the biggest superstars in all of sports
After going to the Chicago Bulls with the No. 3 overall pick in the 1984 NBA draft, Michael Jordan quickly became the biggest star in all of sports.
Jordan won the Rookie of the Year award in 1984-85, before leading the NBA in scoring with an incredible 37.1 points per game in his third season in 1986-87. Jordan then went on to lead the NBA in scoring in seven consecutive seasons and 10 times overall. (It was really 10 consecutive if you don't count the year-and-a-half he took off to play baseball.)
Jordan also led the Chicago Bulls to a significant amount of success, as he and Chicago won three consecutive championships from 1990-91 to 1992-93. They then won three more titles from 1995-96 to 1997-98.
Overall in his career, Jordan earned 14 All-Star selections, five NBA MVP awards, a Defensive Player of the Year award, and he ultimately won six championships. Jordan also scored 32,292 career points, which is fifth all-time, and his 30.1 career points-per-game-average is No. 1.
However, MJ's fame has reached well beyond basketball over the years. His Jordan Brand has been iconic throughout the world and has helped him rack up a massive net worth. Despite making an estimated $93.77 million during his NBA career, per Spotrac, Jordan's net worth is at $1.6 billion, according to Forbes.
It's simple: Michael Jordan's basketball talent didn't just make him a Hall of Fame player, but it also made him one of the most famous and influential celebrities of all-time.
That superstar status, though, didn't keep him from asking for someone else's autograph.
Michael Jordan asked Ken Griffey Jr. to sign a baseball bat
In the summer of 1993, Michael Jordan was on top of the world. He had just won his third consecutive championship with the Bulls and led the NBA in scoring for the seventh consecutive season.
However, when Jordan went to the 1993 MLB All-Star Game at Camden Yards, he was in an unusual position. Jordan actually asked Ken Griffey Jr. to sign a baseball bat, per Bleacher Report.
Griffey was turning into a massive superstar during that time. This was his fourth consecutive All-Star selection, and he was really becoming one of the league's best home run hitters during that season. After hitting a little over 20 home runs in each of the previous three seasons, Griffey hit 45 home runs for the Seattle Mariners in 1993. He also had 109 RBIs and 113 runs scored.
So, with all the success Griffey was having, you can't really blame Michael Jordan for wanting his autograph, especially when we know how much Jordan has loved baseball throughout his life. Griffey didn't leave without getting Jordan's autograph, too, though, as Jordan ultimately signed the Chicago White Sox jersey he was wearing and gave it to Griffey.
That, however, wasn't the last time we would see Michael Jordan in a baseball jersey. Just a few months after that encounter with Griffey, Jordan retired from basketball and tried out a career in baseball.
Jordan then later went back to playing basketball in 1995, but it appears that he and Griffey have stayed in touch over the years.
Ken Griffey Jr. discussed the NBA legend's competitive edge
Michael Jordan and Ken Griffey Jr. were both massive stars in the 1990s. This has led to the two of them being linked ever since.
During the airing of The Last Dance, Griffey appeared on Matt Barnes and Stephen Jackson's All the Smoke podcast, and he discussed Jordan's competitiveness.
"I've been sitting there with the kids (watching The Last Dance) and my wife," Griffey said on a June 2020 episode. "We've been looking at each other, and she would start laughing. I would be like, 'What are you laughing about?' And she goes, 'That sounds just like you. That intensity is you.'"
He continued: "I've known Mike for 20-plus years — actually 25-plus — but you've always heard about the intensity and how he was. Now, you're seeing a little bit of it. … He's still got that competitive edge, but he's just not as fiery that you saw back then because [he's] not playing."
Michael Jordan and Ken Griffey Jr. are two of the most legendary athletes to ever exist. Just about anyone would love to have their autographs, too.
Stats courtesy of Baseball Reference and Basketball Reference