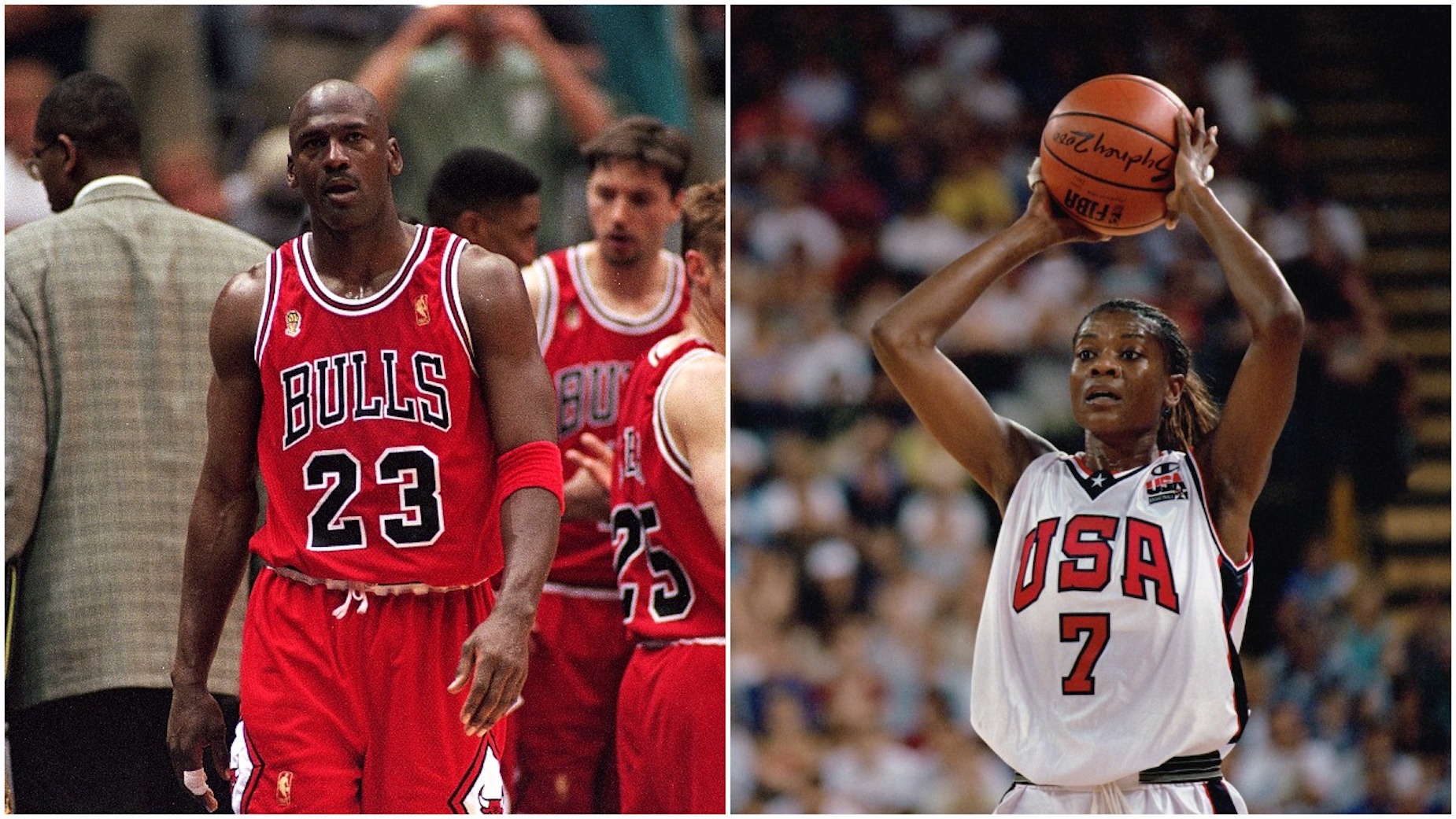 Michael Jordan Once Bested Sheryl Swoopes in a Game of One-on-One and Sent Her Home With a Makeup-Stained Souvenir of Their Duel
While Sheryl Swoopes couldn't beat Michael Jordan on the court, she still walked away with quite a story to tell.
If you're a veteran basketball fan, you probably know the cardinal rule of dealing with Michael Jordan: Mess with him at your own risk. From NBA opponents to golf buddies, His Airness only knows one speed. If he's competing, he's playing to win. Just ask Sheryl Swoopes about that reality.
Before she became a WNBA star, a young Swoopes hit the hardwood to face MJ in a game of one-on-one. While the Chicago Bulls star unsurprisingly came out on top, he did send his opponent home with an unforgettable souvenir.
Sheryl Swoopes' rise to basketball superstardom coincided with Michael Jordan's peak
In the world of sports, it's commonplace to debate what would happen if two players from different eras met. Although they didn't directly compete with each other, both Swoopes and Jordan hit the hardwood at approximately the same time.
MJ left the University of North Carolina after his junior year and entered into the 1984 NBA draft. He quickly established himself as a legitimate talent and, after struggling to overcome the Detroit Pistons' roadblock, claimed his first championship in 1991. He'd win two more, retire for a brief sojourn into professional baseball, then return to the Bulls and win three more titles from 1996 through 1998. After another retirement, His Airness spent two seasons with the Washington Wizards before calling it a career in 2003.
Swoopes first made waves at Texas Tech in 1993. She joined the WNBA in the league's inaugural 1997 draft, landing with the Houston Comets, and won four consecutive titles with the club. She left Texas in 2008, joining the Seattle Storm for a single season, and then returned for another campaign with the Tulsa Shock in 2011 after a few years on the sidelines.
Hitting the court for a game against Michael Jordan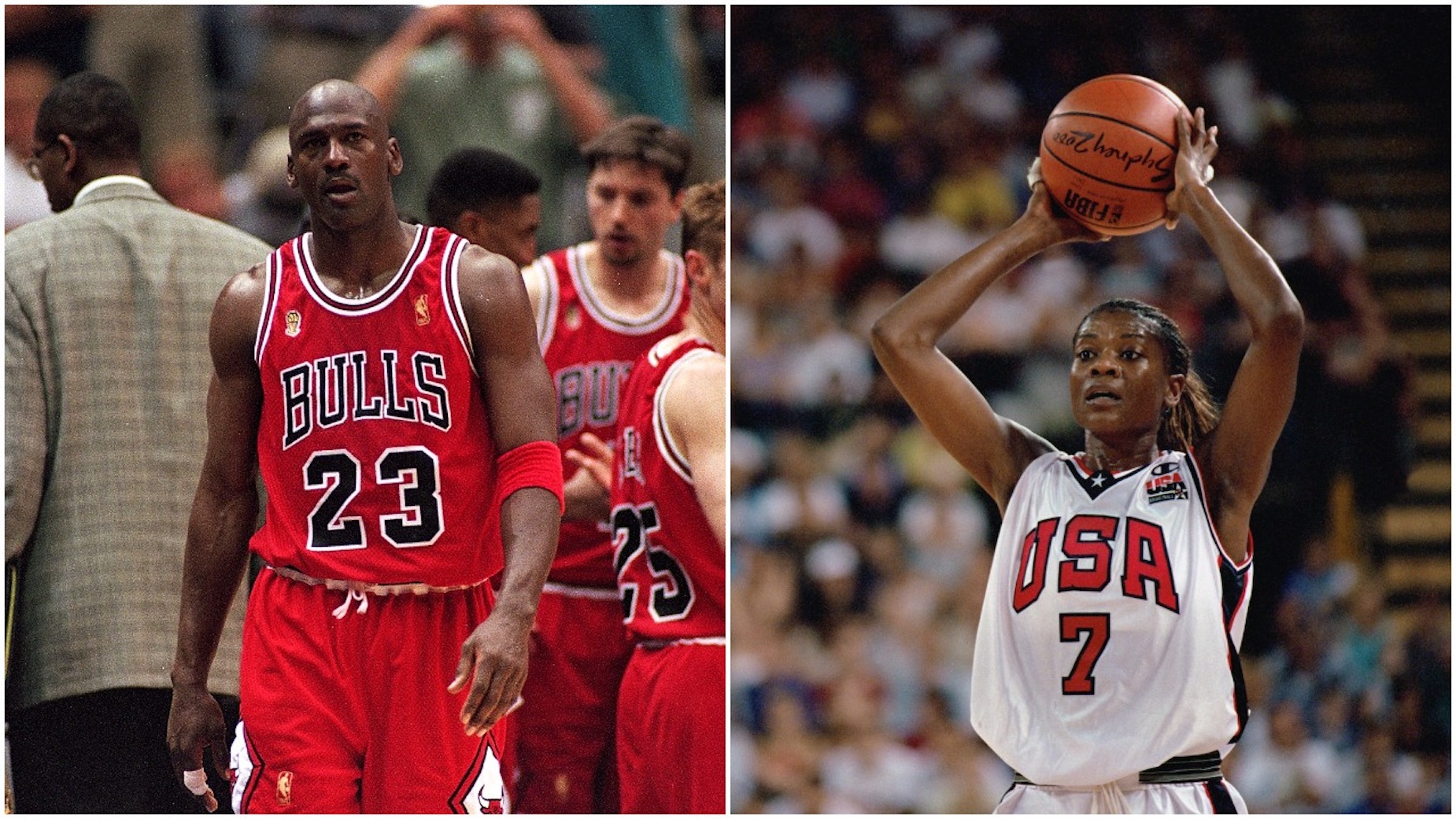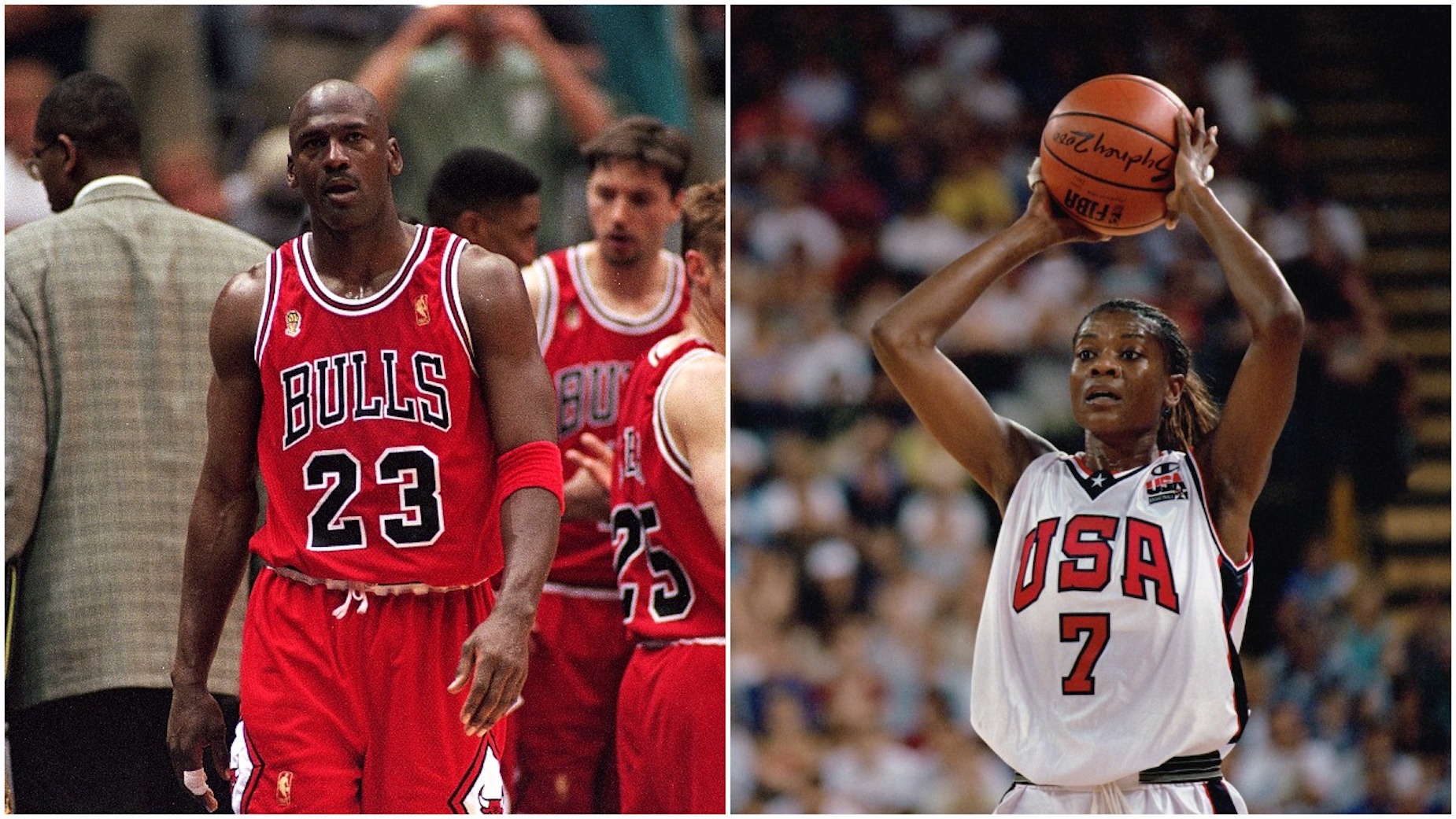 As those two timelines demonstrate, Jordan and Swoopes were close enough in age to hit the court together. That happened on at least one occasion during the summer of 1993.
As she recounted in a Players' Tribune story, Swoopes received an invitation to MJ's basketball camp shortly after winning the 1993 NCAA title. At the end of a day's session, Jordan called the Texas Tech star out onto the court. He complimented her abilities and, noting that she had been called the female Michael Jordan, challenged her to a game.
 "I can't say no," Swoopes recalled. "First of all, it's Michael Jordan, and second of all, it's his camp, right?"
Despite some early nerves, the future WNBA star actually jumped out to a 4-3 lead. Before long, though, Jordan began to assert his will and had pulled within a point of winning the game.
Sheryl Swoopes stopped His Airness from taking flight and went home with a one-of-a-kind souvenir
Once he got himself into a point-game situation, Jordan prepared to take flight and end the contest with a rim-rocking slam dunk. Swoopes, however, had a different idea. Even if she was going to lose the game, she wasn't going to let herself be embarrassed by a living legend.
"I don't know what came across me. I grabbed him from behind, and I just pulled him out of the air. I still have some pride, right? I'm like, "I can't let you dunk in front of me," she recalled. "Long story short, pulled him out the air, so he missed the dunk. He won the game."
While she lost the contest, Swoopes did leave the court with a life-long memory and a one-of-a-kind souviner.
"I got makeup, lipstick, everything on this North Carolina T-shirt of his," she concluded. "He ended up having to give me the shirt because he couldn't take the shirt with him with all the makeup on it. To this day, that's one of my favorite T-shirts that I have. That's my Michael Jordan story that I will remember forever."