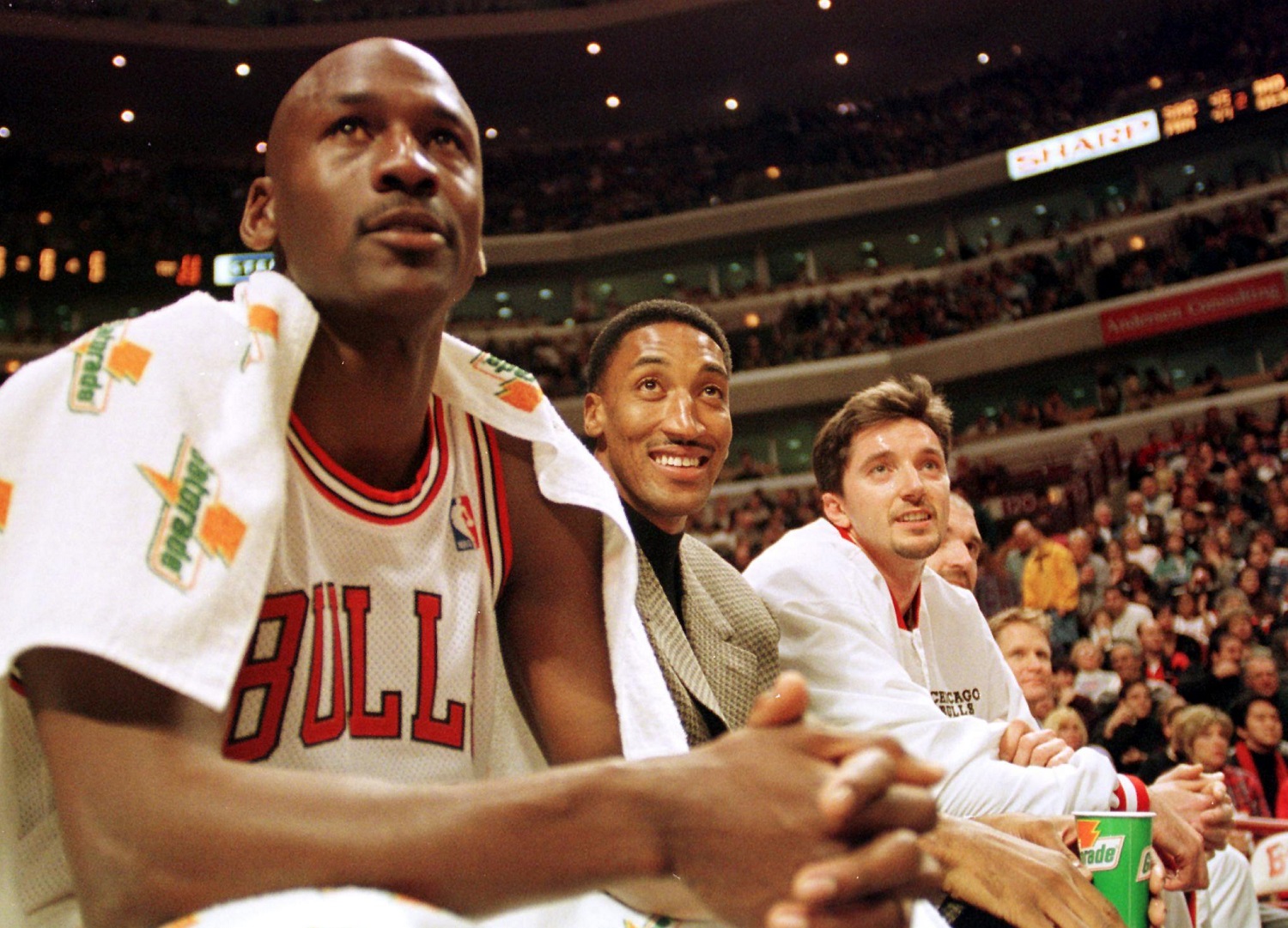 Michael Jordan's Birthday Card From President Bill Clinton Required Intense Editing
President Bill Clinton sent birthday cards to Michael Jordan seven straight years while in office. While the wording was simple, the process was not.
Bill Clinton didn't have time to visit the corner drugstore and pick out a birthday card for Michael Jordan in early February 1994. Wall Street heated up as the Dow Jones approached the 4,000 mark, he had just lifted the trade embargo against Vietnam, and Los Angeles was still cleaning up from an earthquake that claimed 60 lives.
So, yeah, it was easier for the 42nd president of the United States to just dash off a quick note to the NBA great. Or was it? Who knew that a couple of sentences on White House stationery could require so much work?
Michael Jordan's birthdays became a White House focal point
As his 31st birthday approached, Jordan had already accomplished an enormous amount, starting with championships in the NCAA Tournament and the 1984 Los Angeles Olympics. Jordan and the Chicago Bulls captured the first three of their six NBA championships, and he had already won seven straight scoring titles.
By then, Nike had sold millions of pairs of Air Jordan shoes around the world, making Jordan wildly wealthy as he immersed himself in preparation for his one season of minor-league baseball.
His success and popularity made Jordan precisely the type of public figure with whom a politician, especially one who would need to run for re-election a couple of years later, would seek to curry favor. That possibly explains why the leader of the free world was writing Jordan a birthday card early in February 1994.
'I could never hit a baseball. Good luck!'
An inquiry by the Wall Street Journal determined that Clinton sent Jordan birthday cards for seven straight years while in office, but only the first contained a handwritten addendum.
"Happy Birthday! Hilary and I hope you have a great day, and we wish you the very best for a wonderful year," the typewritten 1994 note read. Below Clinton's signature was an acknowledgment of his foray into professional baseball:
"I never could hit a baseball. Good luck!"
All of the notes in subsequent years were simply typed and addressed for the president to sign. They all said pretty much the same thing and went in the mail a week or so in advance, addressed to Jordan through his marketing firm or agent.
According to the WSJ, the idea for the birthday notes appeared to come from his aides. If their idea was simple, the execution certainly wasn't.
Clinton's birthday cards to Jordan went through many revisions
Working with the Clinton presidential library in Little Rock, Arkansas, the Wall Street Journal hunted down drafts of Bill Clinton's 1996 birthday card to Jordan. They led how complicated the process could be.
That year, a White House staffer learned that a Chicago non-profit organization was throwing Jordan a party. They requested a letter from the president. It wouldn't happen without someone pondering every detail, and the process took three weeks
An aide deleted "delighted" when it appeared twice in the same paragraph and changed a sentence so that it wouldn't start with the word "and."
An early version had Clinton offering Jordan luck with the remainder of the NBA season, but that sentiment didn't survive the editing process.
A later version came back with a scribbled suggestion to acknowledge "what is shaping up to be a wonderful comeback season."
In all, the paper found five versions worked on over an eight-day stretch as well as a memo seeking approval: "Would you please take a look at this letter to Michael Jordan and see if it flies (hahaha)?"
A text or an email doesn't feel quite as personal as a card, but it sure is a lot simpler.
Like Sportscasting on Facebook. Follow us on Twitter @sportscasting19.