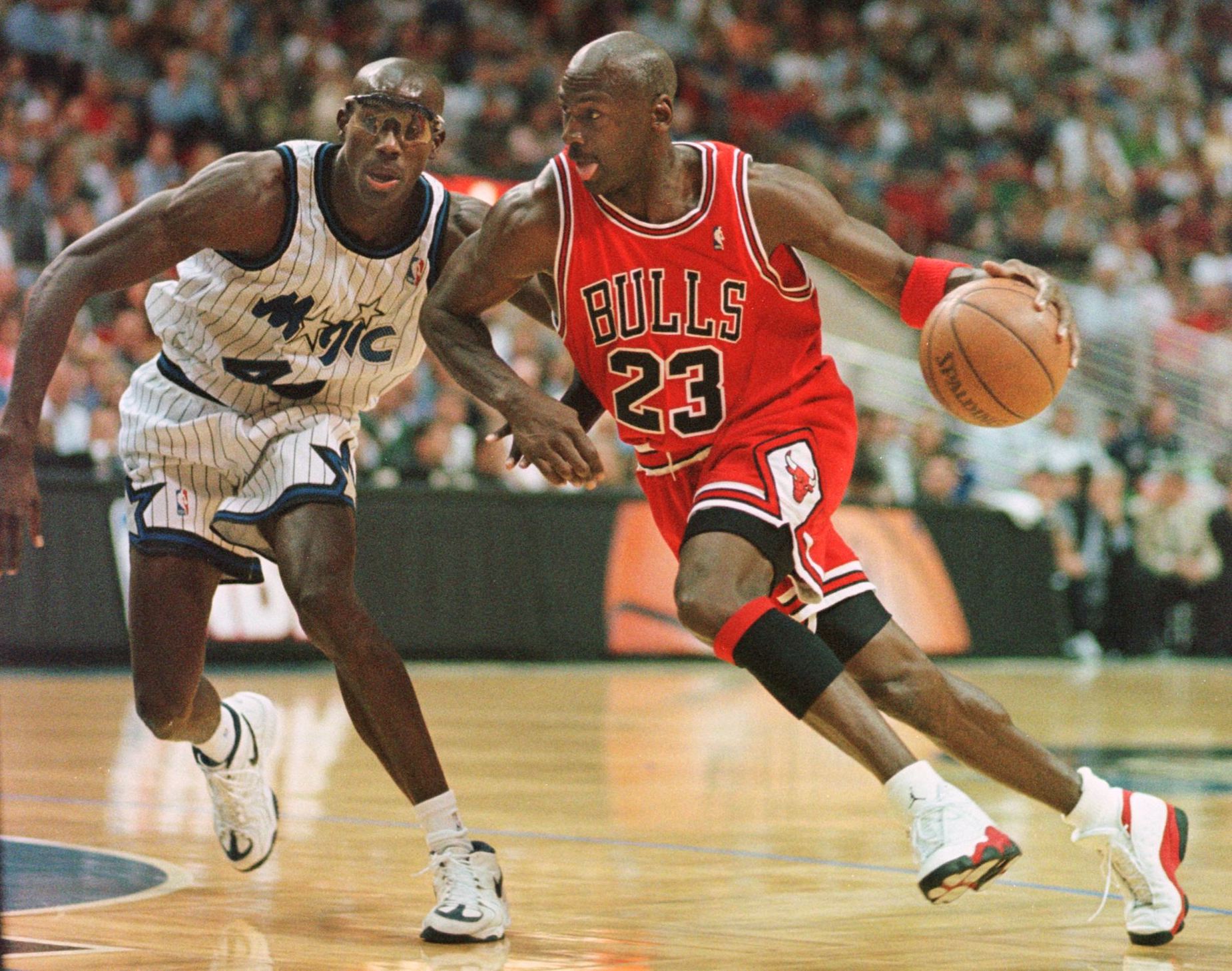 Michael Jordan Revealed the Key to His Success During a Conversation With Frank Ntilikina
For all of his athletic ability and will to win, Michael Jordan had a surprisingly simple key to success.
Ever since his time in the NBA, just about every kid who has picked up a basketball has wanted to be like Michael Jordan. Living up to His Airness' legendary career, though, is no mean feat; making it to the NBA is hard enough, let alone establishing yourself as a living legend. As a teenager in Europe, Frank Ntilikina got a bit of extra insight into what it would take to follow in MJ's footsteps.
At age 16, Ntilikina got the chance to meet Jordan and asked the former Chicago Bulls' star about his greatest key to success. Rather than highlighting his talent or his famous will to win, MJ named something much more accessible.
Michael Jordan has found success in virtually every arena
It goes without saying that His Airness' star status began with his exploits on the basketball court. These days, though, Jordan's brand encompasses more than just the hardwood.
As just about any NBA fan can tell you, MJ dominated the competition during his time in the Association. Even when the Bulls struggled to get past the Detroit Pistons, Jordan proved to be a legitimate star and earned plenty of individual honors. Once Chicago broke the seal and started winning championships, though, he took his game to the next level. By the time His Airness had called it a career for the final time, he had earned six NBA titles, five MVP awards, and virtually every other piece of silverware imaginable.
His exploits, however, weren't limited to basketball. Thanks to Jordan's global fame, his reach extended into popular culture. He sold everything from underwear to Gatorade, appeared alongside Bugs Bunny in Space Jam, and faced cheering crowds wherever he went. Unsurprisingly, he made plenty of money along the way, conquering the financial space as if it was a pickup game.
No matter which perspective you prefer — athletic accomplishments, overall fame, or financial might — His Airness stands tall as a living, breathing depiction of success. It's no wonder that, at least for a time, everyone wanted to be like Mike.
MJ shares his key to success with Frank Ntilikina
Even though he grew up in Europe and missed MJ's prime, Ntilikina was still familiar with his on-court exploits. With that in mind, he wasn't going to miss a chance to learn His Airness' key to success.
"I will tell you what MJ told me when I was 16," the New York Knicks guard explained in a Players' Tribune piece. "I said, 'Hello, Michael. Can I ask you, what is the key to all your success?'
While it can sometimes be tough for legendary athletes to coach others — since things came naturally to them, it's not always easy to place themselves in less gifted shoes — His Airness didn't have that issue. He highlighted something that any athlete could understand.
"He thought about it," Ntilikina continued. "Then he said, 'What you have to do is love basketball. You can't be great unless you really love the game. Once you love basketball more than anyone else in the world, then you're willing to sacrifice. You're willing to wake up early. You're willing to do what it takes to be the best. But first, you have to really love it.'"
Despite the pop-culture image of an angry, driven Michael Jordan, he did love basketball
When you think of His Airness today, it's easy to picture a man driven by negative emotions. He didn't want to lose. He could take anything personally and turn it into motivation. With that being said, though, we can see evidence of his love for basketball throughout his career.
Beyond the obvious connection between his hard work and his love of basketball — it's tough to push yourself to the limit, day after day if you don't love what you're doing — Jordan literally had a "Love of the Game" clause written into his first NBA contract. While most professional athletes are banned from specific risky behaviors during the offseason, MJ secured permission to play basketball anytime he desired.
And, on the subject of pickup games, His Airness was known to hit the court at the Chicago Athletic Club during his first retirement and play basketball with some average Joes. Despite the clear gap in talent, the men he played with remembered Jordan as a fearless competitor who simply loved hitting the court, whether it was in a packed arena or an empty gym.
As virtually everyone has heard, there's an old cliche that states, "If you love what you do, you'll never work a day in your life." While there's some room to debate the validity of that phrase, Michael Jordan would probably tell you that it's true.