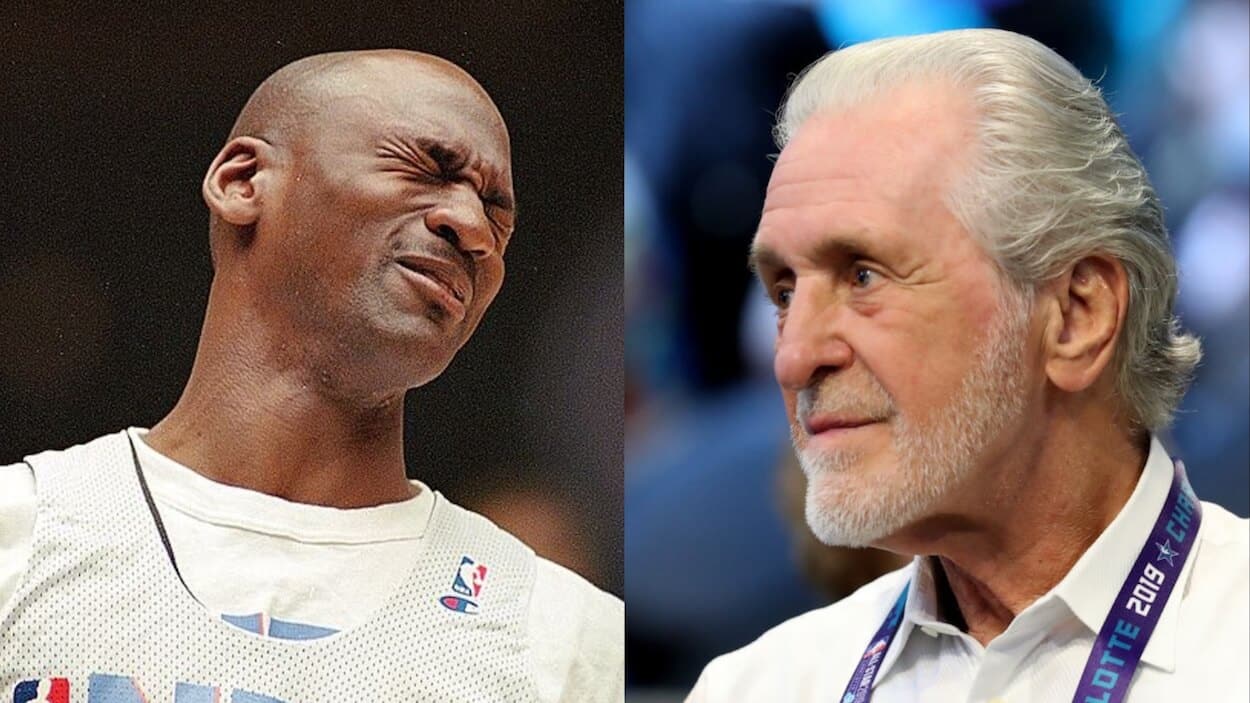 Michael Jordan Could Have Lost 1 of His More Unusual Honors Thanks to Pat Riley
As you might expect from his legendary career, Michael Jordan has piled up all sorts of honors. One of them, it seems, is a bit less permanent than it looked.
During his time in the public eye, Michael Jordan piled up more than his share of honors. His Airness won titles at the NCAA and NBA levels, piled up countless individual awards, and became a global celebrity. By and large, those distinctions aren't going anywhere; they're part of what makes MJ a legend. Pat Riley, however, could have been responsible for an exception to that rule.
Despite never playing for the Miami Heat, Jordan's iconic number 23 has been retired by the organization. Riley was involved in that decision, but years later, it seems like the exec was prepared to undo that gesture.
Sound unbelievable? Let's break it down.
Michael Jordan had his number retired by the Heat, but Pat Riley was apparently willing to give 23 away
When a franchise retires a number, the underlying logic is that the previous wearer was so special that no one else will ever be allowed to follow in their footsteps. Pat Riley, however, seemed to miss the memo about permanence.
For a bit of context, the Miami Heat retired Michael Jordan's number 23 at the tail end of the 2002-03 campaign. His Airness never played for the franchise, but his significance to the game of basketball was enough to raise a banner to the rafters anyway.
"This is for Michael and to Michael," Riley said during the pregame ceremony. "In honor of your greatness, Michael, and for all you've done for the game of basketball, and not just the NBA, but for all the fans around the world, we want to honor you tonight by hanging your jersey forever, No. 23, from the rafters of American Airlines Arena. No player will ever again wear No. 23 for the Miami Heat. You're the best."
That distinction set Jordan apart as the only NBA player to have his number retired by a franchise he never played for, although he's since been joined by Kobe Bryant (his No. 24 was retired by the Mavericks after his death) and Bill Russell (whose No. 6 is now honored league-wide). And while the retirement held throughout the years — LeBron James famously had to change his number after arriving in South Beach — Riley's loyalty apparently had its limits.
As noted by Ira Winderman of the South Florida Sun-Sentinel, Jimmy Butler revealed that he could have worn 23 with the Heat if he desired.
"I'll never wear 21 again," Butler explained in an Instagram video. "You can't wear 23 here, because of MJ. Literally, Pat Riley retired it. But, I will say this, whenever I did come here, Pat told me that I could wear 23. But I said no."
Is that exactly what happened? Or was there some sort of misunderstanding? At this point, there's no way to know. Jordan's No. 23, however, is still hanging in the rafters, so it's a no-harm, no-foul situation.
With all of that being said, Riley has historically thought rather highly of His Airness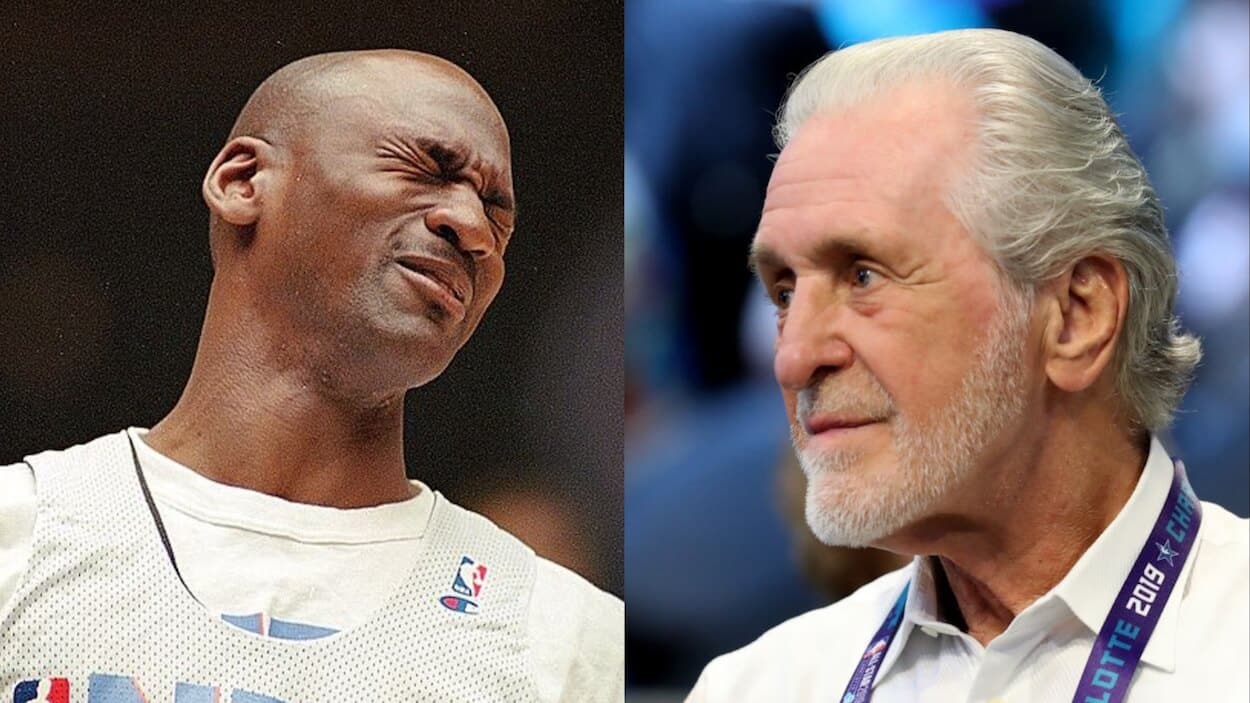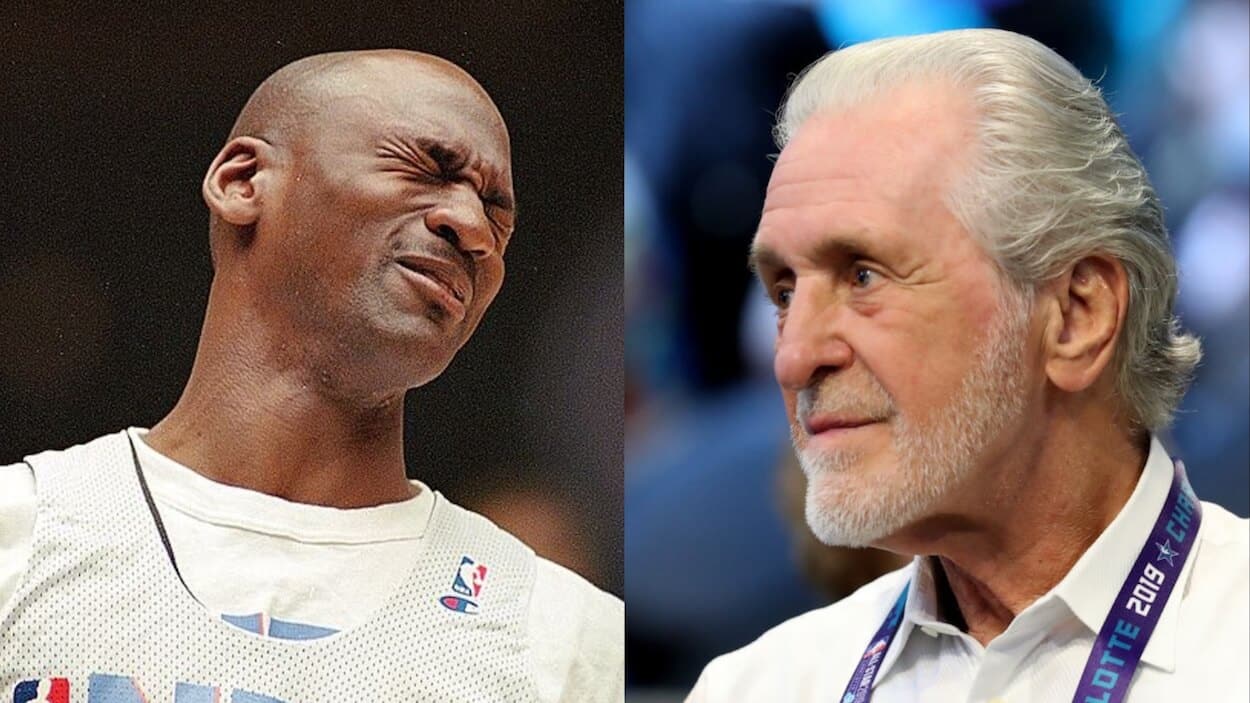 When you hear Jimmy Butler's version of events, it's not unreasonable to interpret it as a slight against Michael Jordan. His number was retired, after all, and undoing that would feel like something of a slap in the face. And while we don't 100% know how Pat Riley is feeling these days, we do know he's historically thought rather highly of MJ.
During Mike's first NBA campaign, for example, Riley couldn't believe what he was seeing. "As a rookie, he was not a rookie," the veteran coach remembered. "He proved right out of the gates there was none other like him."
And while that might sound like a boilerplate comment, Riley had been around the block, even in the 1980s. If the guy coaching Magic Johnson and Kareem Abdul-Jabbar thinks you're special, that opinion counts for something.
More recently, the Miami Heat exec mentioned Jordan as one of the NBA's all-time greats while complimenting LeBron James.
"LeBron is in a class of his own," Riley explained during the NBA's 75th-anniversary festivities. "He is absolutely unique. He's Michael. He's Magic. He's Kobe. He's Jerry West. He's Bill Russell. You take all of these great, great players, and you put them in a blender and mix them up; LeBron's got something of all of them in him."
Again, that might not seem too significant; if you're listing legendary NBA talents, Jordan is a no-brainer to include. At the same time, though, Riley could have easily omitted a single name if there was some sort of simmering tension.
No matter the Heat president's true feelings, though, it appears that Michael Jordan's No. 23 is safe for now. Who knows, though? Maybe things will be different the next time a big-time free agent comes to town.