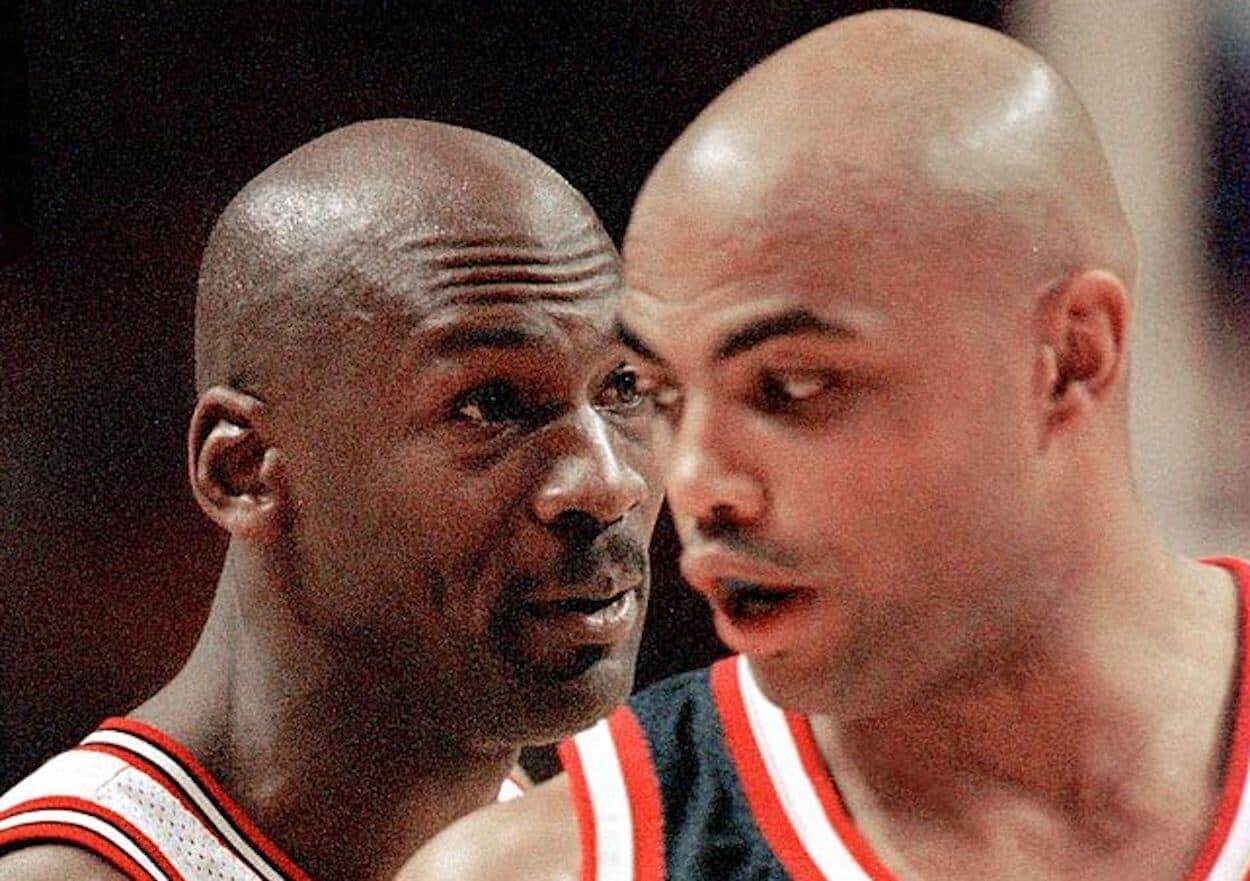 Michael Jordan Gave Charles Barkley Some 'Great Advice' About a $2 Million Pay Cut
Charles Barkley and Michael Jordan aren't speaking these days, but MJ once gave his former friend quite the contractual tip.
While there have been some missteps over the years, the general perception of Michael Jordan is that he can do no wrong. On the court, His Airness dominated the competition and became a living legend. Away from the hardwood, he turned his name into a multi-billion dollar empire. By and large, if MJ has advice for you, you're going to listen.
Charles Barkley, on at least one occasion, did just that.
Although the two NBA legends no longer see eye-to-eye, they used to be quite close. And during those happier days, Jordan did quite the favor for his friend: He looked at Sir Charles' Nike deal and advised him to ask for less money.
And while turning down cold, hard cash might seem unconventional, Mike knew what he was doing.
Michael Jordan told Charles Barkley that he should consider taking Nike stock instead of money
Under most circumstances, signing a contract with $3 million of compensation would be too good to be true. Sometimes, though, it's better to play the long game. Just ask Michael Jordan and Charles Barkley about that.
On an episode of The Steam Room, Sir Charles reminisced about the early days of his deal with Nike. The forward was poised to cash in, but Michael Jordan got a glimpse at the paperwork and decided to intervene.
"We both go to Nike," Barkley explained. "They sign Michael, and they sign me. And Michael gave me some great advice one time. He says, 'Hey man, why you need all that money?' I was like, 'Dude, what you talking about?' He says, 'I was looking at your contract. You're making about $3 million. Tell Nike you want $1 million, and you want the rest in stock options.'"
Sir Charles said that he'd check with his people and did just that. While there were some understandable concerns, Barkley's basketball knowledge ultimately made the difference.
"He [Someone from Barkley's team] says, 'That's a good idea, if they're gonna be great,'" the forward continued. "I says, 'This dude's the greatest basketball player I've ever seen. Let's do it.'"
Chuck's scouting report, of course, turned out to be correct. Jordan and, in turn, Nike exploded, making the choice to take stock options over outright cash the right choice.
"I actually made probably 10 times the amount of money," Barkley added. "And I'm still with Nike to this day."
While Jordan and Barkley are no longer on speaking terms, that was some pretty good advice
As you've probably heard on any variety of podcasts, Michael Jordan and Charles Barkley stopped talking after the latter man was critical of his old friend's choices. And while that stings — Chuck has been candid about missing MJ and wishing they could get back to playing golf — their bond did provide some legitimate financial benefits.
While it's impossible to nail down exactly how much money Sir Charles had made from Nike, we do know that his bank account is in good shape. Celebrity Net Worth estimates his fortune at about $60 million, and he made about $40 million playing in the Association. The former forward also reportedly making somewhere between $100 and $200 million thanks to his TNT deal, although it is worth noting that deal may not have even begun yet; according to the New York Post, Barkley's previous deal was set to expire after the 2024-25 season, and it's not clear if his new agreement bought out those years.
But wait, you might be thinking, how does all that money combine into a $60 million fortune? Beyond taxes and other expenses — we all know that 100% of your salary never reaches your bank account — Chuck has also been known to gamble sizable sums of money. And while there have been some wins, there have also been plenty of expensive losses.
Owning Nike stock, however, probably plays a part in allowing him to live that lifestyle, especially before he became a big-time talking head. Even with the other sources of income, earning 10 times the money from Nike certainly a nice supplement.
Based on a variety of stories we've heard over the years, like punching teammates and cheating at cards, and the fact that he and Barkley are no longer speaking, it's easy to think of Michael Jordan as something of a jerk. In this instance, though, he did Sir Charles quite the favor by advising him to consider a pay cut.
How to get help: In the U.S., contact the National Council on Problem Gambling helpline at 1-800-522-4700.