Michael Jordan Is Making Kobe Bryant's Dream Come True With a Touching Tribute
The Mentor. The Successor.
Jordan and Bryant had a big-brother, little-brother relationship that was unlike anything the NBA has ever seen. Bryant grew up idolizing Jordan, and he soaked up every bit of information he could when he was finally able to play alongside his hero. When it eventually became clear that Bryant was going to be a first-ballot Hall of Famer, the Lakers legend shared that he wanted Jordan to present him at the ceremony.
When the late Bryant is inducted next month, Jordan will be fulfilling his Hall-of-Fame dream.
Michael Jordan and Kobe Bryant shared a special bond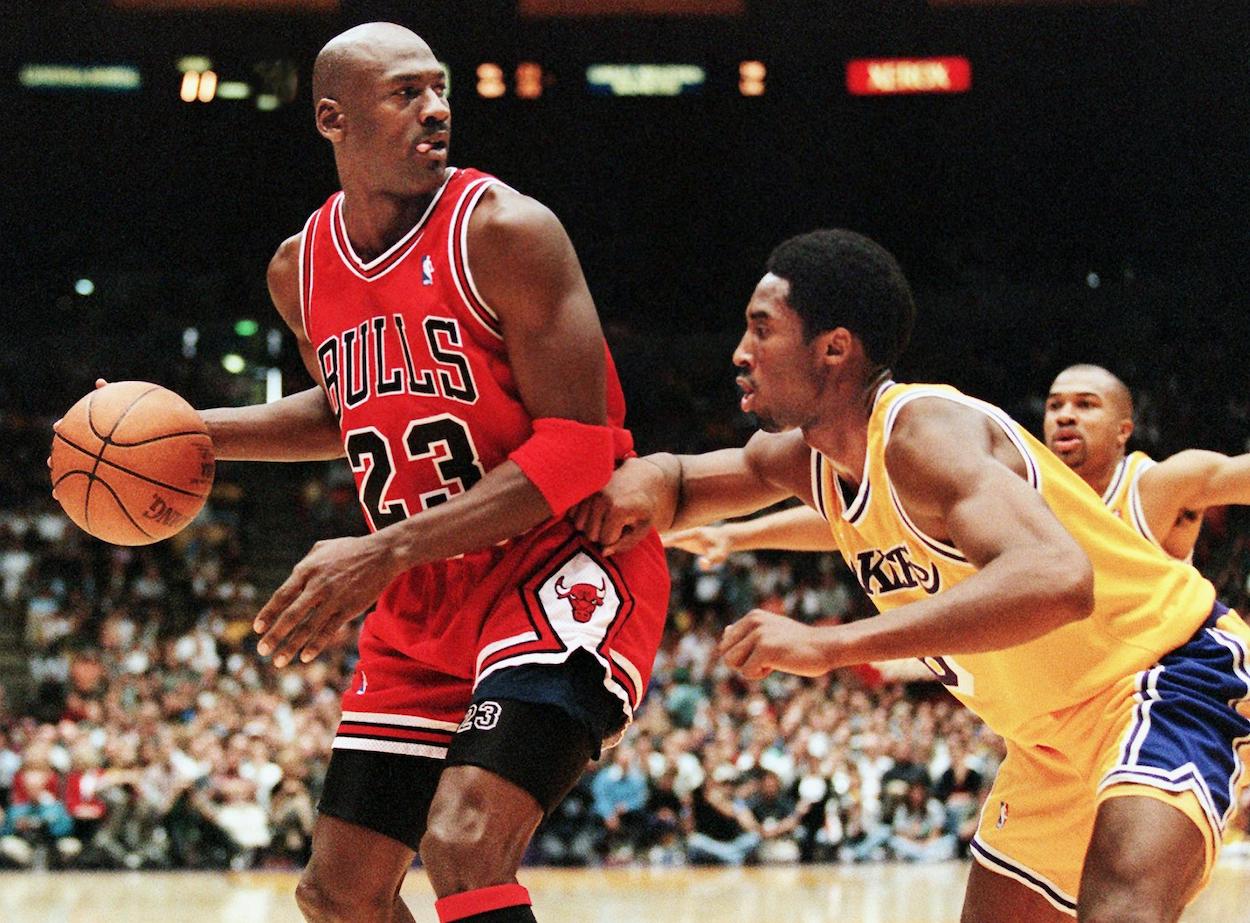 No NBA player can compare themself to Michael Jordan. The relentless competitiveness. The supreme confidence with the game on the line. The refusal to lose in everything he did. No one is or will ever be "like Mike," but the only player who came close was Kobe Bryant.
Bryant grew up worshipping Jordan, and when it came time for him to shine in the sport of basketball, he modeled his entire game after the Bulls great. When he reached the NBA as a wide-eyed 18-year-old in 1996, Bryant was able to play against his hero. That's when he set out to learn everything Jordan had stored in his brain.
At first, Jordan was annoyed by Bryant's clinginess, but he eventually came to realize that Kobe was the only other player he'd ever met who shared his ultra-competitive DNA.
"He used to call me, text me 11:30, 2:30, 3 in the morning," Jordan said during his speech at Bryant's memorial service last year. "At first, it was an aggravation, but then it turned into a certain passion. This kid had passion like you would never know."
The two formed a special bond during the brief period in which they were both in the NBA. Bryant even admitted Jordan deserved a lot of credit for helping him win five championships.
"He's like my big brother," Bryant said in the fifth episode of The Last Dance. "I truly hate having discussions about who would win one-on-one, or fans saying, 'Hey, Kob', you'd beat Michael one-on-one.' I feel like, yo, what you get from me is from him. I don't get five championships here without him because he guided me so much and gave me so much great advice."
Jordan to present Bryant into the Hall of Fame
The late Kobe Bryant is set to join the greatest basketball legends in the Naismith Memorial Basketball Hall of Fame on May 15. Bryant headlines the 2020 class alongside Tim Duncan and Kevin Garnett.
On Thursday, the Hall of Fame announced its presenters for all nine 2020 inductees, and there was a familiar name next to Bryant's — Michael Jordan. MJ will also be presenting longtime Baylor women's head coach, Kim Mulkey.
Michael Jordan is fulfilling Kobe Bryant's dream with his touching tribute
Jordan isn't just doing a favor for his late friend next month. He's fulfilling Bryant's dream of one day being inducted into the Hall of Fame by his childhood hero.
"In terms of who might present, for me, it's two people: Michael Jordan or Phil Jackson," Bryant told Complex in 2017. "They've been the greatest mentors, not only in my career as an athlete, but also as a person. And what I might say is just a lot of thank yous. 'Cause I've had a lotta help along the way. A lotta lotta help."
We just wish Kobe was still around to witness the special moment.