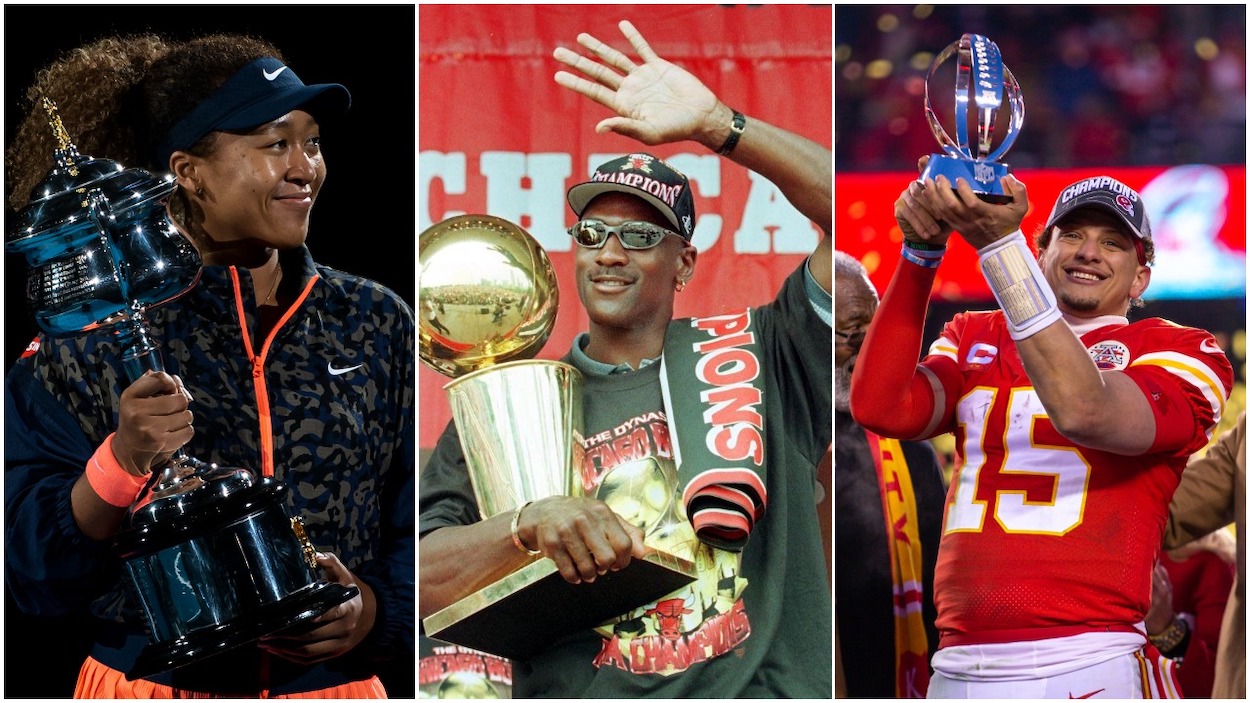 Michael Jordan, Naomi Osaka, and Patrick Mahomes are All Investing in a Sports Streaming App That Could Revolutionize Watching Live Sports
The Buzzer sports app has drawn investments from some of the biggest names in sports including Michael Jordan, Naomi Osaka, and Patrick Mahomes. The app allows viewers to purchase snackable segments of games in the hopes of monetizing Gen Z' sports viewership habits which now consist of social media and highlights.
The Buzzer sports streaming app may revolutionize the way we watch live sports. The new app, which allows users to buy streaming access to segments of live sporting events ala carte, is so cutting-edge that Michael Jordan, Naomi Osaka, and Patrick Mahomes are just a few of the marquee sports names that have invested in the app.  
If this app succeeds, not only will it make a whole bunch of rich athletes even richer, it will also fundamentally change the way we watch sports.
What is the Buzzer sports streaming app? 
Buzzer delivers the moments that matter to you most.
That is the tagline for this brand-new streaming sports app. What's sets the app apart from other streaming services is that this app allows you to purchase access to moments in live sports, not just whole games.
With Buzzer, fans will have the option to purchase live segments of NBA games, for example. According to the Washington Post, the app will charge $0.99 to watch 10 minutes of a live game. Want an entire quarter? That will cost $1.99.
If your favorite NHL team is down by a goal with just a few minutes left, or your favorite NBA player has 40 going into the fourth quarter, you'll get an alert and the option to pay for the moments you want to watch.
For now, this excludes local and national TV games. The company also has deals with the NHL and PGA to show snippets of their live events. The company is actively looking to create more strategic partnerships.
The idea, conceived of by CEO Bo Han — who previously ran Twitter's live sports program — is to monetize the way Generation Z (now in their preteens to early 20s) watches sports. This generation watches games much more through social media and post-game highlight clips than full live matches on broadcast television or mainstream streaming services.  
Jordan, Osaka, and Mahomes aren't the only A-list athletes investing in Buzzer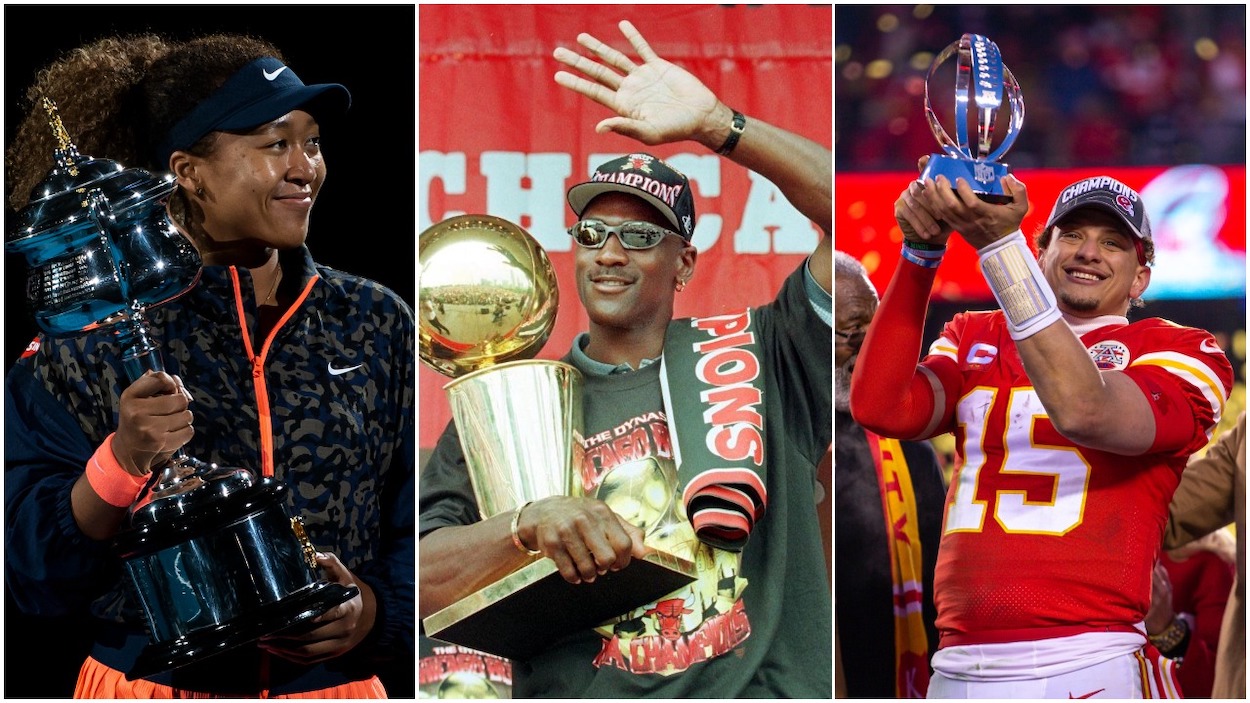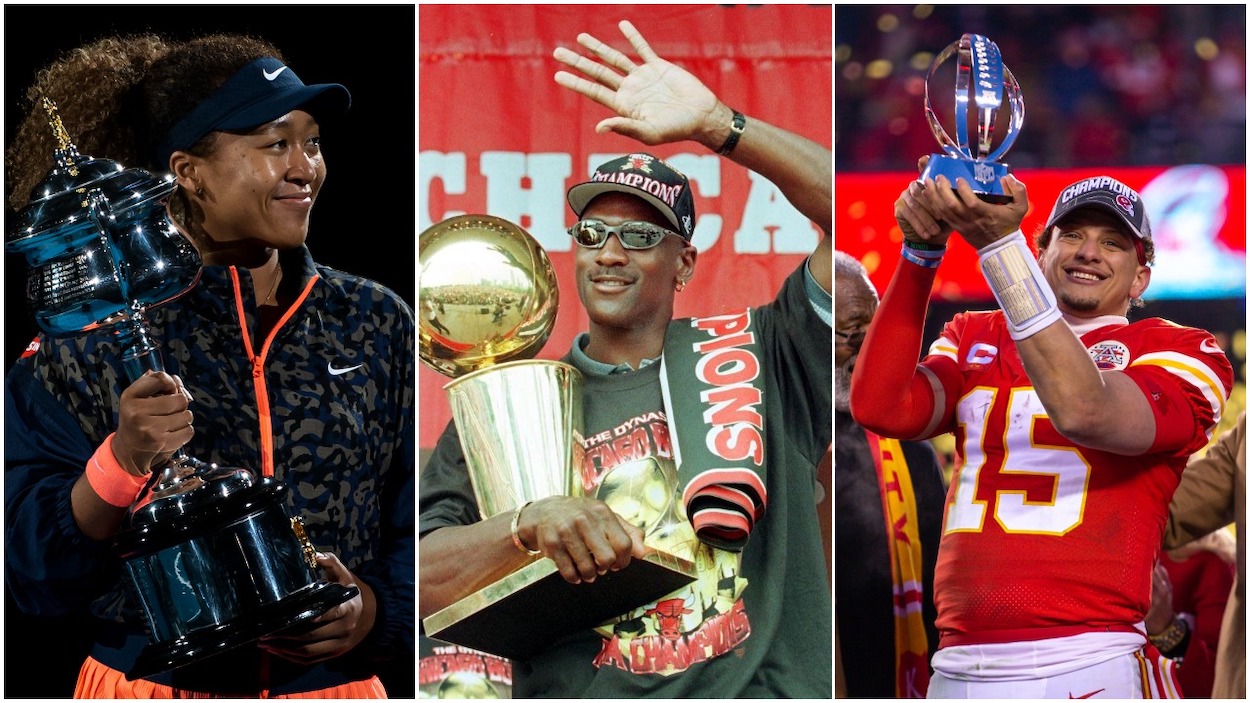 Whether this seems like a good idea to you or not at first glance, Han and his team have convinced some of the biggest names in sports that it is the future and they should invest their own money in the platform.
Joining Jordan, basketball's GOAT, 23-year-old international tennis sensation Osaka, and the best QB in the NFL in Mahomes is a cavalcade of pro sports stars. The heavy-hitting names who've also helped Buzzer raise over $4 million includes:
LaMelo Ball – 2020-21 NBA Rookie of the Year for the Charlotte Hornets
Devin Booker – Two-time NBA All-Star guard for the Phoenix Suns
J. Cole – Rapper and occasional professional basketball player 
Wayne Gretzky – Greatest hockey player of all time
DeAndre Hopkins – Three-time NFL All-Pro wide receiver for the Arizona Cardinals
Sabrina Ionescu – 2020 WNBA No. 1 overall pick for the New York Liberty
Auston Matthews – Three-time NHL All-Star and 2016 No. 1 overall pick by the Toronto Maple Leafs
Christian McCaffrey – NFL All-Pro running back for the Carolina Panthers
Connor McDavid – Four-time NHL All-Star and 2016-17 Hart Memorial Trophy winner for the Edmonton Oilers
Renee Montgomery – Former WNBA star and current part-owner of the Atlanta Dream
Bobby Wagner – 6-time NFL All-Pro linebacker for the Seattle Seahawks
A list of partners like this in the sports business world is pretty much unheard of outside of Gatorade or Nike, which begs the question, can Buzzer become the next big thing in sports?
How could Buzzer change sports and television? 
Traditionally televised sports, the last bastion of live TV, has struggled to draw in young viewers through conventional means. This is Buzzer's target audience. While older, sports-obsessed fans may add Buzzer to their sports mix, it doesn't seem likely to change their viewing habits dramatically.
Buzzer is doing a few smart things to capture younger viewers, which is surely what drew in some of the biggest names in sports. They are providing mobile-optimized stackable content, which younger fans love. Buzzer also allows users to customize their alerts and viewing to reflect their favorite players, who Gen Z gravitates toward, instead of local teams like older fans follow.
The app does have two major issues it needs to overcome to become a true giant in the sports industry.
First, the sports content that Gen Z consumes on social media and YouTube is free. Getting them to pay for it — even a nominal fee like Buzzer is charging — could be a hard sell.
The other barrier to Buzzer's success in the U.S. is that they can have basketball and hockey and golf and even add soccer, baseball, and every college under the sun. However, without the NFL, it's hard to imagine the app truly changing American sports-watching culture.
The athletes involved in the Buzzer sports app are impressive, and so they must believe that Buzzer can overcome these obstacles and become a huge success. Time will tell, but just bringing this All-Star team on board is a good start.
Like Sportscasting on Facebook. Follow us on Twitter @sportscasting19