Michael Jordan's NBA Resume Suggests He Wouldn't Have Helped LIV Golf Much
In the pantheon of legendary NBA players, one name usually looms larger than the rest: Michael Jordan.
Whether you love him or think he's kind of a jerk, His Airness has transcended sports to become a pop-culture icon. He dominated the basketball court, turned that success into big-money endorsements, and started stacking his cash. That allowed him to become an NBA owner, among other things.
The package of fame and fortune, it seems, caught the eye of LIV Golf. According to a New York Times report, the organization had Jordan on a list of potential board members. While it seems like that never materialized — it's unclear if MJ was even approached with an offer — a look at the living legend's resume suggests he might not have brought much to the table.
Sound unbelievable? Let's break it down.
Michael Jordan was reportedly on the list of LIV Golf's potential board members
In an attempt to rise to the top of the heap, LIV Golf leveraged the power of money to lure some of the sport's biggest names away from the PGA Tour. It seems the organization also considered a similar all-star approach in the boardroom.
On Dec. 11, 2022, Alan Blinder and Sarah Hurtes of the New York Times published a story regarding "hundreds of pages of confidential documents" that provide a glimpse behind the LIV curtain. While there's plenty of discussion about the financial viability of a massive golf undertaking, some other nuggets emerged, like an attempt to build a big-name board away from the links.
"One document obtained by The Times shows that LIV organizers considered assembling an all-star board of business, sports, legal and political titans," the piece explained. "But nine of the people who were identified as possible board members, including Ginni Rometty, the former IBM chief executive, and Randall Stephenson, the former AT&T chairman, said they had never been approached about joining."
His Airness, it seems, was at least considered for a seat at the table.
"Most others listed in the document, including the basketball legend Michael Jordan; former Secretary of State Condoleezza Rice; and Mark Parker, the executive chairman of Nike, did not respond to requests for comment."
Upon first glance, Jordan seems like an obvious inclusion. Not only is he a global celebrity, but he's familiar with the professional sports landscape and has plenty of cash to his name.
Upon further digging, however, his perceived strengths don't seem all that valuable.
MJ's time as an NBA owner hasn't exactly been a shining success
While it's not 100% clear how LIV's board would have functioned, it's safe to assume they would have acted in some sort of executive capacity, trying to lead the organization to global prominence. In that case, Michael Jordan would theoretically be drawing on his experience at the helm of the Charlotte Hornets.
That's where the problem arises. His Airness hasn't exactly proven to be a world-class owner.
At the risk of citing Skip Bayless' Fox Sports takes, Jordan hasn't exactly led his franchise to success. Since 2010, the Hornets have made two playoff appearances, losing in the first round both times. There have been plenty of questionable draft choices and a less-than-ideal number of coaching changes. At least some of those decisions, like firing James Borrego, seem to trace directly back to MJ.
Is serving on LIV's board exactly the same as running an NBA organization? Of course not, but you can still attempt to use the latter performance to gain some insight into Jordan's skills as an executive. And, based on that, it doesn't seem like there are any gold-star performances.
Michael Jordan's presence, at least at a leadership level, isn't really an attraction
If the organization wasn't after MJ's sporting knowledge and leadership acumen, then LIV might have approached him from a PR angle. If nothing else, Jordan is a massive name who will garner plenty of attention, right?
While that might be true, there's a difference between seeing Michael Jordan play basketball and hearing he's been hired to sit in a boardroom and participate in a few meetings. The former was exciting. The latter is not.
Again, we can check out the Charlotte Hornets, where His Airness is ruling the roost. A look at ESPN's NBA attendance reports shows the franchise isn't the NBA's marquee attraction, which makes sense when you consider the on-court performances. The number of fans in the stands has improved in recent years, though, suggesting that people want to watch a good team.
That reality, no matter how obvious it seems, also pokes a hole in the idea of Jordan's presence helping from a PR perspective. If people were coming to see the NBA legend sit on the sidelines, that'd be reflected in the numbers.
With that being said, could having MJ take part in a practice round provide a bit of buzz? It's possible, but it's unlikely that LIV will attract a boatload of new fans simply because there's an NBA legend on the board.
Even Michael Jordan's financial might becomes less significant in the presence of Saudi Arabia's sovereign wealth fund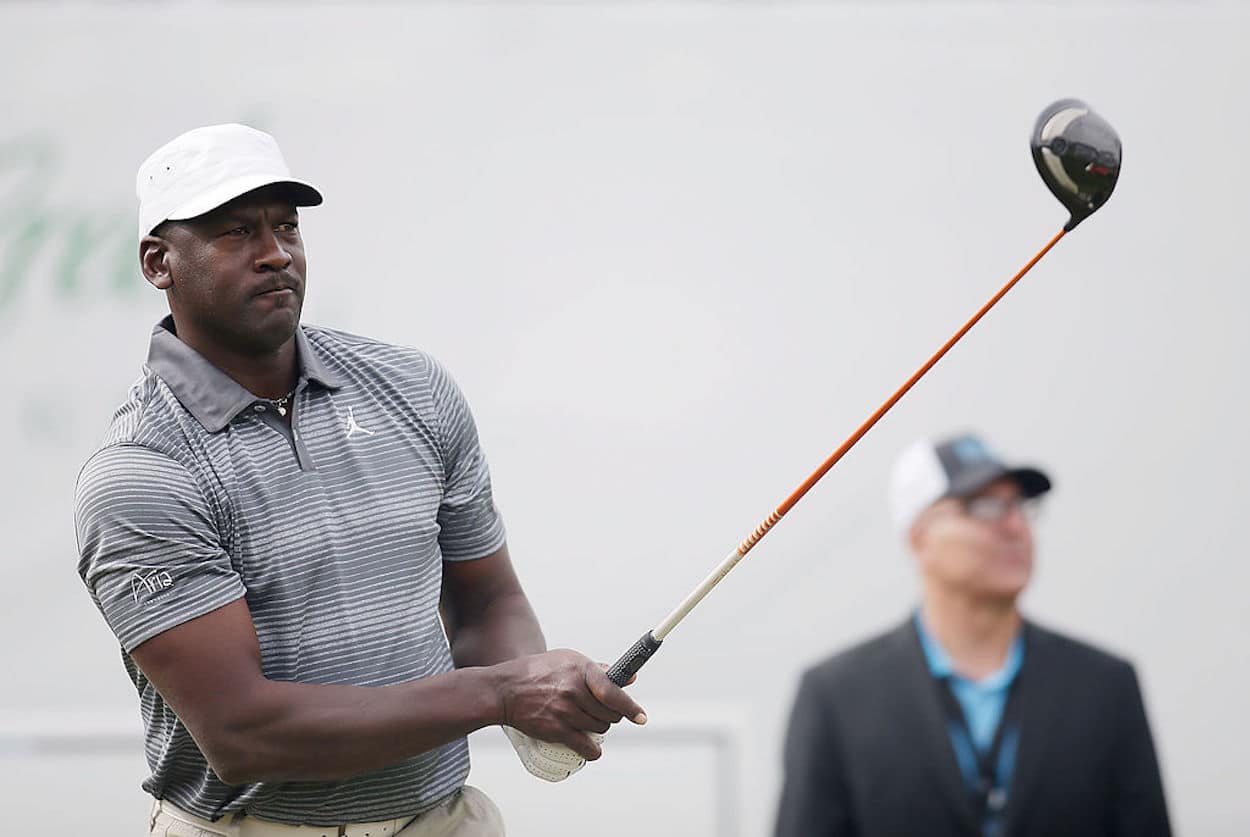 So, if we're neither bringing Jordan aboard for his executive experience nor his public image, what else does he bring to the table? At the risk of sounding too cynical, there's always money.
While Michael Jordan's net worth can fluctuate slightly, it's constantly in the neighborhood of $1.5 billion. That's a pretty penny, and if you add His Airness to the board, you'll presumably have some financial support. In this context, though, things are a bit different.
LIV Golf is financed by the Public Investment Fund, which is Saudi Arabia's sovereign wealth fund. Although it can be tough to nail down exactly how much capital is at the fund's disposal, we know it's a massive amount. An April 2022 New York Times story cites a $620 billion figure, and if the amount spent on taking over Newcastle United (the overall consortium shelled out £300 million in 2021) and getting LIV off the ground is any indication, there's a willingness to spend.
Would adding some amount of Jordan's money — let's say $10 million — matter in the context of those numbers?
To be clear, Michael Jordan is a living sports legend with an incredible NBA resume and plenty of money in the bank. When you consider what he'd bring to this specific boardroom, though, it doesn't seem like LIV Golf will be rueing the day it failed to secure his signature.