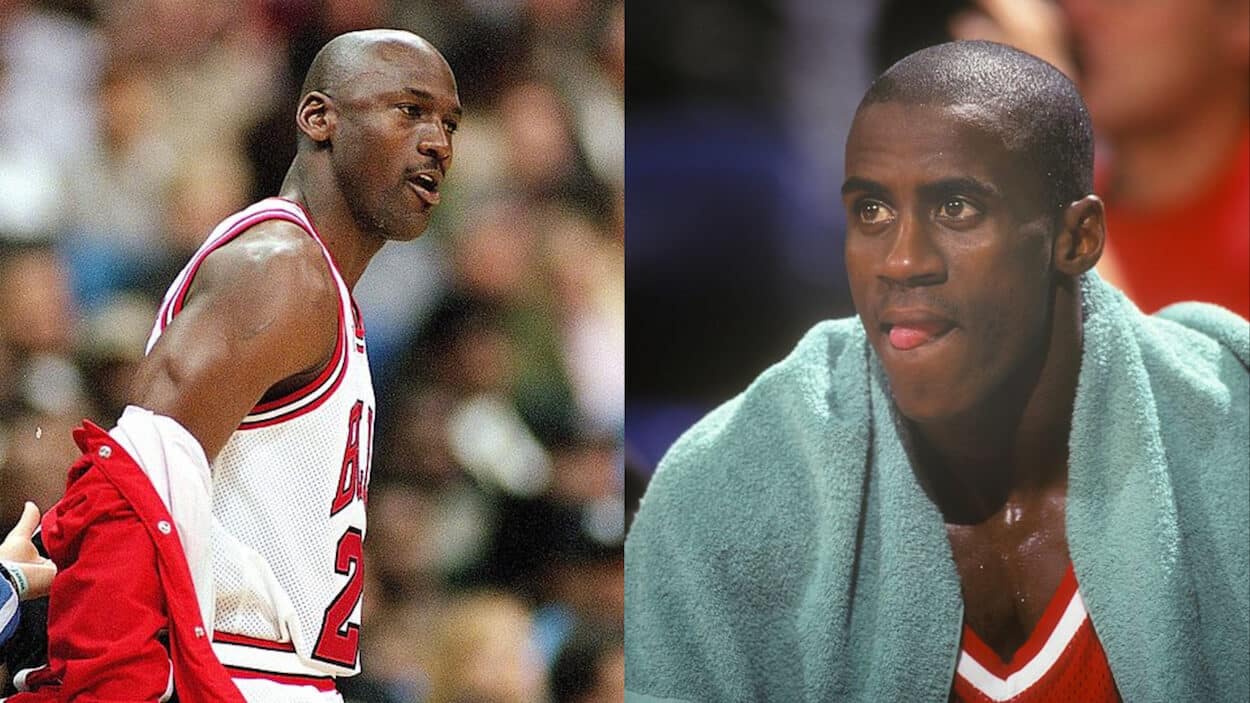 Michael Jordan Needing to Nap Before Facing Vernon Maxwell Isn't the Admission of Fear You Might Think
While it's certainly possible that Michael Jordan rested up before facing Vernon Maxwell, there's more to the story than meets the eye.
When you think of unstoppable NBA talents, Michael Jordan probably leaps to the front of the list. Most of his exploits were on the offensive end of the floor — who can forget his high-flying dunks and clutch scoring performances — but MJ also knew how to do his defensive duties. Shutting down one player, however, apparently took a bit of extra preparation.
If we take Calvin Murphy at his word, that man was Vernon Maxwell. According to the former guard, Jordan admitted that he needed a bit of extra rest before a match-up with the Houston Rockets.
That story may sound cool and suggest that His Airness knew he was in for a long night. There is, however, a bit of missing context.
Let's break it down.
Michael Jordan apparently needed a full tank of gas to defend Vernon Maxwell
While the passage of time has erased some of Michael Jordan's defensive exploits — solid footwork doesn't exactly make for exciting highlights — His Airness did earn one Defensive Player of the Year crown and nine All-Defensive Team nods. His talent, athleticism, and competitive fire probably carried him most of the way to success, but in some situations, he needed something of an extra boost.
"Let me tell you something," Calvin Murphy explained on a clip from the Houston Rockets postgame show, which is making the rounds on Twitter. "Michael Jordan told me at the Hall of Fame one time [that] the only player who makes him take a nap before the game was Vernon Maxwell."
While that proved to be the end of the anecdote, we do know a bit about Jordan and Maxwell's history. During one interview, the former man described Jordan in almost comically vulgar terms, calling him a killer, among other things, before ultimately concluding that all the stories about His Airness were true. On the opposite side of the coin, Kenny Smith claims that "Mad Max" was the only man ever to irritate Jordan.
With that being said, though, there's one problem with Murphy's claim: Jordan was no stranger to napping.
Jordan had a unique game-day routine, but he still had time to rest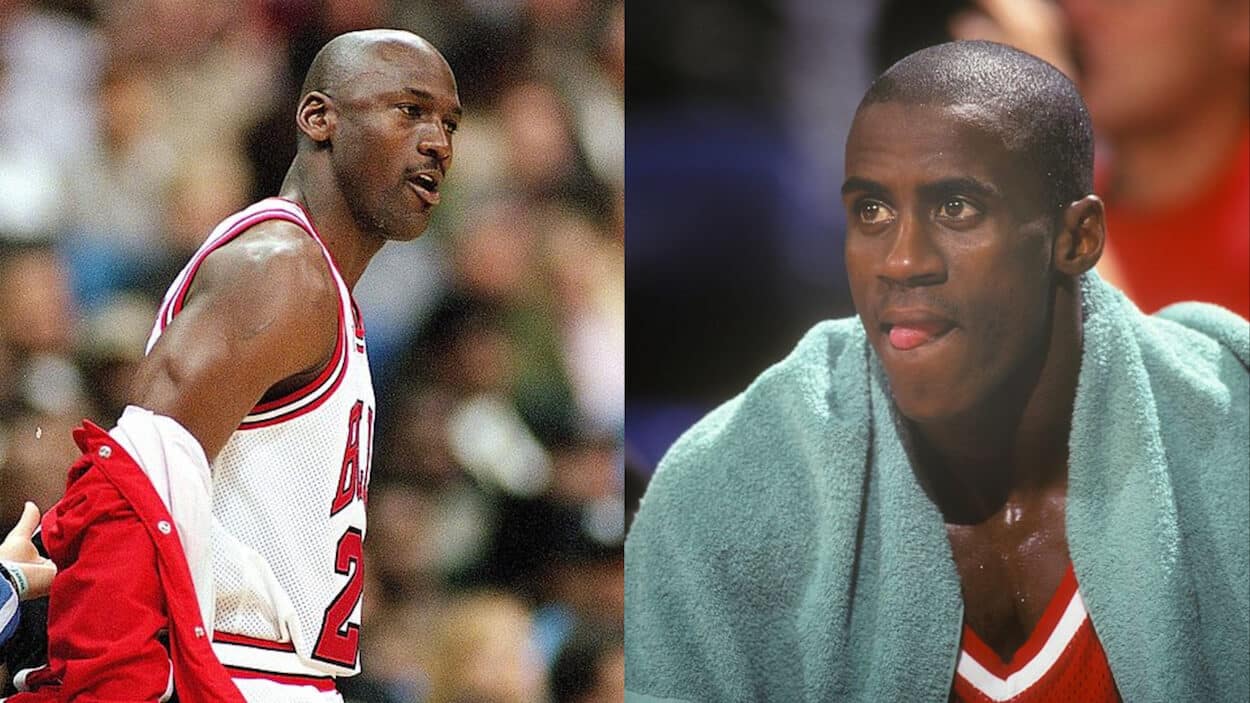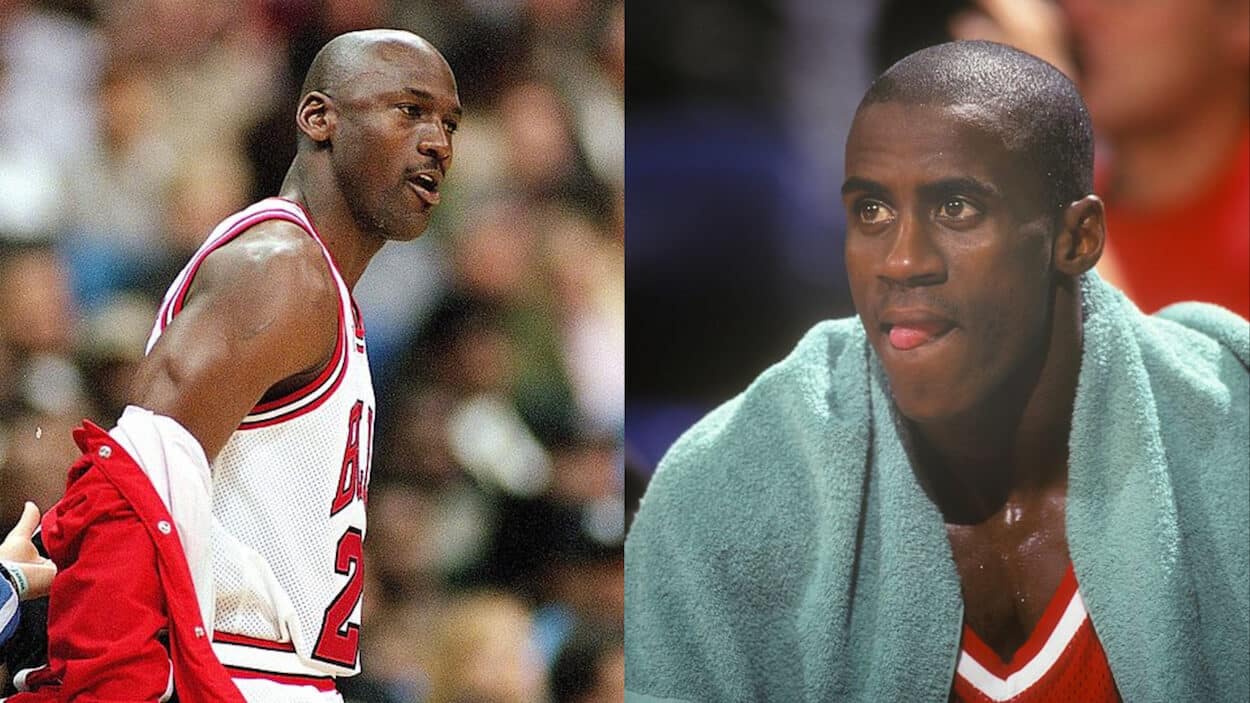 Professional athletes are creatures of habit, and Michael Jordan was no exception. While he did things his own way — golfing isn't a standard form of pre-game preparation — the Bulls star did keep one essential item on his schedule.
In a 2020 issue of SLAM commemorating His Airness, Ryne Nelson sketched out the living legend's game-day routine during the Last Dance season. Things would start by convening the "Breakfast Club," followed by the morning meal and shootaround. MJ would then meet with the media, heat to the trainer's room, and go about his day.
If time and weather allowed, he'd try to sneak in a bit of golf. Whether he hit the links or not, though, Jordan
"would take a nap and have a pre-game meal of steak and potatoes before heading to the United Center." Once at the arena, he'd go through a detailed routine featuring a cup of coffee, lacing his sneakers, and talking the court with his teammates. Then, it was time for the show to begin.
So, at the risk of getting into a "he said, he said" situation, it seems like Vernon Maxwell wasn't the reason why Michael Jordan was taking a nap before hitting the hardwood. Is it possible that he knew he was in for a long night when it was time to face "Mad Max" and wanted a bit of extra rest? Sure, but that's a different story.