Vernon Maxwell Has a Vulgar Take on What It's Like Playing Against Michael Jordan: 'He's a Killer Out There, Man'
Even though he's long since retired from professional basketball, Michael Jordan still looms large in the collective minds of NBA fans. On the court, His Airness seemed pretty close to the perfect player, possessing athleticism, talent, and more than enough inner fire to carry him to the top of the mountain. From a defender's perspective, he was the stuff of nightmares.
Just ask Vernon Maxwell about that.
During their respective times on the hardwood, MJ and Mad Max had their fair share of head-to-head encounters. And while Maxwell wasn't one to back down from any opponent, he still came away from his encounters with Jordan holding onto a specific image of the star.
Michael Jordan tormented defenders for a living during his NBA career
These days, Michael Jordan is remembered more as a living basketball diety than as an actual player. While that reality makes sense, it also can cause some fans to lose sight of the forest for the trees. MJ was, quite simply, an amazing basketball player.
Even as an NBA rookie, Jordan possessed incredible offensive skills. He averaged 28.2 points per outing, shooting 51.5% from the floor en route to the 1985 Rookie of the Year crown. That success, however, was only the beginning. After an injury-shortened sophomore year, MJ returned to the hardwood and averaged an eye-popping 37.1 points per game across the 1986-87 campaign.
From there, the ball just kept rolling. While His Airness' counting numbers declined, he kept on scoring at a high level. In addition to winning six NBA championships, the living legend averaged 30.1 points and 5.3 assists per game for his career and claimed 10 scoring titles.
If you combine that with MJ's famous trash talk and unbreakable will to win, it's easy to see why he was a nightmare for defenders. Jordan could beat you any way he wanted and had no problem laughing all the way to victory.
Vernon Maxwell had a vulgar take on what it's like to face His Airness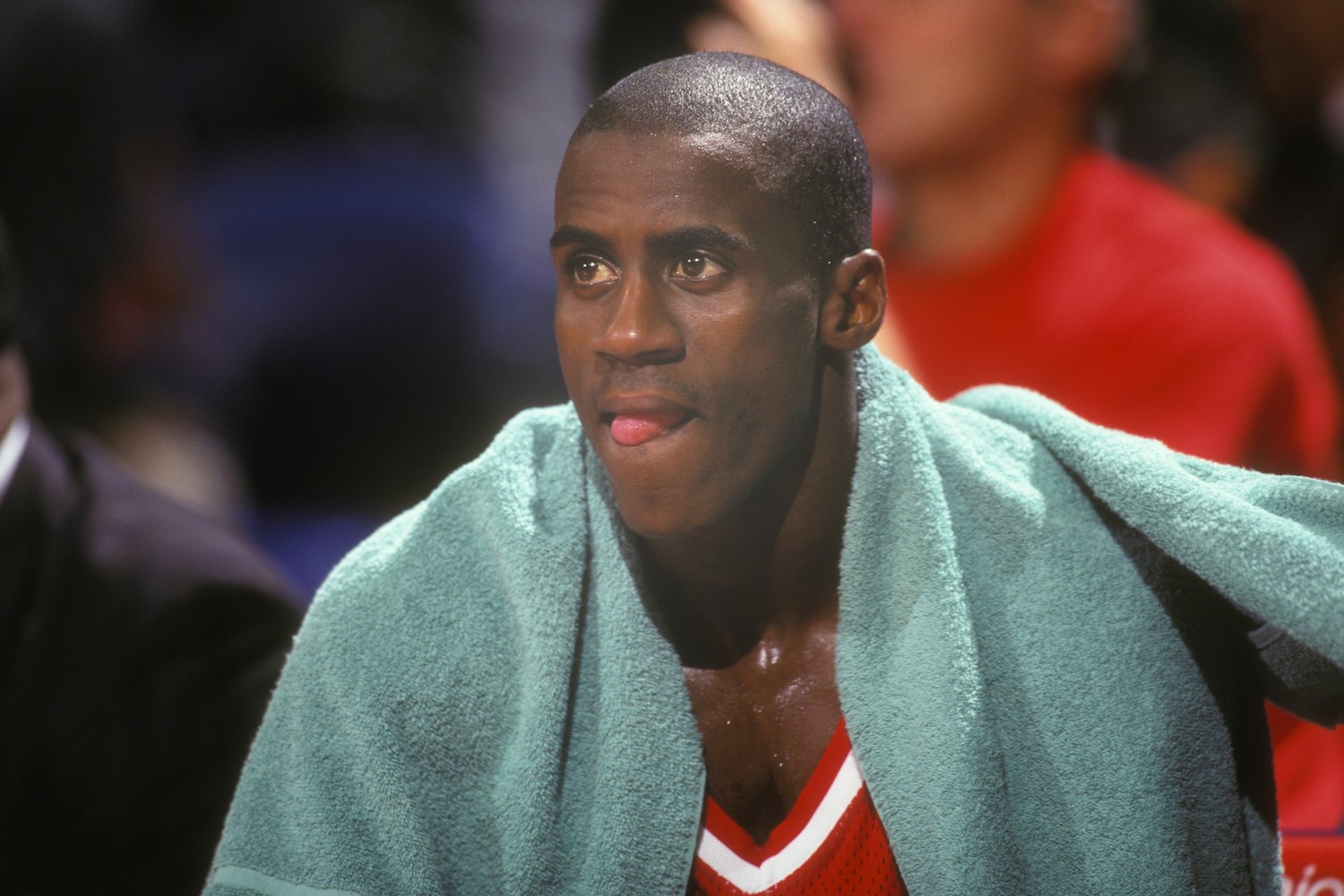 During his time in the NBA, Vernon Maxwell faced off against MJ on numerous occasions. Based on an interview on The Ringer's Real Ones, it's safe to say that the guard hasn't forgotten those encounters.
"When you play against that motherf—–, you gotta be a little different," Maxwell explained when asked what it was like to face His Airness. "You can't go in that motherf—— game like passive and, like, that motherf—–, he can sense a motherf—– if you scared. He's a killer out there, man, and he's a dirty motherf—–. … You have to be, man, to be that great, man. I mean night in, night out. You have to be a dog and have that grit, that dirty s—."
Co-host Logan Murdock then weighed in, asking Maxwell about one of the first times that Jordan tried to test him. Mad Max, unsurprisingly, had another vulgar memory ready to go.
"I tested [Jordan]," the guard recalled. "You know, I think I was trying him. You know, I think he was just, like I don't think he really knew a lot about me, but, you know what I mean, but I knew he knew who I was. But I was f—— with him. You know, trying him. … Just talking s—, just saying s—, get a bucket on him, 'Yeah, motherf—–, it's going to be a long night for you, too.'"
With all of that being said, though, Maxwell still thought it was pretty cool to be facing a living legend.
"Just couldn't believe I was out there playing against this motherf—–," he added. "And, you know, just wanted to see if everything I heard, it was true. And, s— it was true."
Vernon Maxwell even got 'cheek to cheek' with Michael Jordan during a heated matchup
As noted during his Real Ones appearance, Maxwell wasn't one to back down Michael Jordan. On one occasion, the guard took things a bit literally and got "cheek to cheek" with His Airness.
"We were in Houston, and he spun on me and went baseline. All I saw was that Jumpman logo on the bottom of his shoes when he was dunking," Maxwell told Fox 26 Houston's Mark Berman. "I just took off running back down the floor, and he ran up behind me and hit me on my butt."
That gesture, even if it seemed benign, set the guard off. In his mind, the dunk was bad enough. There was no need to veer any further into disrespect.
"That's when I was like, 'Man, don't put your damn hands on me. You're going to embarrass me like that? Don't come up and touch me,'" Maxwell continued. That's when we got cheek to cheek. I was just telling him, 'Don't disrespect me. You already dunked on me.'"
At the end of the day, Jordan bested just about every opponent he ever faced. Maxwell was no exception. Based on everything we know of His Airness' personality, though, he probably appreciated Mad Max's willingness to face the challenge head-on.
Stats courtesy of Basketball-Reference