Michael Jordan Has No Patience for NBA Players Who Still Refuse to Get Vaccinated From COVID-19: 'I'm a Firm Believer in Science'
Michael Jordan wants every NBA player around the league to get vaccinated.
The upcoming NBA season will be just as much about handling the COVID-19 pandemic as it will be about the actual play on the court. Players won't be forced to get vaccinated at any point, but those who don't take the shot run the risk of missing multiple games and hurting their team. And for a few teams, unvaccinated players will be in danger of missing half the season.
Michael Jordan, the Hall of Famer and famed owner of the Charlotte Hornets, is a firm supporter of the NBA's new COVID-19 protocols, and he believes the league will be just fine this year as long as every player receives the vaccine.
Some NBA players remain unvaccinated despite the NBA's new COVID-19 protocols
The NBA isn't forcing any of its players to get vaccinated, but the league is strongly encouraging that decision based on the strict COVID-19 protocols being put in place this season.
According to a league memo obtained by ESPN last month, unvaccinated players will be separated from vaccinated players as much as possible off the court. Unvaccinated players will be given lockers far away from the rest of the team, and they'll have to eat and travel in different sections away from their vaccinated teammates.
In addition, unvaccinated players will have to enter a seven-day quarantine if they are deemed a close contact to someone who tested positive for the virus.
But the rules are even stricter for members of the Brooklyn Nets, New York Knicks, and Golden State Warriors. Because of new government policies in New York and San Francisco, players of those teams won't be able to attend their home games unless they've received at least one dose of the vaccine.
Even with all the new protocols, some NBA players still refuse to get vaccinated. The most notable example is Kyrie Irving, who couldn't attend the Nets' media day in person last month because he couldn't provide proof of one vaccine shot. If Irving doesn't get vaccinated at any point this season, he'll miss all 41 of Brooklyn's home games in the regular season, and the team won't have to pay him for those contests.
The NBA will be much more lenient with vaccinated players this year, but a 100% vaccination rate doesn't seem likely with just one week remaining until the season opener.
Michael Jordan has no patience for players who refuse to get vaccinated
Michael Jordan doesn't have to adhere to the same protocols as current NBA players this season, but he's just as invested as the longtime owner of the Hornets. He knows a star player missing a week of action could be the difference between a playoff appearance and an early offseason, so he's imploring every player to follow the NBA's guidelines and get the shot.
When asked if he had any concerns about the league's new COVID-19 protocols during a recent appearance on the "Today" show on NBC, Jordan said he wasn't as long as everyone "buys in."
Not at all. Not at all. I am in total unison with the league, and I think everybody's been speaking about the vaccinations, and you know, I'm a firm believer in science. I'm gonna stick with that, and hopefully everybody abides by whatever the league sets as rules. I think once everybody buys in we're gonna be fine.

Michael Jordan
But that doesn't seem like a realistic scenario considering there are still NBA players out there who don't plan on getting vaccinated.
Jordan believes the teams that handle COVID-19 the best will have an advantage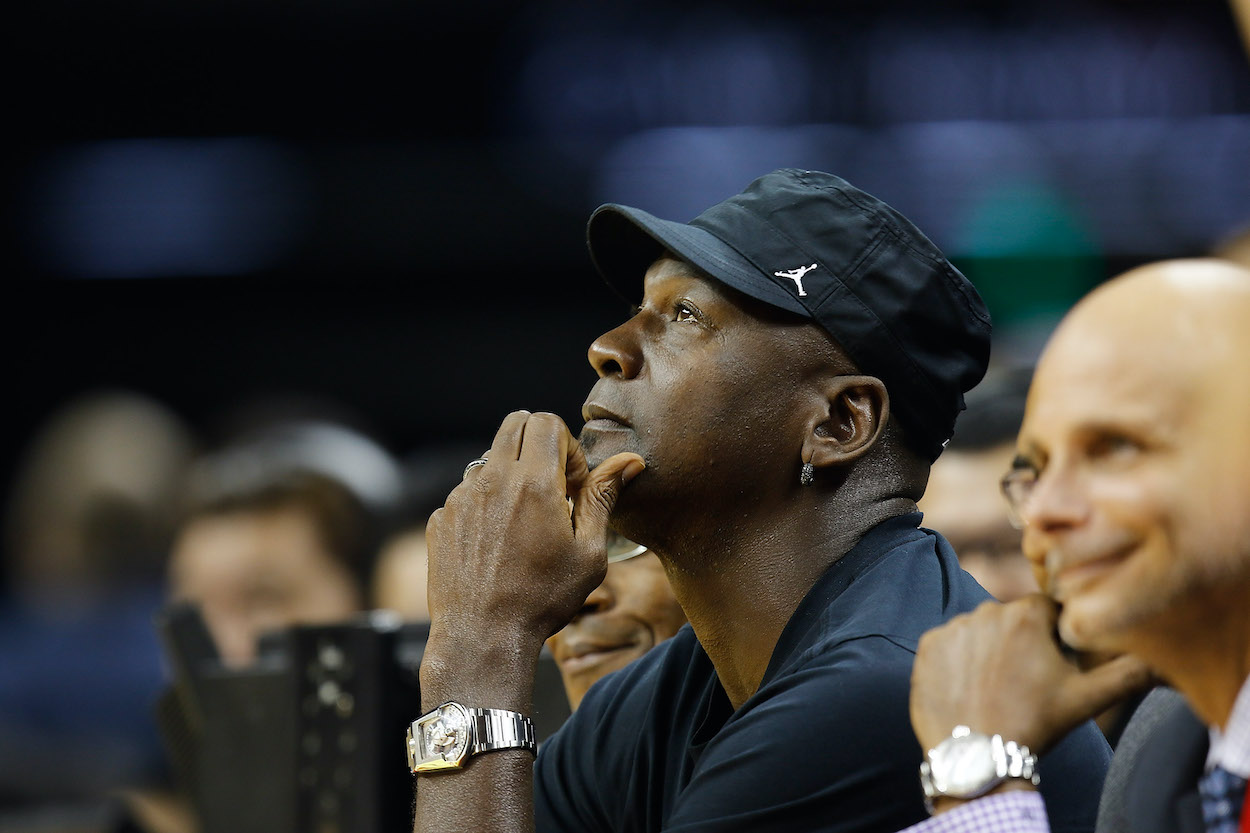 With all the new protocols in place, Jordan believes a roster made up of 100% vaccinated players will have a better opportunity to succeed this season. MJ said in the same interview with the "Today" show that the Milwaukee Bucks, Nets, Miami Heat, Chicago Bulls, Los Angeles Lakers, and Los Angeles Clippers will be the teams to beat this year, but the organizations that stay out of trouble with COVID-19 will have the best chance to compete for a title.
"Whoever stays healthy, whoever can battle the COVID-19 issues that they may have in the course of the year, it's gonna give that team the best chance," Jordan said. "Staying healthy is our biggest thing for us. We gotta stay healthy."
The Hornets are 100% vaccinated from COVID-19, according to the Associated Press, so Jordan must love his team's chances to at least make the playoffs in 2022.
Like Sportscasting on Facebook. Follow us on Twitter @sportscasting19.