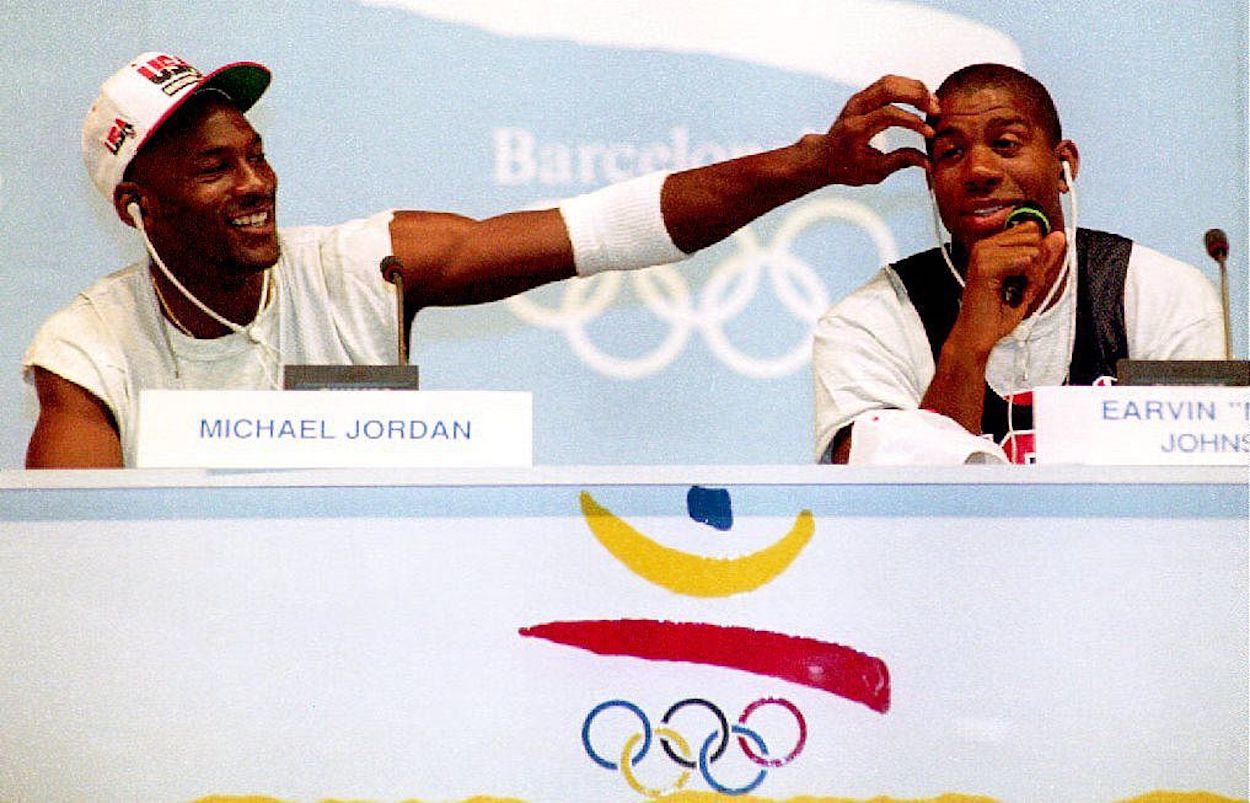 Michael Jordan Paid Magic Johnson a Moving Compliment In 'They Call Me Magic'
While Michael Jordan has a firm place near the top of the NBA pantheon, he still managed to shine the spotlight onto Magic Johnson's place in history.
Whether you remember Michael Jordan as a player or only learned about him from The Last Dance, almost everyone knows about his famous competitive edge. No matter the competition, His Airness simply had to be the best. While that attitude helped make MJ a living legend, it also meant he wasn't the nicest guy in the NBA. In retirement, though, things can be a little different. The former Chicago Bulls star still has the same fire in his belly, but he can dial it back at times. Just as Magic Johnson about that.
Although They Call Me Magic is yet to reach the public, the series did technically premiere at the South by Southwest Film Festival. There, Johnson heard Jordan pay him quite the compliment. Unsurprisingly, the Lakers legend was moved by his words.
Michael Jordan said that Magic Johnson really deserves the credit for changing the game of basketball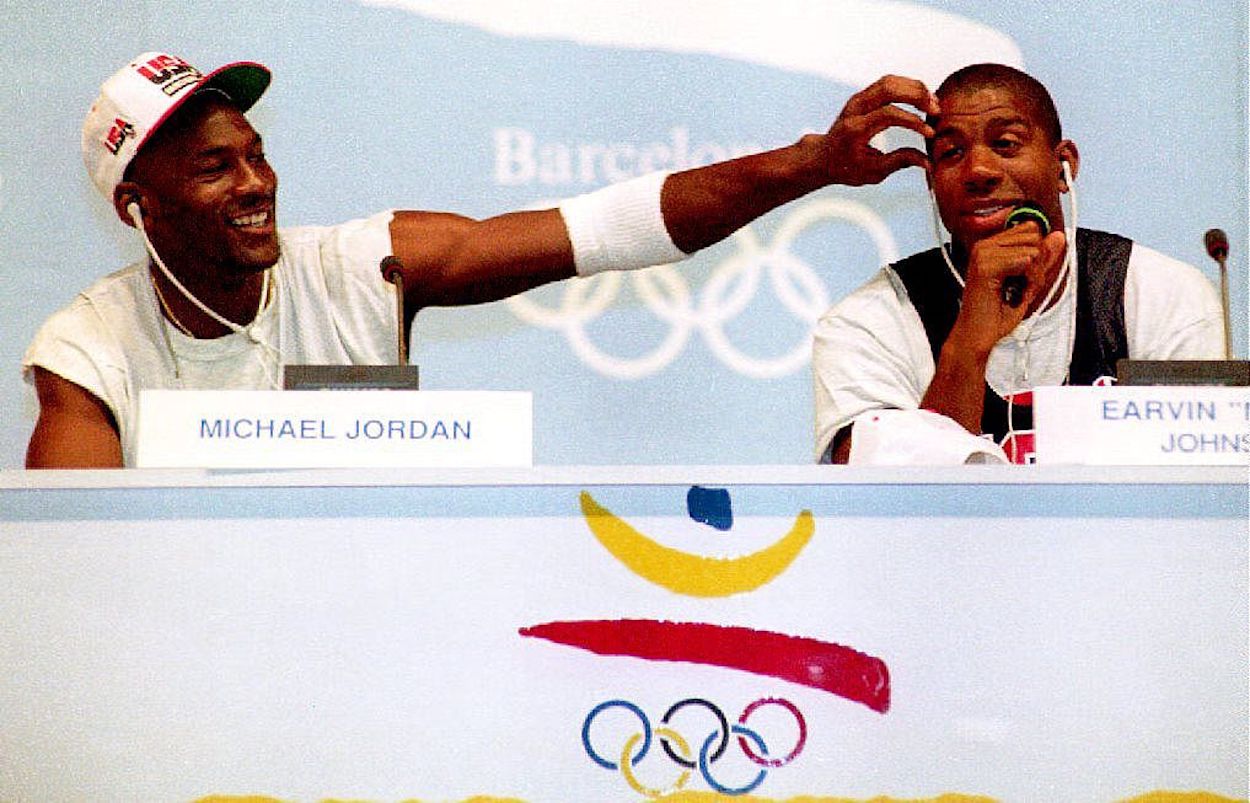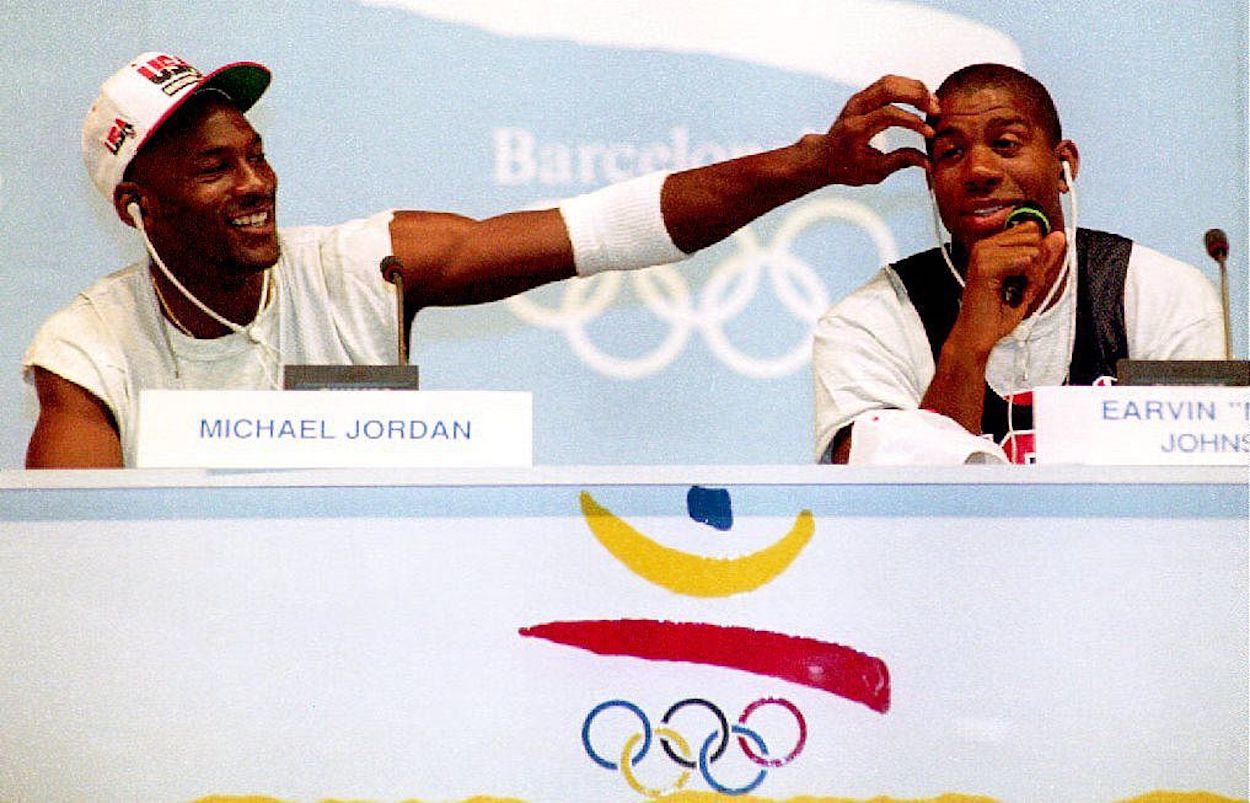 Due to a combination of factors — he was incredibly talented and had an unshakable will to win, but also had the good fortune of playing during the time when basketball became a global game — Michael Jordan receives a great deal of credit for shaping the modern NBA landscape. His Airness, however, places the credit earlier in the timeline.
"Everybody wants to credit Michael Jordan for changing the NBA," the former Chicago Bulls star said during the first episode of They Call Me Magic, according to a Variety write-up, "but when Magic Johnson came in, that's where the game changed."
As you might expect, Johnson appreciated those words. Variety noted that he "was moved" by His Airness' comments and provided an additional quote from the main man himself.
"I was up there laughing and almost crying at the same time, hearing my family talk, hearing Larry Bird, and when Michael said what he said, which was really amazing," Magic explained. "We had never heard that from Michael, for him to say that everybody thought he had turned the league around but that I was a big part of that."
MJ isn't the first one to praise Magic for changing the NBA, and we should remember that history
If Michael Jordan is choosing to go on the record to say that Magic Johnson deserves credit for changing the NBA, it's probably safe to assume that he genuinely believes it. His Airness, however, isn't the first star to voice that opinion.
"I remember when I first got my signature shoe in like the late '80s," Charles Barkley said on a January 2022 episode of The Steam Room podcast. "And then to look what Michael has done with his Jordan brand. It's just crazy. And I always tell people, Michael Jordan is the reason we're all making this money. It started with Magic Johnson and Larry Bird. Those two guys, I've always said, Magic Johnson and Larry Bird, saved the NBA. They thought it was too Black, bunch of thugs, bunch of druggies, and then when Magic and Bird came in, things started to change. And then Michael took it to a whole 'nother level."
Chuck has also voiced similar opinions on Inside the NBA, saying that Jordan, Bird, and Johnson are the three most important people in NBA history. On one occasion, Magic even took to Twitter to thank Sir Charles for the compliment.
While it's easy for sports fans on the whole to default to "back in my day" and argue that older is better, Jordan's comments about Magic do raise a valid point. At the risk of sounding like your seventh-grade history teacher, we're currently standing on the shoulder of (sporting) giants. As much as we love the modern NBA and watching the likes of LeBron and Giannis, the Association owes a debt to the previous generation.
As with most things, there's a moderate middle ground. We don't want to be beholden to the past — that's a recipe for failing to appreciate the present — but, at the same time, there's something to be said for appreciating history. It can be easy to write off players from the 1980s as inferior athletes, but someone like Magic Johnson deserves appreciation, both for his on-court exploits and his larger impact. (It's also worth noting that having a 6-foot-9 guard running the show and tossing alley-oops would be right at home in the modern NBA, but that's an entirely different conversation.)
That's not to say sports fans have to be Pollyanna and think that every player from every era is great, though. It's more about respect; even if you were a diehard Celtics fan who hated the sight of Magic Johnson and his Lakers, you can appreciate his talent and impact on the wider game of basketball. Rivalry is a potent force, but with several sober decades having passed since the guard's retirement, those forces should have cooled a bit.
If nothing else, you can view it through the lens of Michael Jordan and Charles Barkley. If those two men, neither of whom is the one to hand out undeserving compliments, can give Magic his flowers, there's no reason why we shouldn't be able to appreciate the guard's impact on the game.