Michael Jordan Surprisingly Refuses to Wear a Specific Kind of Shoe Off the NBA Court: 'He's Not a Fan'
As much as Michael Jordan is known for his legendary NBA career with the Chicago Bulls, his shoes are almost just as iconic.
Jordan's sneakers have been as successful as they come in regards to athletes and their signature shoe lines. He changed the game and eventually launched Jordan Brand, a separate brand under the Nike umbrella.
However, while MJ would wear a specific kind of his shoes on the court throughout his hoops career, he refuses to wear them off it, as a former Nike executive recently revealed that the six-time NBA champ absolutely hates black sneakers.
Michael Jordan's Nike shoes have been extremely successful
In 1984, when he was fresh out of the University of North Carolina and entering the NBA, Michael Jordan signed an endorsement deal with Nike, and it has since become one of the best decisions both he and the company have ever made.
MJ's signature sneakers, the Air Jordan's, were (and still are) one of the most sought-after items in the world. And they eventually became so popular that in 1997, His Airness launched Jordan Brand, something that Nike described as "a sub-brand of" its business, per The Undefeated.
All in all, Nike has paid the Hall of Famer over an estimated $1 billion since signing his initial deal, per Forbes. And Jordan Brand made about $5 billion in the fiscal year ending May 31, 2021, according to Yahoo.
However, despite the popularity of almost all his sneakers, whenever Jordan discusses shoe ideas with Nike executives, he supposedly isn't crazy about the ones that come in black.
MJ doesn't like black shoes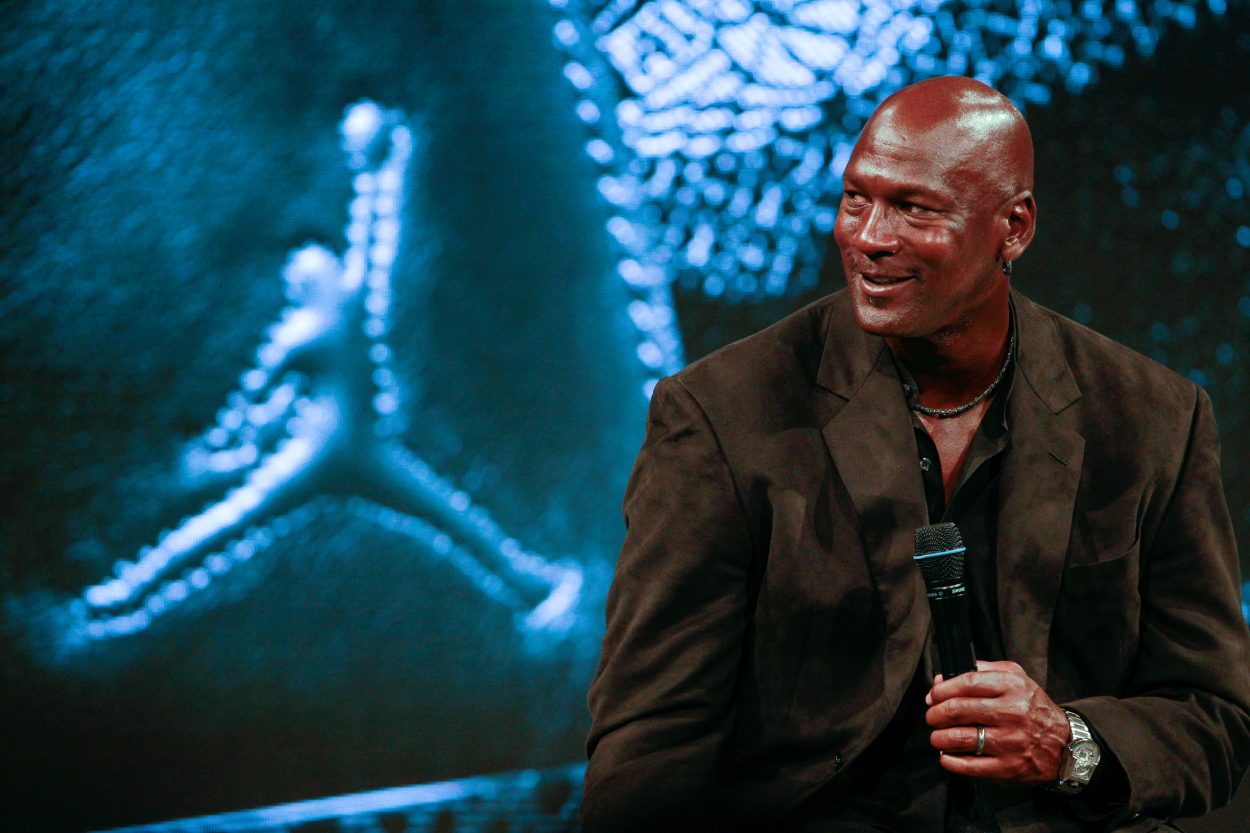 Gentry Humphrey is the former VP of Footwear for Jordan Brand. He announced his retirement earlier this year.
Humphrey recently spoke to Complex Magazine about what it was like working with Michael Jordan, and when he was asked about a time His Airness may have disagreed with him about an idea, the former exec revealed that the NBA legend does not like black shoes.
"He's not a fan of black shoes ever," Humphrey said on an episode of The Complex Sneakers Podcast. "He does not like black shoes. You'll probably rarely see him wear black shoes. Every time he wore them in the playoffs, it was a mentality. He wanted to wear black shoes based on how he wanted to take his game to the next level when he was in an opponent's arena. So, he felt this notion of being stealth-like was important. That would be the only time. Casually, though, you'll never see him wearing black shoes."
Humphrey added that Jordan would typically be like, "yeah, yeah, whatever," whenever they would show him black-colored sneakers, but he would actually be interested in the white ones.
His disinterest in black kicks, though, hasn't kept him from giving input whenever his brand comes up with new ideas.
Michael Jordan is the 'secret weapon' to Nike's Jordan Brand
Humphrey also revealed that whenever the brand is working on bringing back some of the retro Air Jordan styles, MJ is pretty involved in the meetings.
"The one thing about Michael that I've always said is he's, to me, the secret weapon of the brand," Humphrey said to Complex. "People really underestimate how astute he is to the game. From a business standpoint, he can tell you the numbers of what's going on in the brand. And he loves footwear. I think that if he wasn't a professional athlete, he'd probably want to do something in it."
Humphrey then went on to describe Jordan as "not like the guy next door."
"He's very different, loves being different, and doesn't mind being perceived as doing it his way," he added. "He's in all the conversations. At some point in time, we'll present the collection to him, and he's just great with stories. We'll have inspiration for a particular project; we'll go to him, and we'll say, 'Hey, M, here's kind of what the inspiration was.' We're talking about Lamborghinis or whatever the next thing might be, and he'll be like, 'I love Lambos, but I love the sophistication of the Ferrari.' … You get nuggets from him all the time. So, every step of the process, he's a part of it."
So, whichever Air Jordans you have in your closet, Jordan himself likely had a say in their design. Unless they were black, of course. He hates those kinds of sneakers.