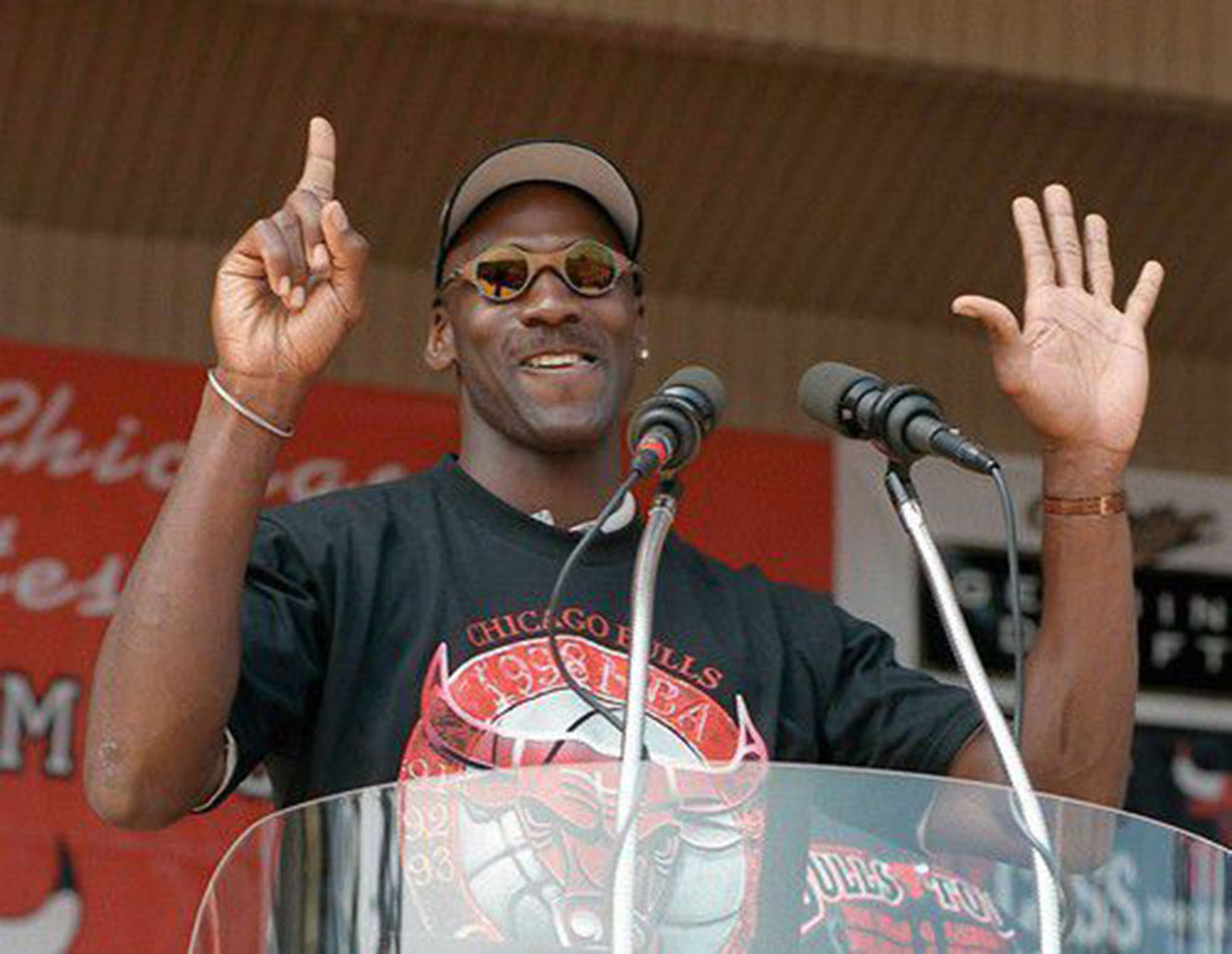 Michael Jordan Roasted Dan Patrick With Some Serious Trash-Talk Minutes After Winning His Final NBA Championship: 'You're Lucky I'm Retiring'
Even after winning his sixth NBA championship, Michael Jordan was still ready, willing, and able to talk some serious trash. Just ask Dan Patrick.
During his time on the hardwood, Michael Jordan earned a reputation as a ruthless trash-talker. His verbal onslaughts weren't just limited to the opposition, though. Everyone from fans to the former president of the United States could feel His Airness's wrath. In 1998, Dan Patrick experienced that reality firsthand.
These days, Dan Patrick is a respected veteran on the sports media scene; in 1998, however, he was tasked with interviewing Michael Jordan mere minutes after the Chicago Bulls star had won his final NBA championship. Despite those happy circumstances, MJ couldn't resist throwing a bit of trash-talk in the reporter's direction.
Michael Jordan went out on top by winning an NBA title during his 'last dance'
For most professional athletes, retirement is the end of the road. Michael Jordan, however, did things a bit differently.
In the fall of 1993, Jordan retired from basketball for the first time. His Airness wasn't leaving professional sports completely behind, though. Instead, he traded his sneakers for spikes and tried his hand at minor league baseball.
While Jordan wasn't a completely lost cause on the diamond, he eventually had enough. He famously issued a two-word press release—"I'm back"—and returned to the Chicago Bulls for the 1995 campaign. Unsurprisingly, he picked up exactly where he left off.
Before retiring for the first time, Jordan and his Bulls had won three straight championships. During his second stint in the NBA, they pulled off another three-peat.
After that Last Dance, which culminated in the 1998 NBA championship, Jordan was ready to retire for a second time. He couldn't leave basketball, however, without one final bit of trash talk.
Trash-talking Dan Patrick after winning the NBA championship
Moments after winning that sixth and final NBA championship, Michael Jordan sat down with Dan Patrick for an interview. While MJ was covered in champagne and in pretty good spirits, he still took a moment to indulge in a bit of trash talk.
"He gets up, and we go to commercial break," the media veteran recalled on The Dan Patrick Show. "And then I said, 'Hey, it's a shame you're retiring, man, because I wanted a piece of you."
As you might imagine, His Airness wasn't going ignore a challenge from anyone, let alone a reporter.
"And he turns," Patrick continued. "So he's got the basketball, the game ball, with him and a cigar. And he said, "How would you guard me, mfer?" And I've got my suit and tie on. We're during commercial break. Phil Jackson's walking over and sitting down. 'Come here. Let me see how you would guard me, mfer."
Patrick complied and put his forearm in the middle of MJ's back. Needless to say, Jordan wasn't impressed with that defense.
"He goes, 'Is that all you got," Patrick concluded. "And, like, he gave me this look … and he just laughed. He said, 'You're lucky I'm retiring,' and then he walked out the door."
Getting trash-talked by Michael Jordan puts Dan Patrick in some elite company
It is worth noting that Dan Patrick wasn't too bothered by Michael Jordan's trash talk; he admitted that he found the incident funny and shared it as his favorite MJ story. Being on the receiving end of His Airness' verbal assault, however, also puts the radio host in some elite company.
Over the years, plenty of big-name stars have been trash-talked by Jordan. While encounters with NBA veterans like Reggie Miller and Kobe Bryant are a given, MJ wouldn't pull any punches, even if he was facing the most powerful man in the world. On one occasion, for example, he asked Bill Clinton if he was going to golf from the "little girl's tees." On another, he went on the record as saying that Barack Obama was a "sh*tty golfer."
During his time in the sports media, Dan Patrick has had plenty of memorable encounters. Trying to defend Michael Jordan—and getting called out for his effort—however, has to be near the top of the list.