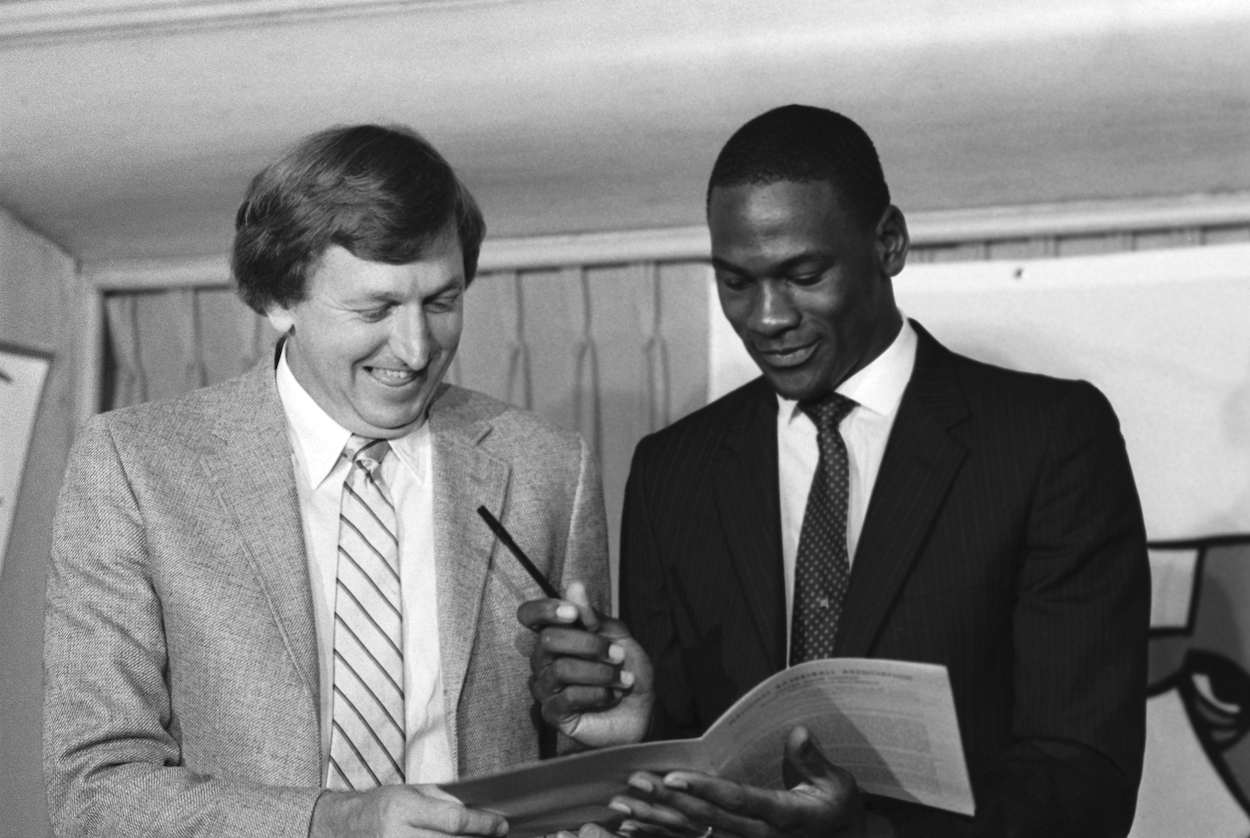 Michael Jordan Tried To Sneak a Smart Clause into His First NBA Contract
Even as a rookie Michael Jordan was savvy about maximizing his earnings. Jordan and his agent tried to get a sneaky clause into the contract.
When the Chicago Bulls drafted Michael Jordan, it was one of the most important moments in the history of the NBA. Jordan would easily become an icon in the sports world while also leading the Bulls to six NBA championships in an eight-year span. 
His contract negotiations were always something to marvel at, and today we will look at a clause he wanted in his rookie contract that Chicago ultimately denied.
Michael Jordan's rookie contract
Spotrac states that after being drafted with the No. 3 overall pick in the famous 1984 NBA Draft, Jordan signed a five-year $6.3 million contract with the Bulls.
He would immediately become one of the faces of the league, winning the 1985 NBA Rookie of the Year award after averaging 28 points, six rebounds, and nearly six assists as a rookie.
A contract clause he proposed would have significantly increased the amount of money he earned during that five-year span.
The clause he tried to have added
Speaking with Cigar Aficionado, Jordan explained that he tried to have an attendance clause put into his contract, but Bulls ownership denied the request.
This was a smart move by the team because during his first five seasons in the league, the Bulls' total attendance was sixth-best in the NBA during the regular season.
Outside of an injury during his second year, Jordan started every game for the Bulls during that span.
How his rookie deal compares to today's rookie salary scale
At the time, he was the highest-paid rookie, averaging roughly $850k per season. Compare that to 2022 No. 1 overall pick Paolo Banchero, who is earning $11.1 million during the 2022-23 season, and you can see league revenue has inflated the salaries of players. 
The league has always run on a salary cap, but with more contract restrictions in place, the teams have a lot more protection from losing their star players in smaller markets, avoiding situations like Shaquille O'Neal leaving Orlando as a free agent.
How much money did Michael Jordan earn during his playing career?
Although he wasn't able to leverage the Bulls into approving an attendance clause, Jordan still made an unprecedented amount of money during his playing career. It was easy for him to negotiate long-term deals due to his dominance and popularity around the league during the late '80s.
After a brief retirement to play minor league baseball, his rookie extension (eight years, $25.7 million) was finished at the end of the 1996 NBA season. Sports Illustrated recalled his infamous return to the game in an exclusive article.
Jordan then signed two back-to-back one-year deals worth $30 and $33 million, respectively. After his second retirement, he briefly played for the Washington Wizards on a two-year veteran minimum.
In total, he earned over $93 million in his career. That may look like a small number compared to today's supermax contracts, but at the time of his deals in 1997 and 1998, he was the highest-paid player per season in the league.
What do you think about Jordan's contract negotiations?
Do you think the Chicago Bulls were right in denying Michael Jordan an attendance clause? He would have seen his income increase significantly, and those types of clauses are rarely seen in sports. 
Manny Ramirez was given one when he signed with the Tampa Bay Rays, but other than that, there aren't any others that come to mind. Could Jordan have one put in place during his other contract negotiations with the team? It was certainly possible, but by that point, he stated he wasn't motivated by money and only championships.
So, would you have given Michael Jordan the clause?
All stats courtesy of Basketball Reference