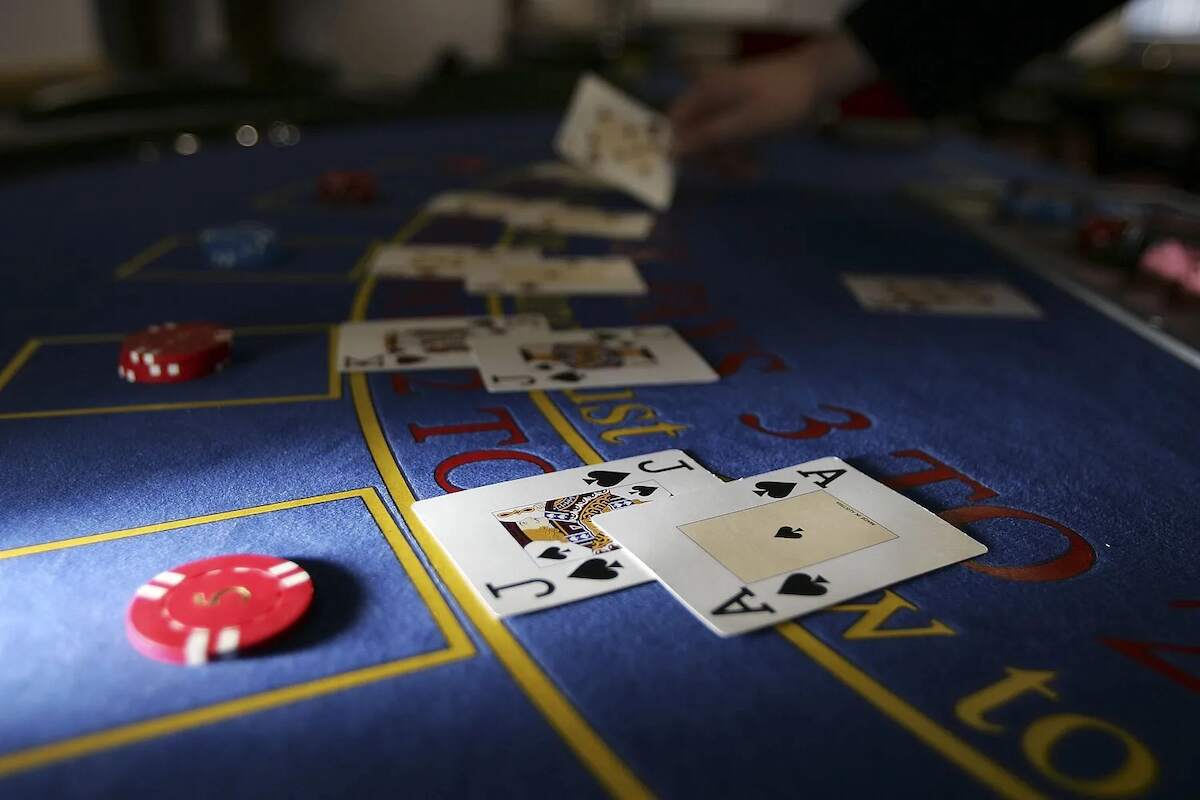 Michael Jordan Was Betting $45,000 at a Time on Blackjack and May Have Pulled a $1.3 Million Reversal
Michael Jordan had an epic night at a Connecticut casino blackjack table after an October 2001 NBA exhibition game.
Michael Jordan was one of the so-called "blue chips" coming out of high school in Wilmington, North Carolina, in 1981. It didn't take Jordan long to establish himself as a money player at the University of North Carolina, and he was on his way to NBA stardom by 1984 with the Chicago Bulls.
Little did anyone know that Jordan and blue chips would still be a thing two decades after finishing high school. An enterprising newspaper employee got the story by staking out the blackjack table at a local casino as the six-time NBA champion and double gold medalist pulled the sort of all-nighter that they don't teach in school.
Michael Jordan was on the comeback trail
The start of the 2001–02 NBA regular season was just days away when the Washington Wizards pulled into the Mohegan Sun casino, about 45 minutes southeast of Hartford, Connecticut, in late October 2001.
The Wizards were playing the Boston Celtics, the local favorites, but Jordan was indisputably the attraction. After three years of retirement from the Chicago Bulls, Jordan was back in the NBA with the Wizards as their part-owner, front-office executive, and now as a small forward.
Playing even an exhibition game in a casino arena was a bit of a novelty in 2001 because legalized sports betting wasn't prevalent. However, it was not a setting unfamiliar to Jordan. The future Hall of Famer's fondness for gambling was public knowledge, so casinos were familiar territory.   
Additionally, Jordan owned a steakhouse inside the Mohegan Sun. It didn't take a college degree to figure out where Jordan would be eating after the game or what he would be doing later. The sports editor at the Hartford Courant sent a part-time clerk to Mohegan Sun with orders to track Jordan and write a feature.
What he wrote certainly opened eyes. Even by the standards of elite athletes, Jordan had an amazing night.
Michael Jordan doesn't play blackjack at the $5 table
The gawkers were out for Michael Jordan's night at a Connecticut casino in October 2001, and so was security. As described by the Hartford Courant, Jordan was surrounded by casino staff on his way to the restaurant after scoring 21 points in a 107-93 loss.
There was more security just after midnight as Jordan made his way to the casino floor, where he was joined at a high-rollers table by Washington Wizards teammate Richard Hamilton and Boston Celtics forward Antoine Walker.
Though the security staff was discouraging spectators, the newspaper clerk was able to keep an eye on the blackjack table fairly consistently while also mingling with dealers coming off the floor. He was able to report that Jordan started with a $500,000 stake — or 100 of the blue chips that go for $5,000 apiece.
Jordan started out betting $5,000 or $10,000 per hand and was losing before taking a bathroom break at 2 a.m., again flanked by security. He appeared to have lost the remainder of his initial half-million stake an hour later.
The future Hall of Famer stages a comeback
By the time he made another trip to the bathroom around 5 a.m., the crowd had thinned out, and Michael Jordan was still mostly losing while playing $15,000 per hand of blackjack. Antoine Walker and Richard Hamilton were also still playing a few hands but were mostly watching now.
Soon, Jordan was sipping coffee and playing three hands at a time, each for $15,000. And he was suddenly on such a hot streak that he briefly broke the bank; the dealer ran out of $5,000 blue chips.
Walker and Hamilton started playing more hands, and everyone was winning. By the reporter's count, Jordan now had 140 chips – that's $700,000 – in front of him.
Finally, at 7:45 a.m., the three NBA stars had enough. They stood up, put on the suit coats and called it a night. Several guards told the reporter Jordan had won "several hundred thousand" dollars. One thought he left with $800,000.
The math, then, was staggering. Jordan was down $500,000 at one point. If he climbed out of that hole, and did indeed walk out with $800,000, then it amounted to a $1.3 million reversal of fortune.
How to get help: In the U.S., contact the National Council on Problem Gambling helpline at 1-800-522-4700.