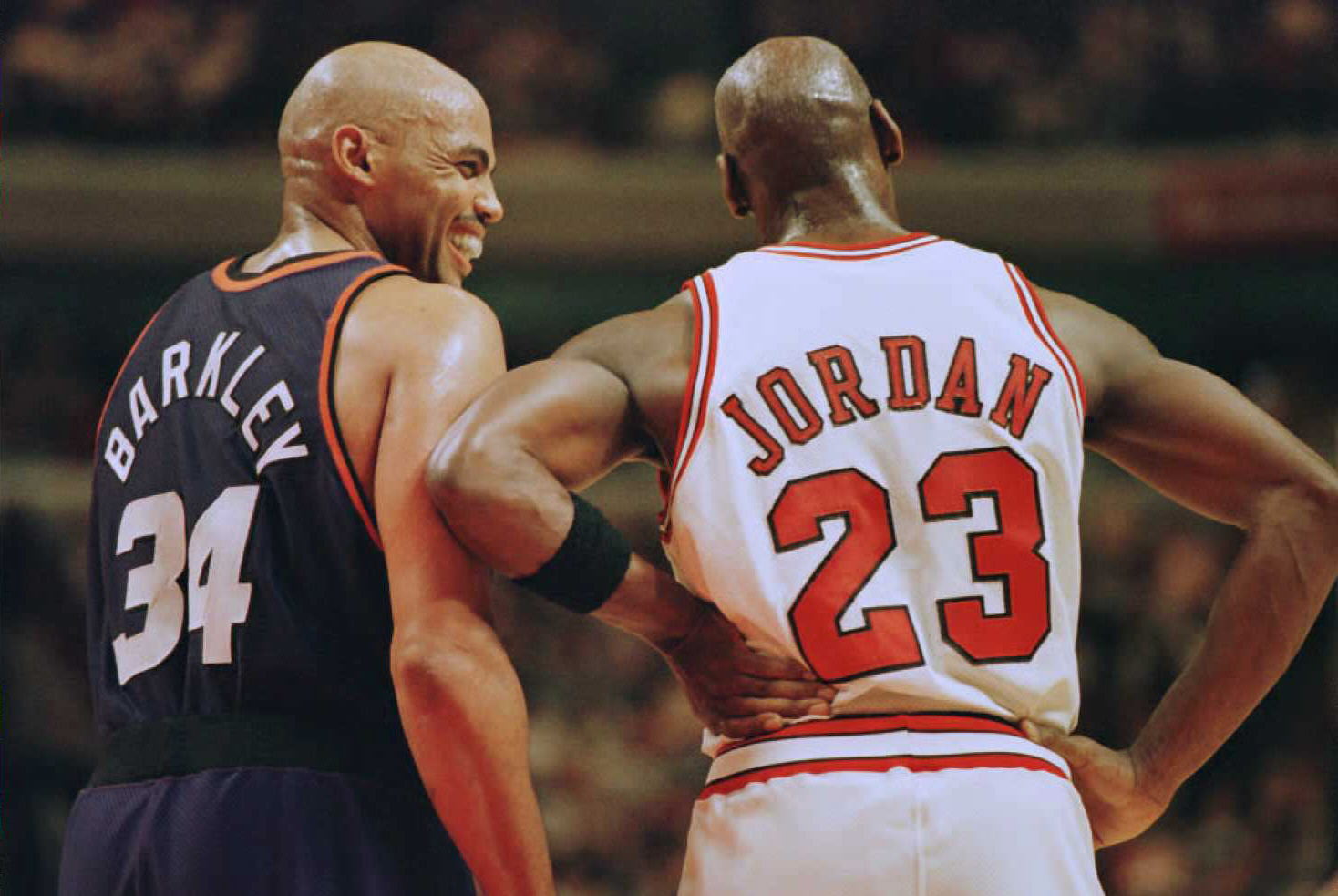 Michael Jordan and Charles Barkley Took Betting to a Whole New Level With a $500 Wager at the End of MJ's Career
Michael Jordan and Charles Barkley always found new ways to make a wager.
It's no secret Michael Jordan and Charles Barkley loved to gamble. Whether it was on the plane playing cards, inside casinos, or at golf outings, the two loved to wager. This weekend was a perfect example when Barkley bet on $100,000 on himself at a celebrity golf tournament. There might not have been a more perfect example of taking their gambling to a whole different level as Jordan's illustrious NBA career was coming to an end.
Michael Jordan and Charles Barkley always put their money where their mouths were
Jordan and Barkley have never shied away from their love of gambling. During Super Bowl weekend in 2007, Barkley told ESPN he won $750,000 by playing blackjack and betting on the Indianapolis Colts. He also admitted he lost $2.5 million in six hours the year before.
"It's a stupid, bad habit. I have a problem," Barkley said of his gambling back then. "But the problem is when you can't afford it. I can afford to gamble, and I didn't kill myself when I lost two and a half million dollars. I like to gamble, and I'm not going to quit."
Jordan was the same way. When Barkley was a guest on the Dan Patrick Show in 2017, he spoke about how crazy Jordan was with money while on the golf course.
"We'd be playing golf with certain people, a couple hundred dollars a hole, nothing big, and he'd be playing some guy for $100,000. He's like, 'Charles, pick that up.' I'm like, 'This putt is for $200.' He's like, 'Pick that up, Charles, get out of my way, you're in my line.' I'm like, 'How much is that putt for?' He's like, '$300,000.' I said, 'Let me get out of your line.' It was crazy man. It was crazy."

Charles Barkley on Michael Jordan in 2017
Michael Jordan and Charles Barkley took their gambling to a new level in 2002
It was 2002, and Jordan was nearing the end of his famed NBA career. He and Barkley were on the phone and, of course, wound up making a bet. It wasn't for a whole lot of money – at least by their standards – but it just showed they would bet on absolutely anything.
In 2002, Sports Illustrated reported there was some small talk about Barkley coming back to join Jordan on the Wizards. Barkley was a bit more enthused about the potential comeback than Jordan was. Jordan, fresh off arthroscopic knee surgery at 39 years old, got a call from Barkley and, of course, a strange bet was formed.
After some chat about how Jordan was feeling after surgery, the subject turned to Barkley's weight.
"I'm working out, not drinking, getting my fat ass in shape," Barkley said. "I'm too good-looking to be fat." After some silence on Barkley's end, he responded with, "hell, yeah, I'll bet you. We'll go five hundred. Yeah, I'll do it. No, not on TV. I'll do it after I work out today. I'll check in with yo' ass later. All right, boy, be safe."
Jordan bet Barkley that Sir Charles still weighed more than 290 pounds. Barkley believed he was still at 285. Although the winner of the bet was never publicly declared, Barkley had been working out and trying to maintain a healthy lifestyle in case those comeback plans became a reality.
Jordan's surgery thwarted those plans. "All those plans got smacked in the head when Michael went under the knife," said Barkley, who insisted even at 285 pounds, he could score 15-17 points and bring down 10 rebounds a game. "If Michael can't make it back, no one can."
Jordan and Barkley had a fallout in 2012
Business got in the way of friendship for Barkley and Jordan in 2012. Barkley has been a television commentator, while Jordan moved into the NBA ownership role. According to ESPN, the friendship was fractured when Barkley made some unflattering comments about the way Jordan was running his Charlotte franchise.
"The thing that bothered me the most about that whole thing, I don't think that I said anything that bad," Barkley said. "I'm pretty sure I said, 'As much as I love Michael, until he stops hiring them kiss-asses, and his best friends, he's never going to be successful as a general manager.' And I remember pretty much verbatim I said that. And the thing that really pissed me off about it later is Phil Jackson said the exact same thing."
Barkley was hurt that Jordan maintained a relationship with Jackson, his former coach, but shut off Barkley, his good friend for a couple of decades.
"The guy was like a brother to me for, shoot, 20-something years," Barkley said then. "At least 20-something years. And I do, I feel sadness."