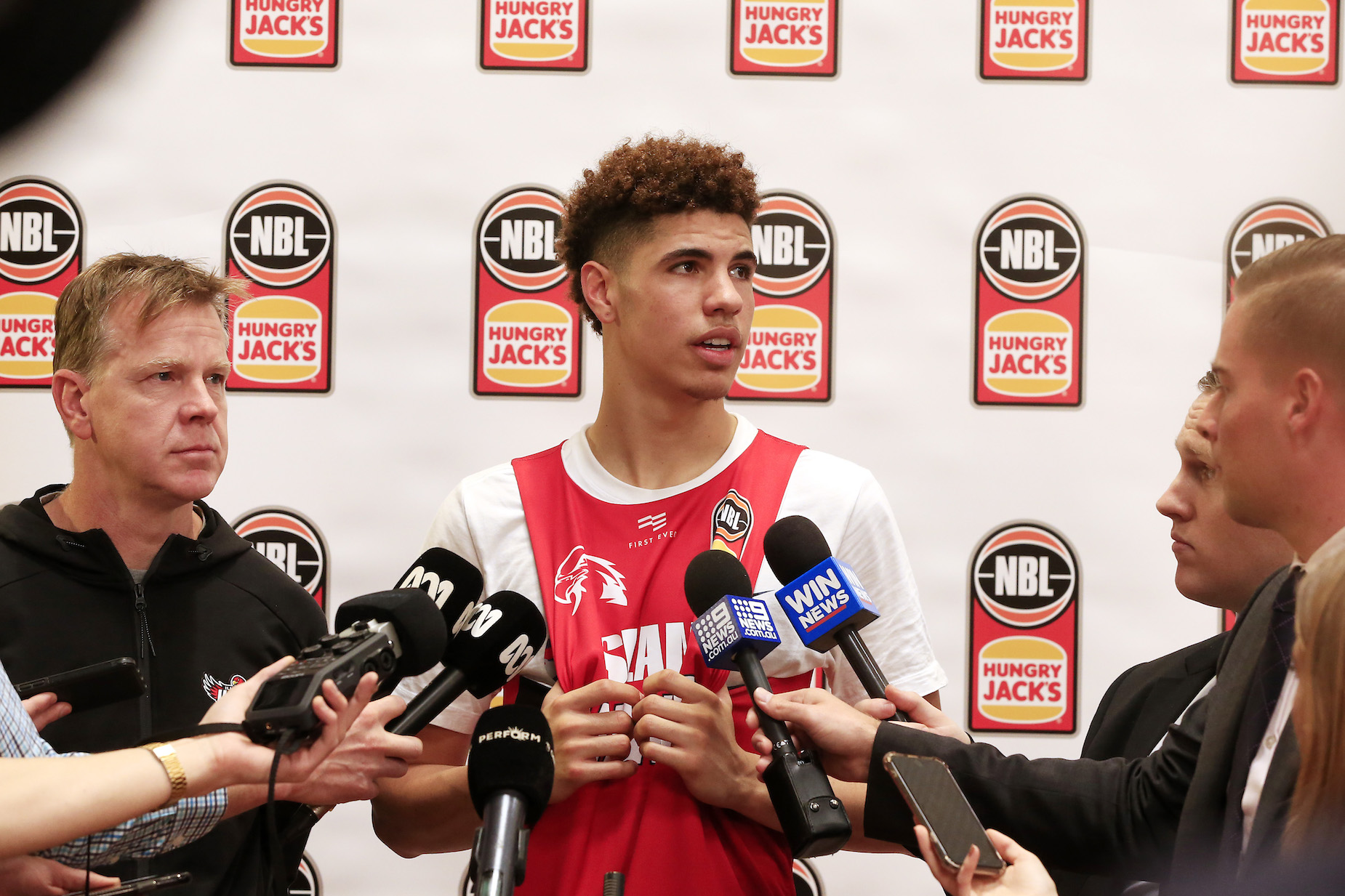 Michael Jordan Will Love What LaMelo Ball's Former Coach Has to Say About Him
Once you look past the comments that LaVar Ball made about him, it's easy to see why Michael Jordan would like LaMelo Ball.
If basketball fans know one thing about Michael Jordan, it's that he takes no prisoners. Even teammates weren't safe from His Airness' wrath; just ask Steve Kerr and other Chicago Bulls about that. As the owner of the Charlotte Hornets, though, Jordan has a new player to keep an eye on: LaMelo Ball.
Based on his father's antics, it's easy to assume that LaMelo Ball could rub Michael Jordan the wrong way. The NBA legend, however, will love what the teenager's former coach had to say about his work ethic.
LaMelo Ball took an unconventional road to join Michael Jordan's Charlotte Hornets
In the 'one-and-done' era of basketball, most of the top players will spend a single season in college before entering into the NBA draft. LaMelo Ball, however, did things a bit differently.
After making a name for himself at Chino Hills High School, Ball left the program after his sophomore season.  He and his brother LiAngelo headed to Europe, joining BC Prienai in the Lithuanian Basketball League. Neither Ball made much of an impact, however, and the family returned to North America.
LaMelo then hit the court in his father's Junior Baller Association before enrolling in SPIRE Academy for his final season of high school ball. After graduation, the teenager moved again, this time to Australia.
Ball joined the Illawarra Hawks of the Australian National Basketball League and, despite making limited appearances, still impressed. That set the stage for him to enter the 2020 NBA draft and join the Charlotte Hornets as the third-overall pick.
LaMelo Ball's won over his former coach and teammates
Given his globetrotting past and his father's knack for making headlines, it would have been easy for an NBA team to balk at the prospect of welcoming LaMelo Ball into their fold. The teenager's former coach, however, has plenty of positive stories to share.
"He is a quintessential gym rat,'' Matt Flinn, who coached Ball in Australia, told Josh Peter and Jeff Zillgit of USA Today. "He's got an amazing skill set. He works in tight spaces. He's a great ball handler. He's ambidextrous when he passes the basketball. But he hadn't been coached a lot in terms of that real professional team environment."
While Flinn did note that their time together wasn't "all rainbows and butterflies," and he did have to rein Ball in at times, the coach has been consistent in his praise of the teenager.
Aaron Brooks, an NBA veteran who briefly played alongside LaMelo, offered a similar assessment.
"What surprised me is he was just like a real cool kid. I would have never known he had that many followers [on social media] unless we went out because he was just one of the guys," Brooks told TMZ, according to LonzoWire. "He had a roommate just like everybody else. He traveled with the team like everybody else. He was just one of the regular guys. When I said we needed to go get some extra work in, he was ready to go get some extra work in. When we had extra running to do, he did extra running."
Michael Jordan surely appreciated those reports
Ahead of the 2020 NBA draft, the word on the street was that Michael Jordan had given the Hornets the go-ahead to select LaMelo Ball with the third-overall pick if he was still available. As we know, that's what happened on Wednesday night.
While everything we know of MJ would suggest that he has no time for LaVar Ball's shenanigans, the NBA legend had to appreciate the comments about LaMelo's work ethic and willingness to put in the extra effort; if Jordan did nothing else, he held himself and everyone around him to an incredibly high standard. It also had to be heartening to hear the teenager say that he was his "own man," refusing to lump himself in with his father.
Only time will tell if the LaMelo Ball-Michael Jordan marriage will work out or end in disaster. Based on the quotes out of Australia, though, it seems like there's a decent chance of success.