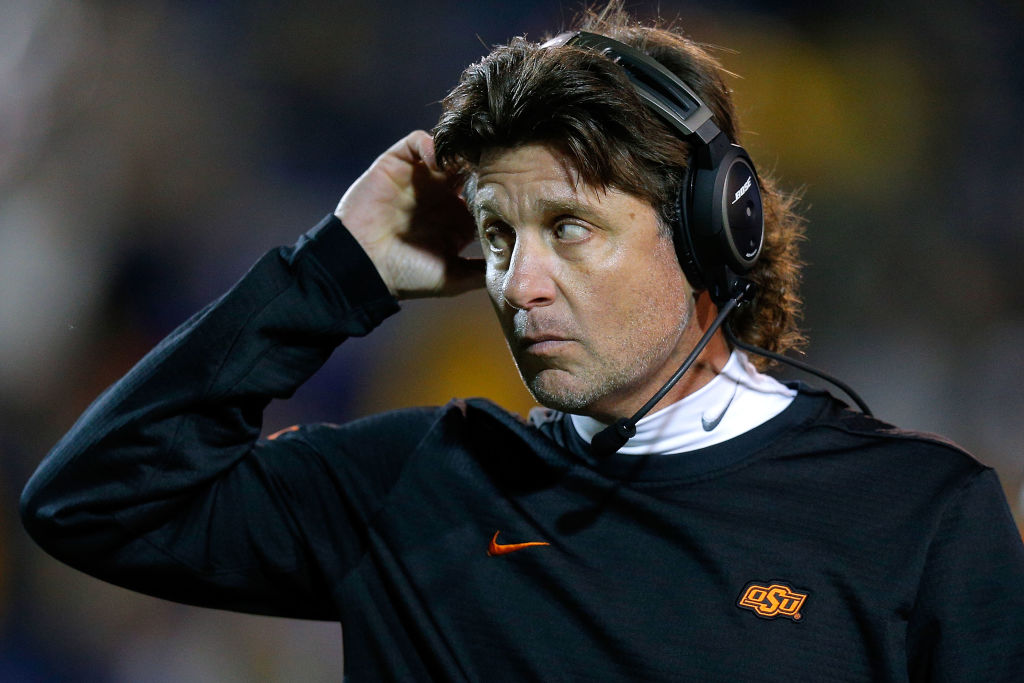 Mike Gundy Has Made a Mike Gundy-like Apology
Oklahoma State football coach Mike Gundy issued a brief apology for comments related to the coronavirus pandemic four days earlier.
Mike Gundy issued an apology on Saturday, but it came off sounding like something written by an intern. Oklahoma State administrators started distancing themselves from the football coach 's controversial remarks regarding coronavirus shortly after he spoke Tuesday, but Gundy didn't issue his statement until four days later.
Mike Gundy's apology could have used a rewrite
Mike Gundy opened his apology by saying he had "been made aware" that his remarks earlier in the week "have offended some." In fact, what Gundy said Tuesday did upset people who've lost family members or otherwise had their lives disrupted by the COVID-19 pandemic.
Gundy was speaking during a conference call about his desire to get players back on campus early next month to prepare for the 2020 college football season. He compared the coronavirus to the flu and suggested that young athletes would be less likely to suffer severe symptoms.
Some might have been willing to excuse his eagerness as a rallying cry of sorts to raise the spirits of a population worn down by quarantines and continued bad news about the economy. But then he finished with this:
"There's some people that are asymptomatic. If that's true, then we sequester them, and people say that's crazy. No, it's not crazy, because we need to continue to budget and run money through the state of Oklahoma."
That remark was universally panned, as was his reference to the athletic department as a company, making life uncomfortable for Oklahoma State administrators and then the coach himself, who may not have undone any of the damage with the three-sentence apology.
Mike Gundy is no stranger to controversy
Reporters instinctively dig up Oklahoma State football coach Mike Gundy's "I'm a man" rant whenever he says or does something outlandish, but his greatest hits extend beyond that tirade.
In a testy session with reporters two years ago, Gundy said he was forbidding questions about Oklahoma State players who'd entered the transfer portal. He said at the time that anyone raising such questions would lose access to Cowboys players and then he doubled down by declaring that anyone who reported what he'd just said would face the same consequences.
A newspaper reported that he continued by calling Twitter "a platform for people that are sitting at home drawing an unemployment check." That may have come as a surprise to the 112,000 followers he had on the social media platform at the time.
And he finished his day by blaming the transfer portal, which brings at least some degree of order to the process of changing schools, on "liberalism."
He's better at coaching football than he is at public relations
A coach whose teams win consistently tends to be given the benefit of the doubt in a football-loving state, which begs the question of whether Mike Gundy can afford to put himself under the microscope very much more.
Gundy arrived at Oklahoma State, where he played quarterback in the late 1980s, as new head coach Les Miles' offensive coordinator in 2001. OSU immediately promoted him to head coach when Miles left for LSU after the 2004 season.
Eleven players were expelled during a 2005 season that ended with a 4-7 record, but two straight 7-6 seasons were followed by a pair of 9-4 records that presented Gundy with job security. His two best seasons, a combined 23-3 in 2010-11, followed.
Gundy's overall record is 129-64, but the Cowboys were just 7-6 in 2018 and 8-5 last fall. It's still not clear how outlandish any subsequent remarks would have to be to get him fired, but several more five- and six-loss seasons could potentially do the trick.