Mike Helton Intimidated Drivers, but Darrell Waltrip Once Ended 'Ass-Chewing' with Angry NASCAR Leader in an Abrupt and Unexpected Way
Mike Helton called a meeting in the NASCAR hauler with Dale Earnhardt Jr. after a race early in the driver's career. Message received. It was the same for countless other drivers through the years. Interestingly, the former NASCAR president's influence wasn't just limited to the track. The mountain of a man also had opinions on things being said in the broadcast booth.
This week, Darrell Waltrip called in and wished his friend and former broadcast partner Larry McReynolds a happy birthday on the latter's SiriusXM NASCAR Radio show. During that conversation, America's Crew Chief recounted a story from years ago about how DW was on the receiving end of a relentless tongue-lashing from Helton and detailed how the three-time Cup Series champion managed to abruptly end the bashing in an unbelievable way. 
Mike Helton shuts down Dale Earnhardt Jr. 
At a race at Bristol in 2004, Dale Earnhardt Jr. didn't like how long race officials were taking on a cleanup during a caution and criticized NASCAR over the team radio. That outburst earned the driver and his uncle and crew chief Tony Eury Sr. a special invitation to the hauler.
"As soon as we sit down, me and Tony start to argue our case," Earnhardt told Sporting News in 2013. "The first lesson I learned is when you go in the hauler, you don't talk unless somebody asks you a question. I knew Mike Helton, but I didn't know exactly what kind of person he was. I've never known anybody to shut up Tony Eury Sr., so when Mike was able to put a cap on him, I knew Mike was a pretty powerful dude." 
Earnhardt said that sit-down impacted him for the remainder of the year. 
"I didn't think we were in that big of trouble, but the redder Mike got and the more he was screaming and cussing at us, the more I started to realize how messed up we were," he said. "We were straight and narrow for the rest of the season."
Larry McReynolds shares story about Darrell Waltrip and relentless tongue-lashing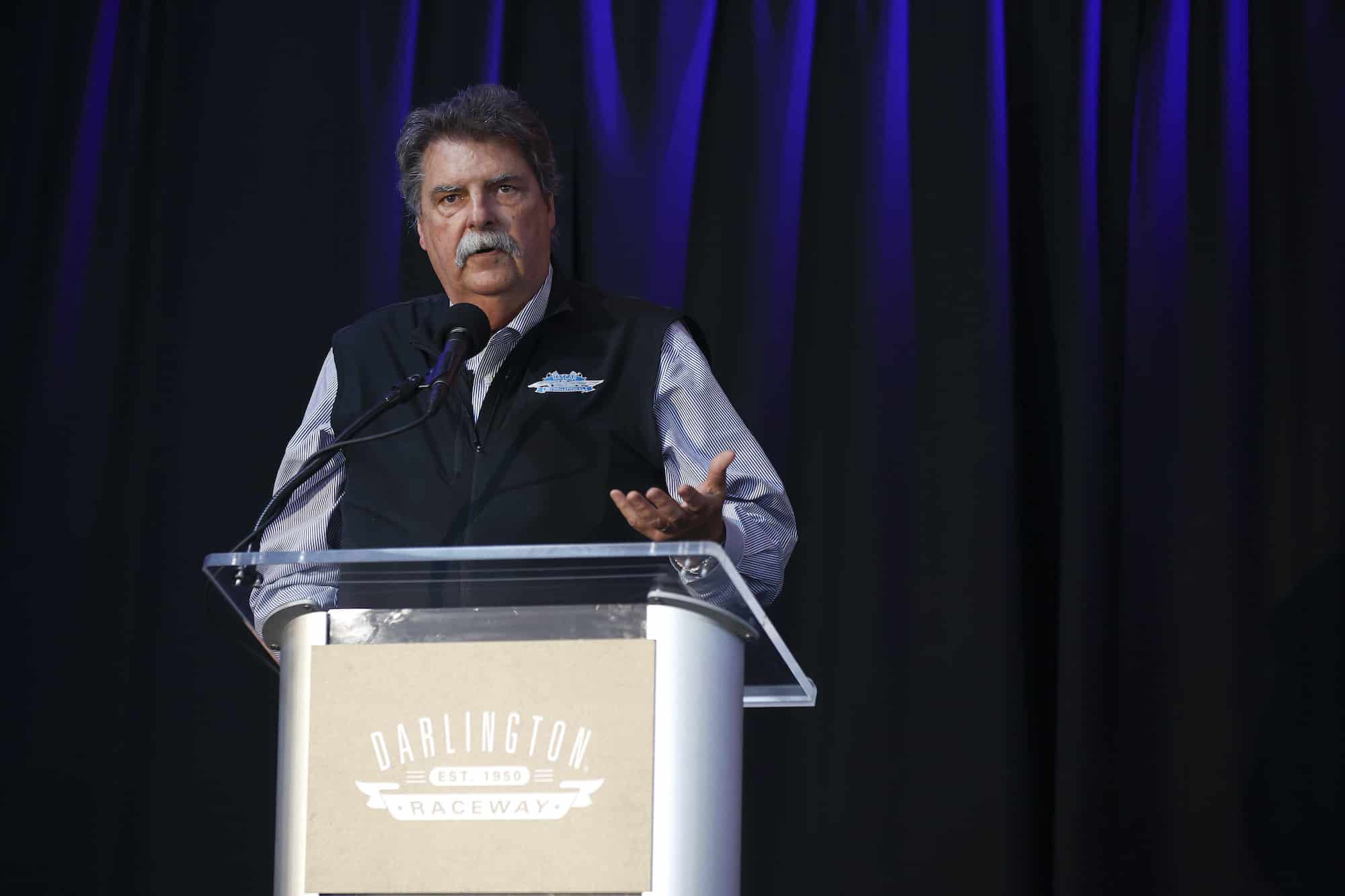 Larry McReynolds had his share of encounters with Mike Helton through the years as a crew chief with Dale Earnhardt and other drivers. This week on the SiriusXM NASCAR Radio show host's birthday, Darrell Waltrip called in to send birthday wishes to his friend, and, inevitably, the conversation drifted into the pair swapping stories. 
"The Car of Tomorrow. That would have been 2007, 2008," McReynolds said. "Obviously, things were not going great with it. We had a rain delay, which sometimes could be the worst enemy for DW and I. We had way too much on our mind. We probably didn't talk kindly about the Car of Tomorrow. 
"The Charlotte race got moved to Monday. Going to finish it on Monday. We're up in the booth early. It's just DW and I. And here comes Mike Helton. And he started reaming DW a new one. I'm looking for a hole to climb in. Mike is not letting up. And DW, in classic DW form, looked at him, held his hands out, and said, 'Give DW a hug.' Mike couldn't do nothing but laugh," McReynolds ended, producing a big laugh from Waltrip and show co-host Danielle Trotta. "DW knew exactly what to say to finally get this ass-chewing out of the way." 
Helton gives Tony Stewart flashbacks
That episode between Helton and Waltrip occurred 15 or so years ago. But you don't have to go back that far to find a time when the now-NASCAR senior advisor made his intimidating presence felt in the broadcast booth. It happened at the start of the 2022 season. 
Tony Stewart, who had his share of meetings with the NASCAR boss during his racing career, was Fox's first guest analyst of the season and joined Clint Bowyer and Mike Joy in the booth for the Clash at the Coliseum. The three were in the middle of the race broadcast when Helton popped in to say hello to the crew. 
"Well, Mike Helton was just in here. I did ask him, 'Can we just do this every week?'" Joy suggested. "He looked a little scared. But, he's like all of us, pretty excited about what's happening here this weekend." 
"I think the funny part about that was when Mike peeked his head in the corner, Bowyer taps me on the shoulder, we turn around, and the first thing that went through my mind was what did I say and what did I do to get in trouble already," Stewart said. 
"Not again," Bowyer replied. 
Mike Helton made a tremendous impact on NASCAR. He still does today. Just ask Tony Stewart.