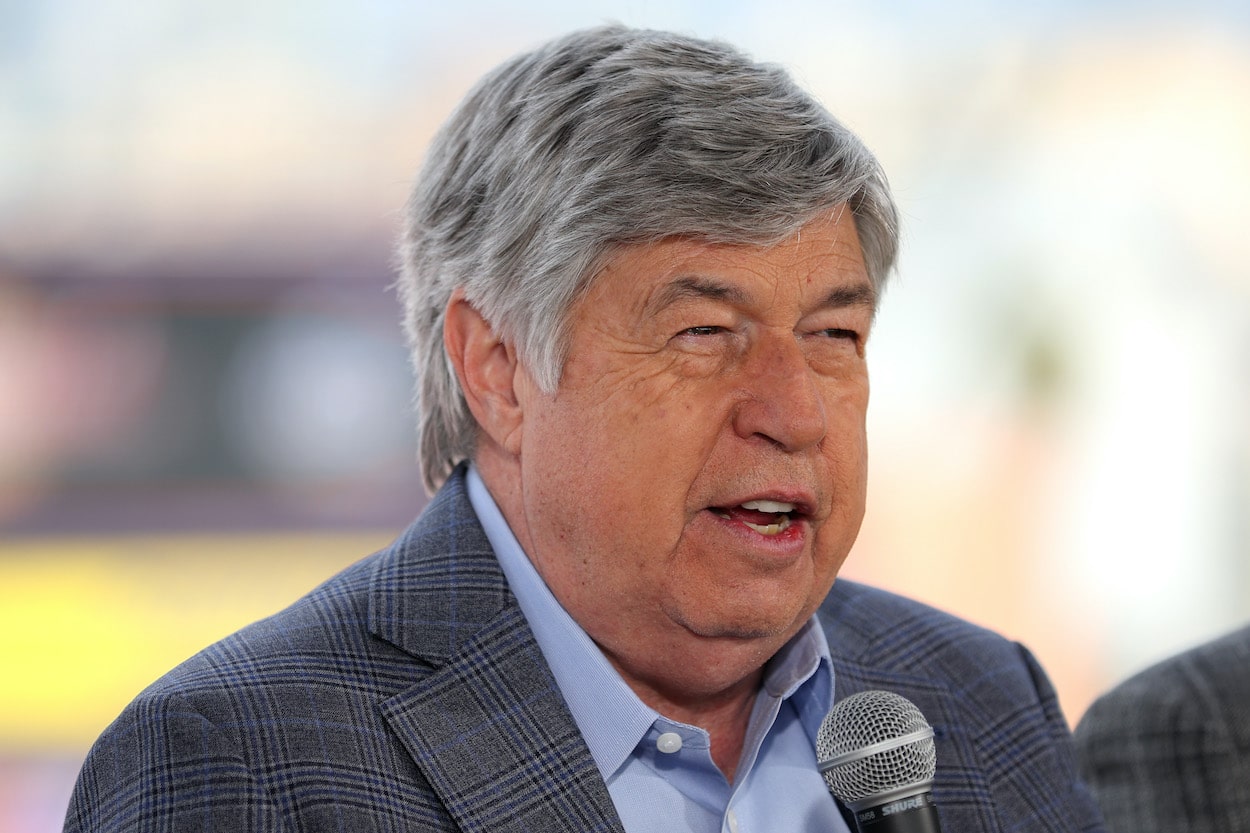 Mike Joy Gets Sarcastic and Surprisingly Mocks Ty Gibbs for Behavior During Interview at Talladega
Mike Joy showed a sarcastic side at Talladega, mocking Joe Gibbs Racing rookie driver Ty Gibbs for his behavior during an interview.
Fox NASCAR announcer Mike Joy caught heat earlier in the 2023 Cup Series season for his condescending remarks directed at a certain segment of NASCAR fans. He later apologized for his comments. 
This weekend at Talladega, the 73-year-old broadcaster showed another spicy side when he sarcastically mocked Joe Gibbs Racing rookie driver Ty Gibbs for a lack of excitement during his qualifying interview. 
Mike Joy insults fans and later apologizes
This season in the final stage of each race since the Daytona 500, which was heavily criticized by fans for having too many commercials, Mike Joy has made a point to inform the viewing audience about the upcoming commercial break.
"53 laps to go," Joy said early in the year at Las Vegas Motor Speedway. "We want to be back for you full-screen with green-flag pit stops, so we're going to take you Fox side-by-side with Larson leading by 1.2 over Denny Hamlin." 
The broadcaster, who has impressively called 44 Daytona 500s, took a different and more aggressive approach at Phoenix when he directed his comments at a specific portion of the viewing audience. 
"Now, for all the keyboard warriors, I'm going to do this in words of one syllable," Joy said. "The last green-flag full-screen break of this race comes right now."
After receiving blowback for the comments, he apologized on Twitter a week later. 
Joy mocks Ty Gibbs for lack of excitement at Talladega
On Saturday at Talladega, the Cup cars made their way around the 2.66-mile superspeedway for the first time during their qualifying laps with no practice on this weekend's agenda. 
After the first round, Ty Gibbs finished second behind Chase Briscoe and advanced with the rest of the top 10 into the final round. Moments before getting back inside his car for the final run, Fox's Josh Sims interviewed the rookie driver. 
"I feel like we got a very fast Monster Energy Toyota Camry," Gibbs said in a somewhat monotone voice. "Proud of my team's efforts for this one. The 54 boys did a great job kind of working on this thing all week, getting it dialed in. I'm happy with the car. Just got to see if we can find a little bit more there in the next round."
After Sims thanked the driver and wished him good luck, Joy reacted back up in the broadcast booth to what he had just seen and heard. 
"He's very excited for this second round. You can hear it in his voice," the broadcaster sarcastically offered. 
Gibbs has reason to be excited
While Gibbs might not have sounded excited as Mike Joy sarcastically suggested, the 2022 Xfinity Series champion has reason to be excited about the start of his first full-time year in the Cup Series.
The No. 54 team started slow, but since Atlanta has put together an impressive run, finishing inside the top 10 in four out of the last five races. He had a single top-10 finish last year with 23XI Racing serving as the substitute backup for Kurt Busch in 15 races.
He qualified third at Talladega and things appear to be trending in the right direction for the young driver, no matter how excited he may or may not sound.
For the latest breaking news and information about NASCAR's three national series, check out @kdsportswriter on Twitter.