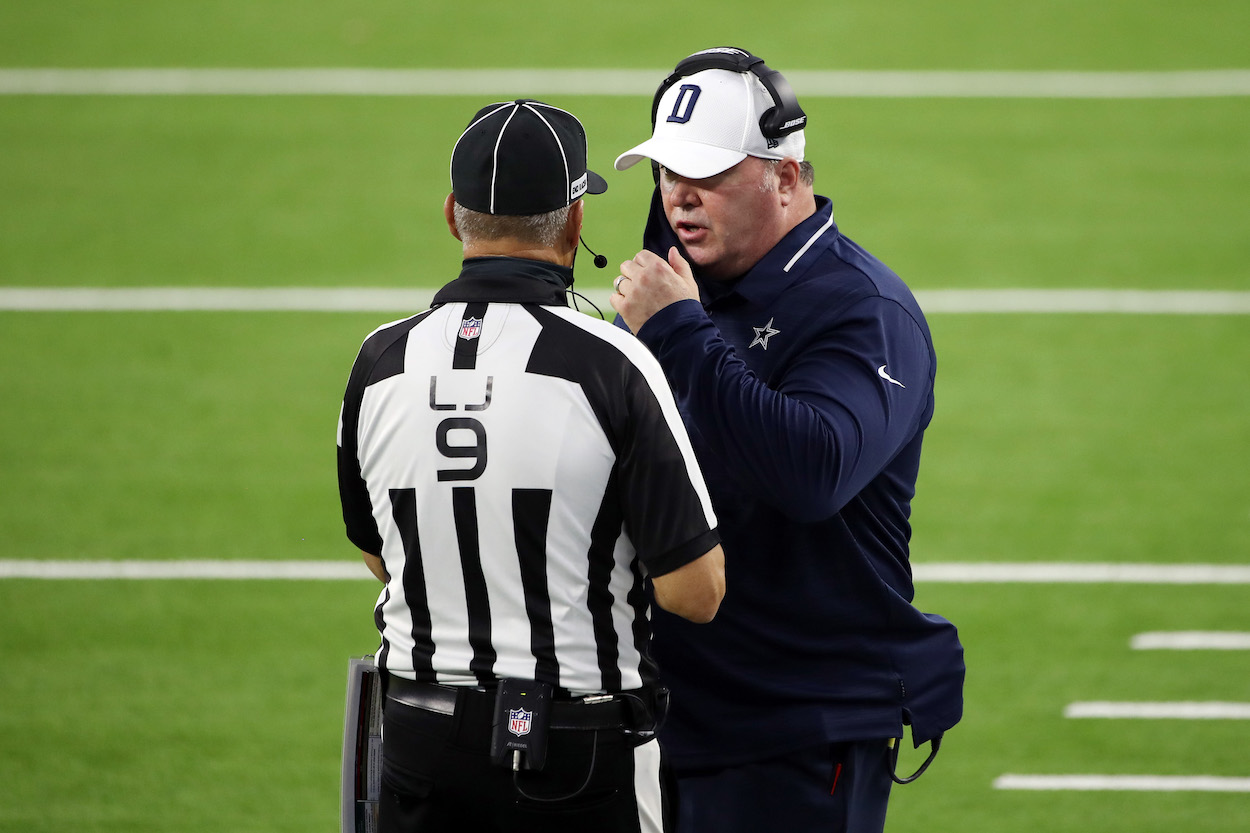 Mike McCarthy on Hot Seat; Odds Stacked Against Him Remaining With Dallas Cowboys Beyond 2021 According to Report
Mike McCarthy's future as Dallas Cowboys head coach beyond 2021 is in question according to new report.
Mike McCarthy won a Super Bowl as head coach of the Green Bay Packers. That achievement and his overall resume appealed to Dallas Cowboys owner Jerry Jones, who signed him before the 2020 season. 
In his first season with the Pokes, McCarthy's team finished with a disappointing 6-10 record. While the loss of Dak Prescott certainly didn't help on offense, the Dallas defense consistently underperformed and was one of the league's worst. According to a new report, if McCarthy doesn't deliver considerable improvement in year two, he might be the first NFL coach shown the door. 
Mike McCarthy won a Super Bowl with Green Bay
Mike McCarthy started coaching in college football and made his way up the NFL ranks, working in different capacities as a quarterbacks coach and offensive coordinator for multiple teams, including the Kansas City Chiefs, New Orleans Saints, and San Francisco 49ers. 
In 2006, McCarthy got his big break when the Packers hired him as their head coach. Green Bay played inconsistently during his first four seasons, finishing 13-3 in his second year and 6-10 the following season. In 2010, it all came together for McCarthy as Aaron Rodgers led the team on a magical playoff run that ended with a 31-25 Super Bowl win over the Pittsburgh Steelers.
McCarthy remained in charge for the next eight seasons, leading the team to the playoffs six times, including a pair of conference championship game appearances, which they lost. After a losing season in 2017, McCarthy coached 12 games in 2018 before the Packers fired him. 
Struggled in first season with Dallas Cowboys
McCarthy laid low and stayed out of football in 2019 after his departure from Green Bay. Jerry Jones didn't allow him to stay unemployed too long and announced him as the new head coach of the Dallas Cowboys in January 2020. After years of Jason Garrett, many fans thought McCarthy would be a breath of fresh air and bring in an exciting offensive attack. 
Through the first four games of the season, the Dallas offense did just that and was impressive with Dak Prescott posting numbers at a record-setting pace for a unit that averaged better than 31 points per contest. Unfortunately, the Cowboys defense surrendered more than 36 points per game during that same stretch. 
When Prescott went down after suffering a grotesque, season-ending leg injury in Week 5 against the New York Giants, the hopes of the Cowboys having a successful season essentially went down with him. The team's offense struggled. That, in combination with an already porous defense, resulted in a 6-10 finish in a very weak NFC East. 
McCarthy favorite as first coach to be fired in 2021
It's undeniable McCarthy and the Cowboys underachieved in 2020. It's also somewhat reasonable to expect Jones will give the head coach ample opportunity to right the ship and get things pointed in the right direction. However, the Cowboys owner has been known to walk to the beat of his own drum (see Tom Landry) and is not easily swayed out of doing something he wants to do.
According to a report in the Dallas Morning News, the betting site Sports Betting has McCarthy as the odds-on favorite to be the first coach fired during the season. Denver's Vic Fangio and Chicago's Matt Nagy are next in line. Another website — BetOnline — also has McCarthy as the favorite to lose his job first.
Would Jones really pull the plug on McCarthy less than two years after hiring him? Remember Jones had no qualms about dumping the first-ever and most successful coach in franchise history soon after taking over the team.
But dumping McCarthy would also be an acknowledgment by Jones that he made a mistake with the hire. That's not likely to happen. At least not anytime soon.  
Like Sportscasting on Facebook. Follow us on Twitter @sportscasting19.