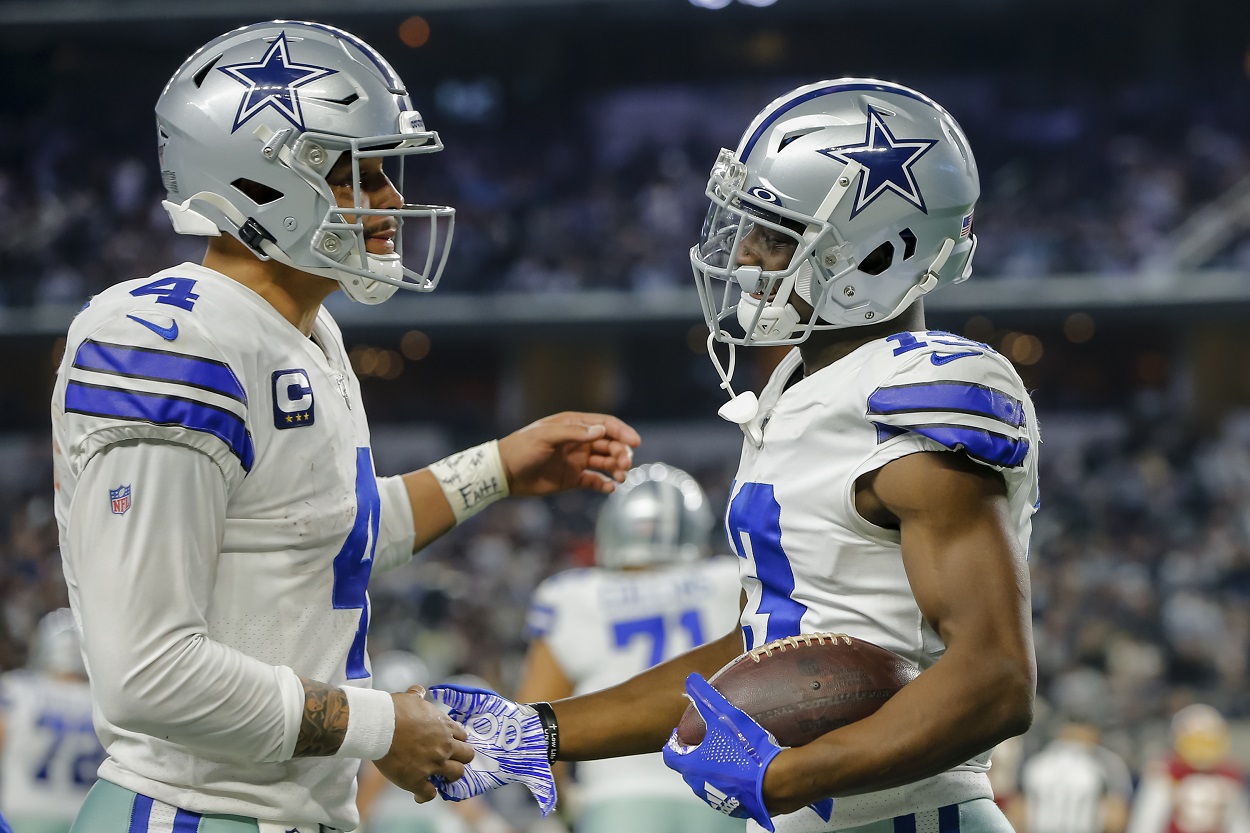 Mike McCarthy Provides a Very Encouraging Update on Dak Prescott While Michael Gallup Makes a Bold Statement About the Dallas Cowboys Offense
Mike McCarthy provided an encouraging update on Dallas quarterback Dak Prescott while wideout Michael Gallup took a strong stance on what the Cowboys offense can be in 2021.
The Dallas Cowboys came into the 2020 NFL season with high expectations. After going 8-8 and missing out on the postseason in 2019, Jerry Jones replaced Jason Garrett with longtime Green Bay Packers head coach Mike McCarthy and cleaned house of the rest of the coaching staff as well, minus offensive coordinator Kellen Moore. The Cowboys were expected by most to win what turned out to be a dreadful NFC East in 2020, but a string of injuries, most notably the gruesome ankle injury suffered by Dak Prescott, and the worst defense in franchise history resulted in a highly disappointing 6-10 finish.
So what's in store for the Cowboys in 2021?
Prescott, armed with a new $160 million contract, seems to be back healthy (at least for the most part) and Dallas made sure to let everyone know about it by highlighting his ankle in a video of Dak participating in OTAs late last week. McCarthy also provided a very encouraging update on his franchise QB on Tuesday morning as he says Prescott should be a full participant when training camp rolls around. The two-time Pro Bowler is expected to be at 100% when Week 1 rolls around, as is the rest of the Dallas offense that was on a record-setting pace a season ago before Prescott went down, and wideout Michael Gallup says that's nothing but trouble for the rest of the NFL.
But offense clearly wasn't the issue in Dallas in 2020 and while Dak & Co. may go on to put up some huge numbers in 2021, they won't win football games if the defense doesn't improve.
Mike McCarthy provides a highly encouraging update on Dak Prescott
While the majority of NFL teams modified their approach to OTAs, the Dallas Cowboys went full steam ahead when they got rolling late last week. OK, so they're having one less practice than they normally would, but McCarthy says that's only due to the fact that the team's actual training camp is starting earlier as Dallas is participating in the Hall of Fame Game against the Pittsburgh Steelers. Sure, they're running the risk of injuries but that seems to be outweighed by the desire to fix all of the problems the team had last year.
According to McCarthy, Prescott "hasn't missed anything that has been slated" for him during OTAs and the offseason as a whole. While he has been held out of 11-on-11 drills, which was the plan all along, he's been comfortable escaping the pocket and scrambling during workouts and McCarthy fully expects Dak to be a full participant in training camp, which is nothing but encouraging news for Dallas fans.
Michael Gallup doesn't 'see anybody stopping' the Dallas Cowboys offense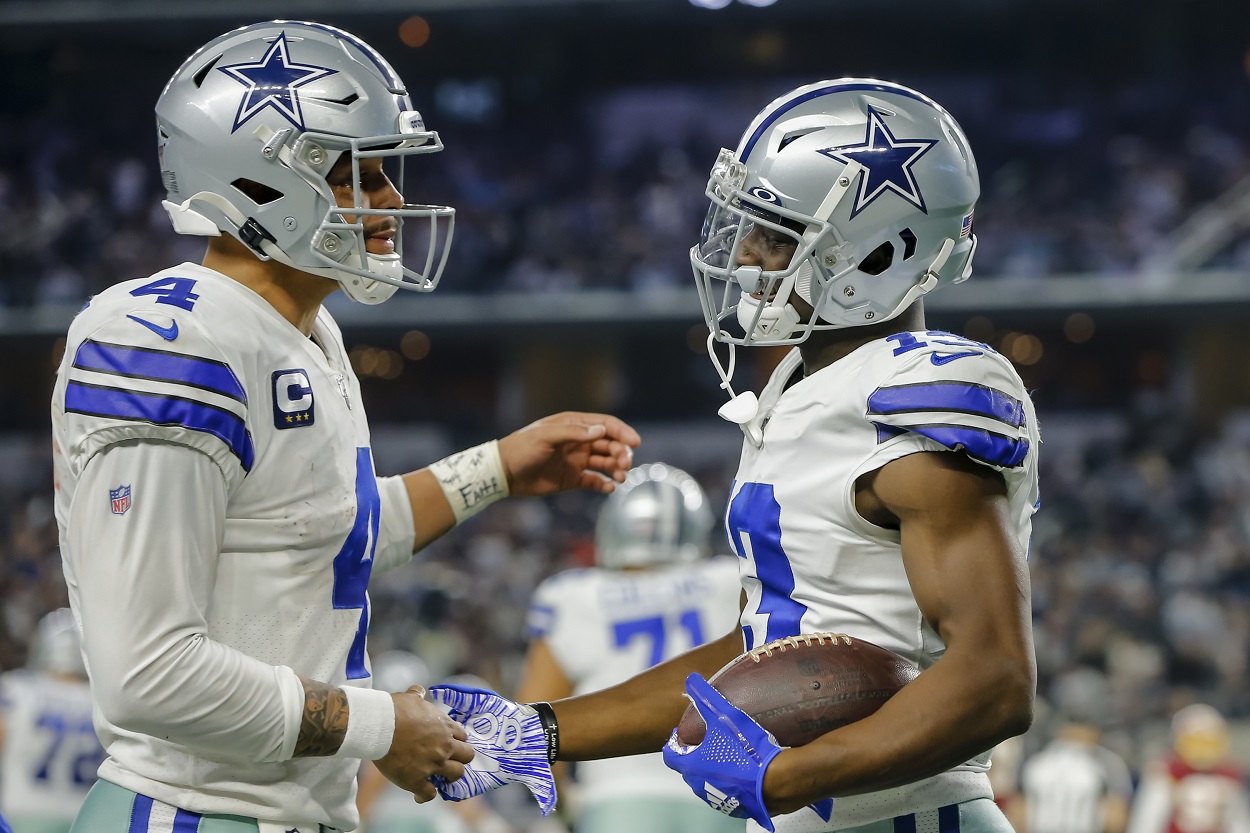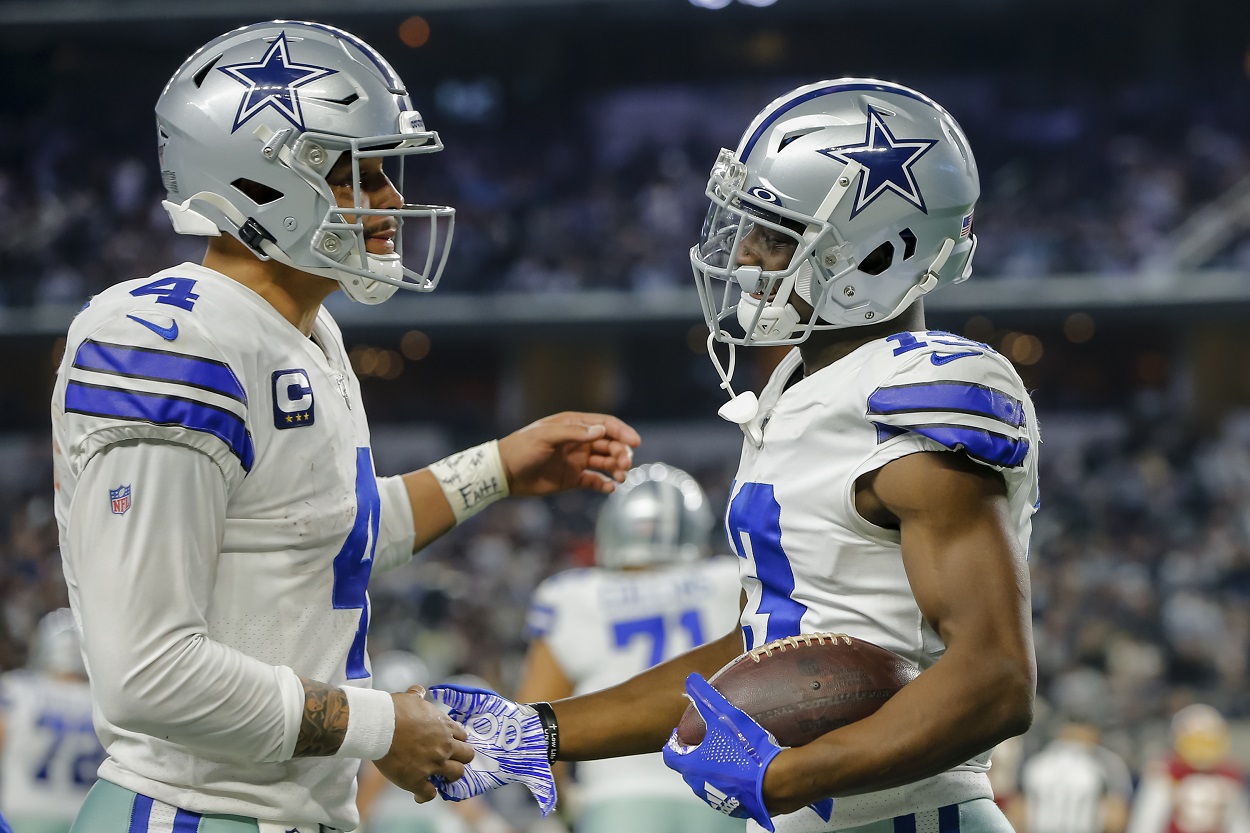 During an interview on Monday, Gallup, who saw fewer targets in 2020 than he did the previous season due to the addition of CeeDee Lamb but still caught 59 passes for 843 yards and five touchdowns, said Prescott has looked fantastic thus far. The fourth-year wideout says that if Dak remains healthy, the "sky's the limit" for a Cowboys offense that ranked No. 1 in 2019 and held the top spot in 2020 before Prescott got injured (h/t NFL.com).
"We're already running out the gate right now, it's just OTAs. I think we can explode. We can do what we need to do out here on the field and just kill it. I don't see anybody stopping us.

"Dak looks like the same old Dak, ready to get out there, ready to be a leader. He just has that little thing to him. Every time you see him, you just want to make sure you're doing everything right for him."

Michael Gallup on Dak Prescott and the Dallas Cowboys offense
Only time will tell if Prescott, Gallup, and the Cowboys offense can produce like they did before. But, again, it's no secret that offense isn't the problem in Big D.
Offense obviously isn't the problem for the Cowboys
While the return of Prescott is obviously a good thing for Gallup and the Cowboys offense, scoring points obviously isn't the problem. It's how many points the defense will give up. In 2020 with Mike Nolan as the defensive coordinator, Dallas gave up a franchise-record 473, the fifth-most in the NFL behind only the Lions, Jaguars, Raiders, and Vikings. Even with Dak & Co. putting up 31.5 points per game in the four full games he played, the Cowboys were 1-3 and the only reason they got that lone victory was that the Falcons apparently forgot the rules of an onside kick.
To Jerry Jones' credit (what an odd way to start a sentence), he took swift action following the season by firing Nolan and replacing him with Dan Quinn, while also using the Cowboys' first six draft picks on defensive players. Quinn does have an advantage that Quinn didn't a year ago as he has a full in-person offseason to implement a new defensive scheme. But as it is with Dak and the offense, Dallas fans now just have to wait and see how all of this plays out in the upcoming months.
The Dallas Cowboys, once again considered the favorites in the NFC East, open the 2021 regular season in an extremely high-profile matchup with Tom Brady and the defending Super Bowl champion Tampa Bay Buccaneers on Thursday, September 9, at Raymond James Stadium.
Stats courtesy of Pro Football Reference