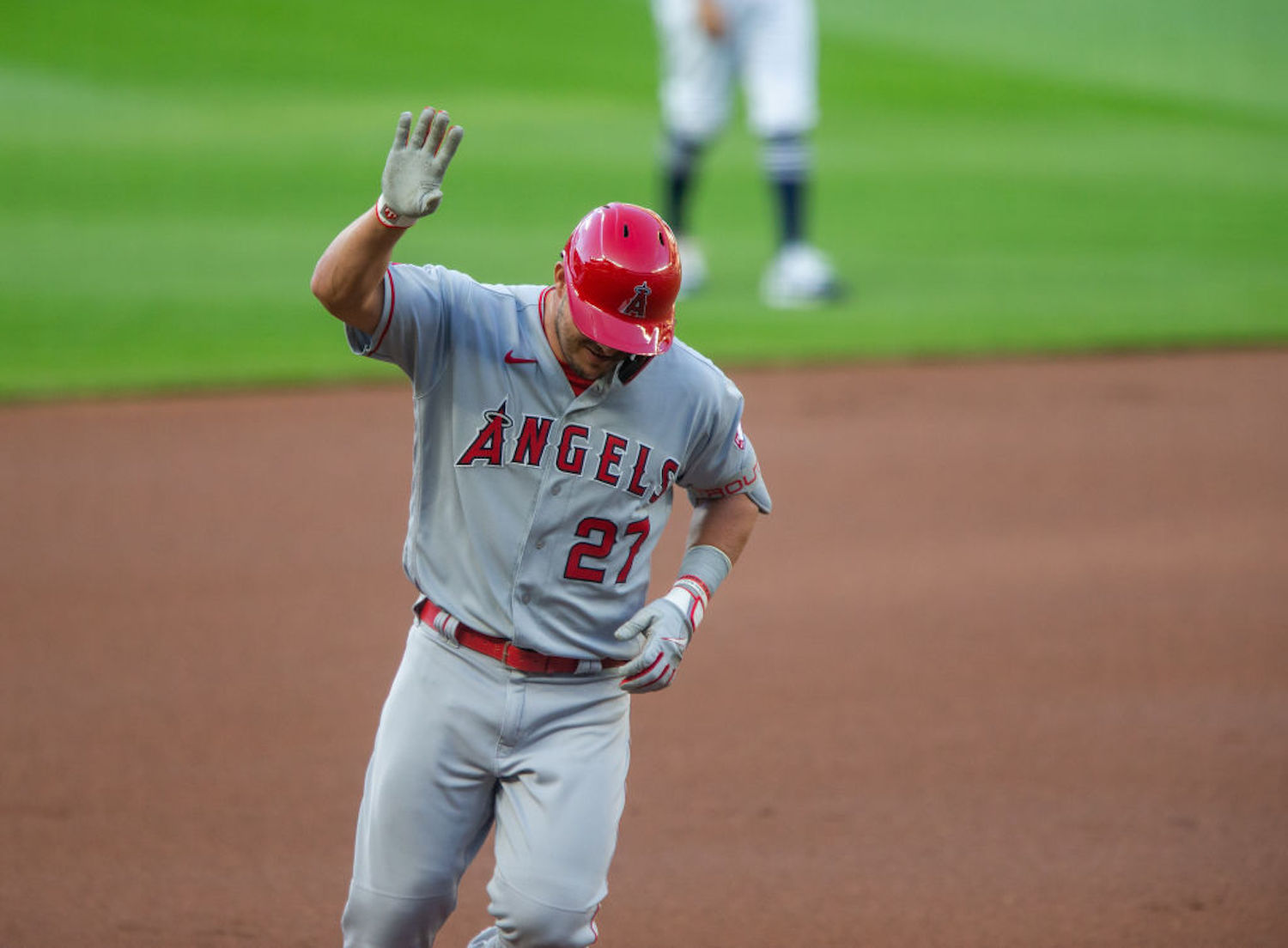 Mike Trout Passes Honus Wagner For the Most Expensive Baseball Card Ever Sold
Honus Wagner's infamous 1909 baseball card held the title of the richest card ever sold for years, but Mike Trout just took its spot.
Mike Trout has been a trend-setter and record-breaker ever since he turned pro in 2011. Trout already has three MVPs to his name and a .305 career batting average, but now he's setting records off the field.
Honus Wagner's 1909 T-206 baseball card has long been considered the most famous and most expensive card ever sold. But no longer. Trout's 2009 Bowman Chrome Draft Prospects Mike Trout Superfractor card just sold for a record $3.936 million.
Honus Wagner held the record for the most expensive baseball card ever sold
The Honus Wagner T-206 baseball card from 1909 has been the most valuable card in the space for years. There's only a handful of issues still remaining, and those who are lucky enough to own one have a gold mine on their hands.
In October of 2016, an issue of the card was sold for a record $3.12 million through Goldin Auctions. Before that, other versions of the card consistently held the record for the richest baseball card ever sold.
The iconic Wagner card is so valuable because of its age and limited versions still available. It seemed as if the T-206 card would forever be the most valuable baseball card ever sold, but that finally changed thanks to Mike Trout.
Mike Trout's rookie card becomes the richest baseball card ever sold
Honus Wagner has had a stranglehold on the baseball card collecting scene for decades, but he finally has a worthy challenger. A 2009 Bowman Chrome Draft Prospects Mike Trout Superfractor card from Trout's minor league days took the top spot when it sold for $3.936 million on Goldin Auctions.
"This event was somewhat of a perfect storm as we had a remarkable collection of historic memorabilia supported by incredible marketing and publicity during a great market for sports collectibles," Ken Goldin, founder of Goldin Auctions, said in a release.
The card shows Trout at the plate for the Angles' minor league affiliate. It's signed by Trout himself in blue marker.
Famous sports bettor "Vegas Dave" cashed in with the record-breaking sale
David Oancea, more commonly referred to as "Vegas Dave," has made a name for himself in the sports betting space. Oancea is an outspoken gambler who bets big and sells his picks online, and he just cashed in on his Trout card for nearly $4 million.
Oancea originally purchased the card for just $400,000.
After breaking the record for the most expensive baseball card ever sold, Oancea took a victory lap on Instagram.
4 MILLION DOLLARS!

I break the all time baseball card record. I bought this card for $400,000 2 years ago. Many of you laughed at me. Actually thousands of you laughed at me. I told you all this card will break the baseball card record they day I bought it.

Well if you were one of my beloved haters here is something I would like to share with you.

I just flipped a piece of cardboard for 3.6 million dollars in 24 months which required no manual labor. That's more money than each of my critics will ever make working a 9-5 for 40 hours a week for 40 years for a boss they don't like even like. Let that marinate in your dome and sink in.

This record is for my haters as I always say you all are just confused admirers. ? ?. Learn to have an open mind and to take risks in life. As I always say "Risk is the down payment for success."

Thank you Mike Trout for being the greatest player in this modern day era and for helping me make history. ?? Thank you also to @goldinauctions@kengoldin for making this historic sale with me. 2 business men breaking records. ??

Dave Oancea
Turning $400k into $4 million with a piece of cardboard? Why can't we all be so lucky?