Which Team Has the Most Cap Space Heading Into 2023 NFL Free Agency? 
Like the annual draft, NFL free agency is an inexact science. 
In some cases, teams get their money's worth for giving a veteran a market-setting contract. However, plenty of high-profile signings haven't panned out. 
While a general manager's best bet is to build through the draft, having the financial flexibility to add proven commodities via free agency is a valuable tool heading into the offseason. And when it comes to spending power, the team that can outbid the rest of the competition just so happens to possess perhaps the most valuable asset of all. 
The Chicago Bears easily have the most cap space heading into 2023 NFL free agency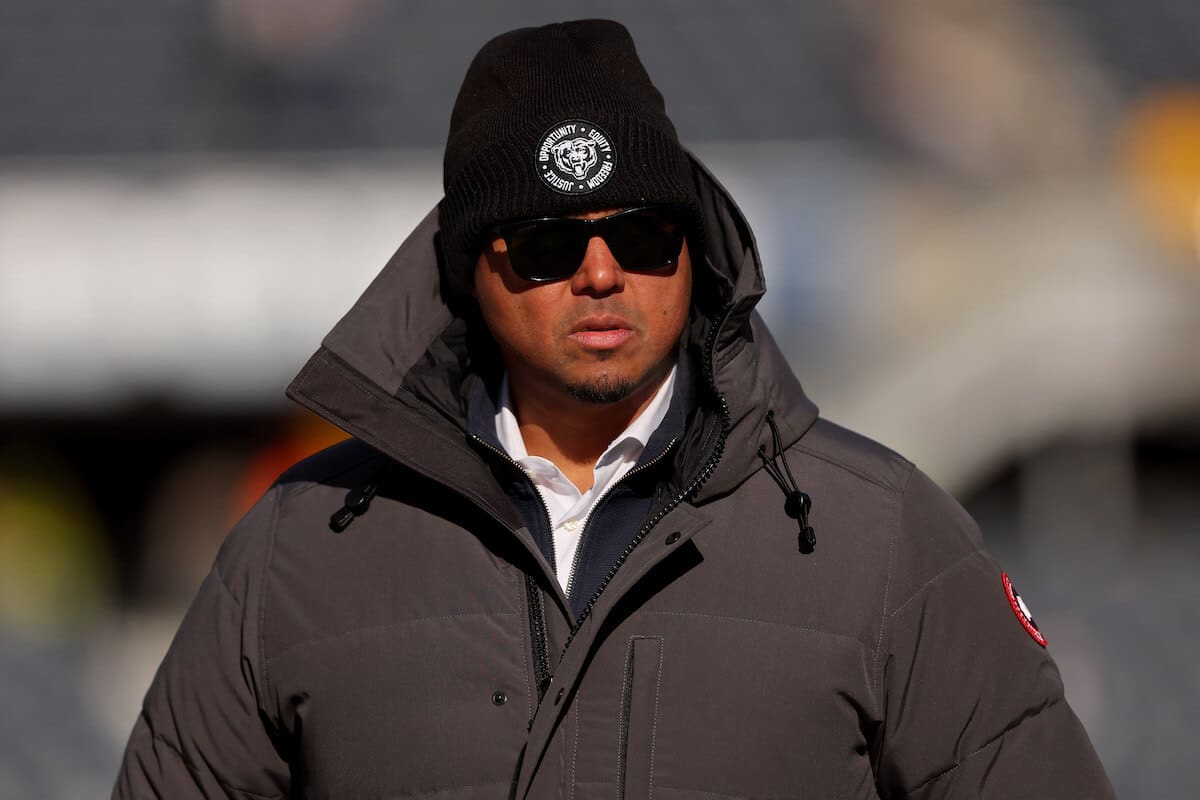 No team is positioned to add as much talent over the coming months as the Chicago Bears. Not only does GM Ryan Poles have the No. 1 overall pick in the 2023 NFL Draft, but he should have nearly $100 million to spend when NFL free agency begins.

With the 2023 salary cap set at $224.8 million, the Bears can afford to go on a shopping spree this spring. According to Over The Cap, they have $88.4 million in effective cap space — a figure that would be even bigger without nearly $25 million in dead-money charges.
Still, even with that sizable number on their books, the Bears have nearly double the amount of cap space as the second-place Atlanta Falcons, who check in at $50.5 million. 
Of course, one of the reasons Chicago is almost $90 million under the cap is that it traded away veterans like Roquan Smith and Robert Quinn to facilitate a rebuild. With only 49 players under contract, Poles must utilize free agency and the draft to retool a roster that needs reinforcements at wide receiver, offensive tackle, defensive end, and cornerback.
Luckily for the second-year GM, he holds the top pick in a quarterback-rich draft and also has the power to make the highest offer to free-agent targets. 
A few interesting teams fall within the top-10 cap-space rankings
Even among the 10 teams with the most cap space heading into the offseason, it's interesting to see the stark differences between some franchises.
Both the Chicago Bears and the Houston Texans (fifth overall with $25.7 million in cap space) face multiyear rebuilds and will need several solid free-agent hauls and draft classes to become playoff contenders again. 
Meanwhile, the Atlanta Falcons and the Las Vegas Raiders (third at $39.41 million) find themselves in similar situations. Both teams boast impressive weapons … and no answer at quarterback.
Could someone like Jimmy Garoppolo be in play for Atlanta and Las Vegas? Competency at the most important position in sports would have made a world of difference for both teams in 2022, so it will be interesting to see how Falcons GM Terry Fontenot and Raiders GM Dave Ziegler address the position in NFL free agency — if at all. 
Meanwhile, the New York Giants ranking fourth shouldn't be seen as a sign of big spending to come. 
At least, not on new faces. 
Daniel Jones and Saquon Barkley need new contracts, and both will be costly to bring back on extensions. Considering their success under first-year head coach Brian Daboll, it would be wise for the pair of first-rounders to remain in a system that allowed them to shine in 2022. 
The Cincinnati Bengals and Seattle Seahawks also look poised to invest significant financial resources on Joe Burrow and Geno Smith, respectively, which means they won't have a ton of wriggle room. And with the Baltimore Ravens backed into a corner by Lamar Jackson, their current cap number of $21.8 million will take a huge hit in short order. 
How does the 2023 NFL free agency class compare to 2022's?
Ironically, several teams that flexed their spending power during the 2022 offseason didn't get what they expected.
The Buffalo Bills signed Von Miller to a six-year, $120 million deal with more than $51 guaranteed and watched him suffer an ACL tear in December. The Chargers got next to nothing out of J.C. Jackson, who took his talents from New England to Los Angeles on a five-year, $82.5 million contract. 
Fellow former Patriot Chandler Jones also failed to deliver in his first year with his third NFL team. After signing a three-year, $51 million deal with the Raiders, the decorated pass-rusher only recorded 4.5 sacks in 15 games. 
The 2022 free-agent class did have some success stories, though. Christian Kirk provided a much-needed playmaking presence for the Jacksonville Jaguars. Bobby Wagner brought his usual level of All-Pro play to the Los Angeles Rams. And Haason Reddick wreaked havoc opposite Josh Sweat for the NFC champion Philadelphia Eagles. 
While the franchise-tag deadline will impact who's available to sign, there are some notable names to watch at key positions. 
Does your team need an offensive tackle? Depending on how the Kansas City Chiefs handle Orlando Brown Jr.'s impending free agency, he could be a target for contenders looking for an upgrade. Mike McGlinchey may be a solid fallback option. And with the Tennessee Titans releasing longtime starter Taylor Lewan, at least one Pro Bowler is already on the market. 
On the other side of the line of scrimmage, several established veterans look poised to find new homes, including Fletcher Cox, Javon Hargrave, and Yannick Ngakoue. Plus, cornerback James Bradberry, defensive back Chauncey Gardner-Johnson, linebacker Lavonte David, and safety Jordan Poyer could have suitors lining up to secure their services. 
Ultimately, banking on players from other teams to fit in seamlessly in a new environment is a risky proposition that can backfire.
Just ask the 2011 "Dream Team" Eagles how that story ended.