Muhammad Ali Jr. Says His Father Would Have Supported Donald Trump and Hated Black Lives Matter
If one were to take a poll about President Donald Trump and Black Lives Matter, obviously two very popular yet divisive topics, and ask people what stance the late, great Muhammad Ali might take on them, it's a decent bet that most would say that he'd be highly supportive of Black Lives Matter while being somewhat critical of Trump, wouldn't you think? Well, according to Ali's only biological son, Muhammad Ali Jr., anyone thinking that would be wrong.
Muhammad Ali lost three years of his career for refusing induction into the U.S. Army
Nearly half a century before Colin Kaepernick took a knee to protest social injustice, Muhammad Ali took a stance of his own by refusing induction into the U.S. Army in 1967 citing his religious beliefs and his opposition to the Vietnam War, Ali, like Kaepernick, was originally vilified for his decision.
When notified that he'd become eligible for the fact, Ali made no secret of the fact that he would refuse to serve in the military if drafted, famously saying that he had "no quarrel with them Viet Cong."
Ali simply couldn't understand why he would be asked to fight for a country in which Blacks were still being treated as second-class citizens. Upon refusing induction, Ali was immediately arrested and was stripped of the heavyweight title on the same day. In what should have been the prime years of his career, he was banned from boxing for three years. On June 20, 1967, he was convicted of draft evasion and sentenced to five years in prison, a conviction that was overturned just over four years later by the U.S. Supreme Court.
Between his conviction and the Supreme Court ruling, Ali continued his fight for civil rights. He became a public speaker, appearing at numerous universities, and became an inspiration to millions, especially when public opinion of the Vietnam War began to shift. He was labeled a hero for sacrificing what likely would have been millions of dollars to stand up for his beliefs and was honored with the Martin Luther King Award in 1970.
Muhammad Ali Jr. says his father would not have supported Black Lives Matter
Despite the fact that Muhammad Ali continued to fight for decades following his return to the ring, his only biological son, Muhammad Ali Jr., says that his famous father would not have supported Black Lives Matter. Born in 1972, Ali Jr. and his father had a rocky relationship following Muhammad Ali's marriage to his fourth and final wife, Lonnie Williams, in 1986 and the two barely spoke in the final decade of Ali's life.
Despite that fact, Muhammad Ali Jr. recently spoke to the New York Post and discussed how his father would have felt about Black Lives Matter. Ali Jr. called the BLM movement "racist," referred to the protesters as "devils" and says his father would have felt the same way, especially against those who turned to violence following the death of George Floyd.
"My father would have said, 'They ain't nothing but devils.' My father said, 'All lives matter.' I don't think he'd agree.

"It's not just Black lives matter, white lives matter, Chinese lives matter, all lives matter, everybody's life matters. God loves everyone — he never singled anyone out. Killing is wrong no matter who it is."

Muhammad Ali Jr.
But he quickly changed his stance on killing when discussing Antifa.
"They're no different from Muslim terrorists. They should all get what they deserve. They're f—ing up businesses, beating up innocent people in the neighborhood, smashing up police stations and shops. They're terrorists — they're terrorizing the community. I agree with the peaceful protests, but the Antifa, they need to kill everyone in that thing.

"Black Lives Matter is not a peaceful protest. Antifa never wanted it peaceful. I would take them all out."

Muhammad Ali Jr.
Ali Jr. then went on to say that his father would have supported Donald Trump's presidency if he were alive today.
Ali Jr. says his father would have supported Donald Trump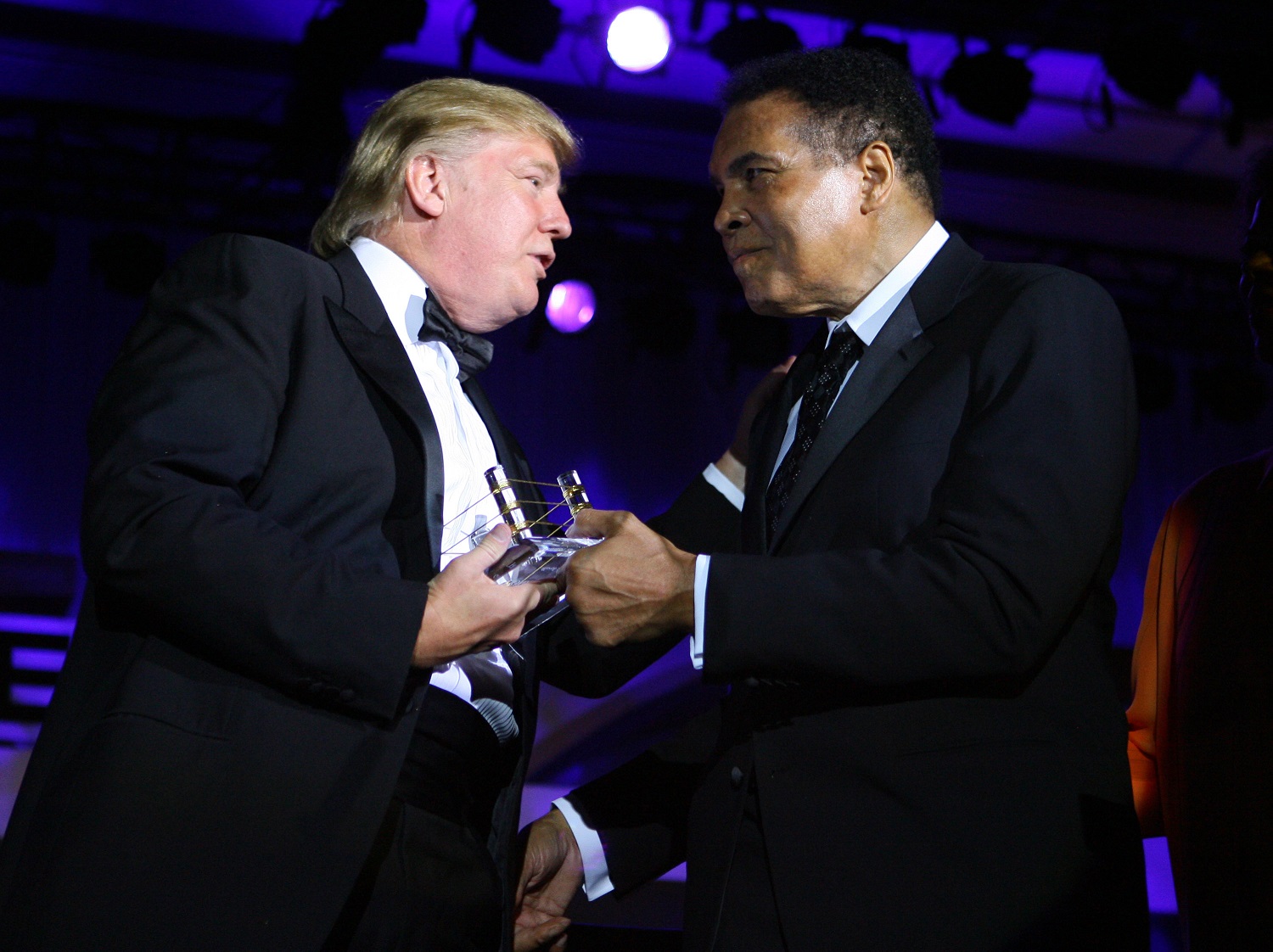 Muhammad Ali seemed to have no real party affiliation when it came to his personal politics. He endorsed Democrat Jimmy Carter in the late 1970s but also endorsed Ronald Reagan in his re-election campaign in the mid-1980s. But Muhammad Ali Jr. says that if his father were alive today, he would fully support Donald Trump.
"I think Trump's a good president. My father would have supported him. Trump's not a racist, he's for all the people. Democrats are the ones who are racist and not for everybody.

"These [Democrat politicians] saying Black Lives Matter, who the hell are you to say that? You're not even Black.

"Democrats don't give a s–t about anybody. Hillary Clinton doesn't give a s–t; she's trying not to get locked up.

"Trump is much better than Clinton and Obama. … The only one to do what he said he would do is Donald Trump."

Muhammad Ali Jr.
Muhammad Ali died from septic shock at the age of 74 on June 2, 2016, just over five months before Donald Trump was elected to the White House.