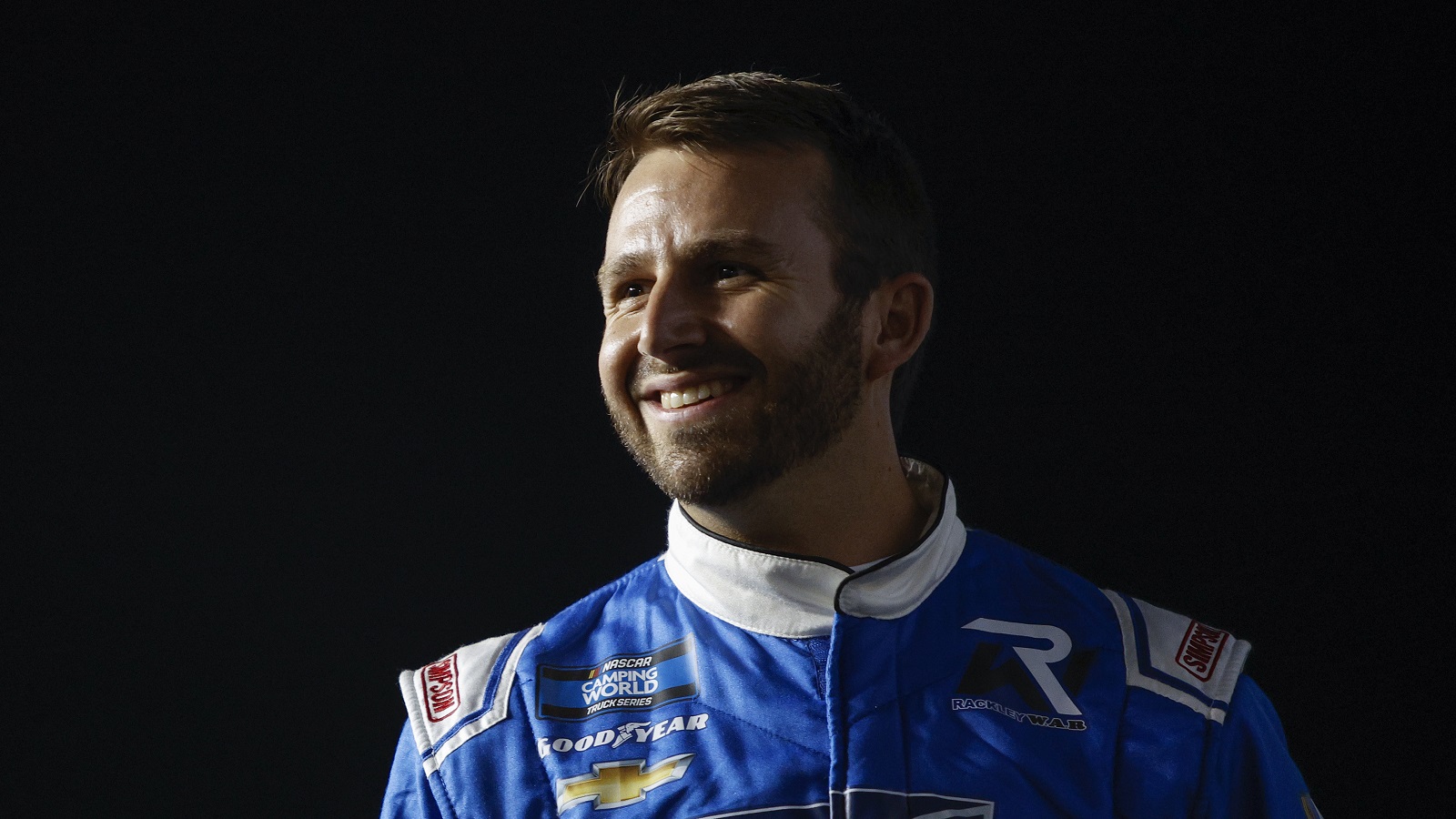 NASCAR 3-Wide Notebook: Matt DiBenedetto Summed up His Season by Getting Stuck to Another Truck at Bristol
Matt DiBenedetto's struggles in the NASCAR Camping World Truck Series continued Saturday at Bristol.
NASCAR veteran Matt DiBenedetto began the season with solid showings, but he's stuck in neutral now. He presumably bottomed out Saturday night on the dirt at Bristol, where he literally found himself stuck to another truck on his way to 35th place.
Life in NASCAR's third-tier series is proving as frustrating as most of the 30-year-old Californian's time in the Cup Series.
Turn 1: Matt DiBenedetto stuck to another truck at Bristol
Matt DiBenedetto lost his Cup Series ride in the offseason after seven seasons in the top NASCAR circuit. He went winless in 248 starts but scored 31 top-10 finishes and was perpetually in that zone between too promising to let go and too unaccomplished to keep until Wood Brothers cut him loose after two seasons.
With options limited, DiBenedetto signed on with Rackley-WAR in the Camping World Truck Series and got off to a decent start in the No. 25 Chevy by finishing 10th at Daytona and sixth in Las Vegas. Since then, unfortunately, it's been nothing but disappointment with three of his last four outings ending in 30th place or worst.
Saturday's Bristol dirt race pretty much summed up his season. With 50 laps left, Austin Wayne Self's Chevy made seemingly harmless contact with DiBenedetto while running in the top-10. The rear bumper of DiBenedetto's truck and the front bumper on Self's truck became attached, and the pair had to roll to a stop.
Safety vehicles rode to the scene, and a tow truck tried ramming DiBenedetto's Chevy to dislodge it. Both drivers lost multiple laps on the half-mile track, and Matty D's ride took a beating in the process of finishing next-to-last.
Turn 2: Ben Rhodes extends his lead
Defending champion Ben Rhodes is separating himself from the Camping World Truck Series pack following his first victory of the season Saturday night. Shortly after the restart on Lap 146 of the scheduled 150, Rhodes knifed his way past Carson Hocevar and John Hunter Nemechek to take the lead.
Rhodes missed his pit stop after winning the opening stage. Pitting on Lap 90 after winning the second stage resulted in Rhodes dropping to 13th for the restart.
Rhodes leads Chandler Smith, 265-227, at the top of the points list through six races. Stewart Friesen (214) and Zane Smith (211), already a double-winner this season, round out the top four.
Turn 3: Can Elon Musk answer Ricky Stenhouse Jr.'s question?
With Twitter in the news these days thanks to Elon Musk's takeover bid, The Athletic talked to some drivers about social media. Specifically, the discussion focused on the abuse that prominent figures like Bubba Wallace endure.
"Bubba sees the most amount of hate," Corey LaJoie said. "Anytime I'm tagged in a tweet with Bubba, I'm like … 'What?' There are some really lonely, sad people who want to comment and say the things they do to Bubba. It makes me sad to see it."
Ricky Stenhouse Jr. doesn't take nearly the battering that Wallace faces, but tweeters do light him up from time to time, throwing the "Wrecky Spinhouse" insult and a bunch more at him. Stenhouse said he's replied to critics in the past but had a moment of clarity and realized his time is better spent interacting with actual fans.
"Most of the time when I look at those people who send out hate, they follow you," Stenhouse said. "It's like, 'Why follow?' I appreciate the follow, I guess — I mean, the more followers you have, the more money you can make, right? So, I appreciate it, but it's just really comical to me how frustrated they get."
Turn 4: North Wilkesboro Speedway back in business
North Wilkesboro Speedway will be back in business shortly. Speedway Motorsports announced the mid-summer return of racing on the .625-mile track. The asphalt will be torn out to set the stage for some racing on dirt in the fall. The owners will then put down new asphalt for next season with an eye toward potentially hosting the Camping World Truck Series in 2024.
NASCAR made its debut there in 1949 and last raced at North Wilkesboro, about 80 miles north of Charlotte, North Carolina, in 1996 as Jeff Gordon put on a dominating show in holding off Dale Jarrett and Dale Earnhardt in the Tyson Holly Farms 400. Mark Martin won the truck race there that same weekend.
Richard Petty won 15 times from 1962-81 at the track, which hosted 93 Cup Series races in all.
Like Sportscasting on Facebook. Follow us on Twitter @sportscasting19.