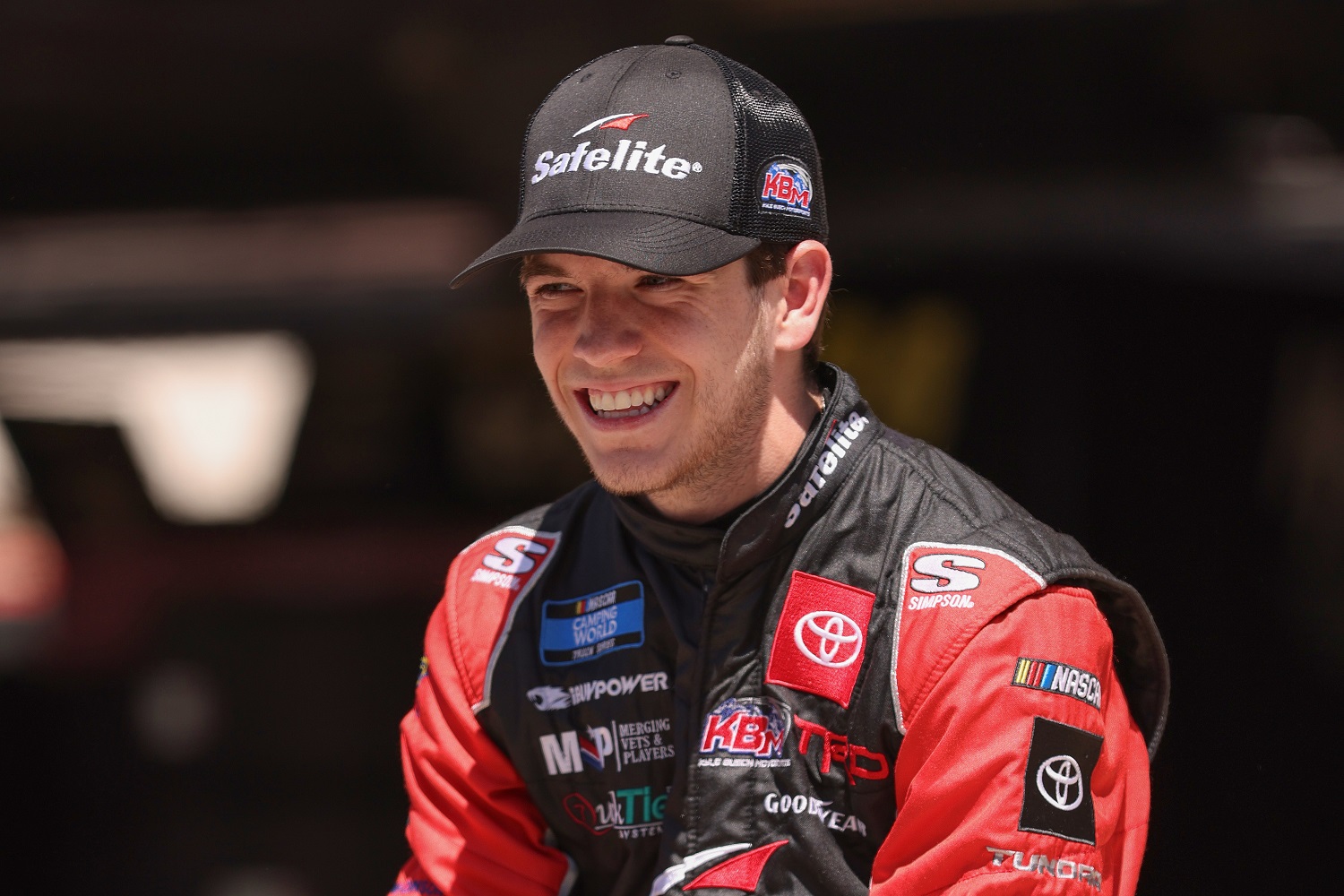 Start Paying Attention to Chandler Smith Because an Ambitious Xfinity Team Just Did
Chandler Smith, who has won three truck series races since last last season, has earned his shot at driving a NASCAR Xfinity Series car.
He already has a full-time job, but up-and-coming NASCAR driver Chandler Smith is preparing to moonlight. And based on how much he improved in the Camping World Truck Series over the second half of last season, the guy could be closer to a Cup Series career than anyone imagines.
The upcoming three-race audition in the Xfinity Series is a huge opportunity for Smith.
Sam Hunt Racing is giving Chandler Smith his Xfinity Series opportunity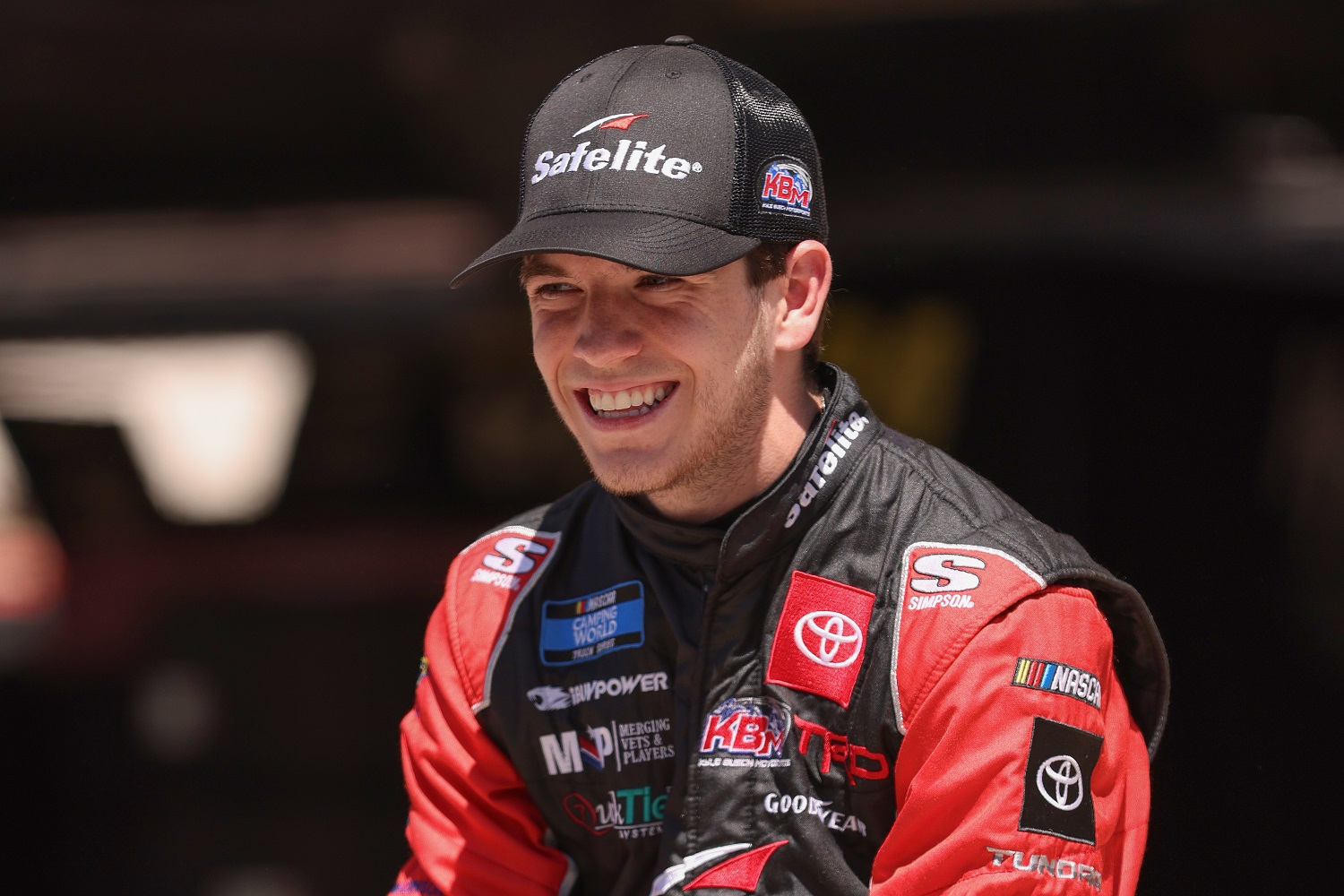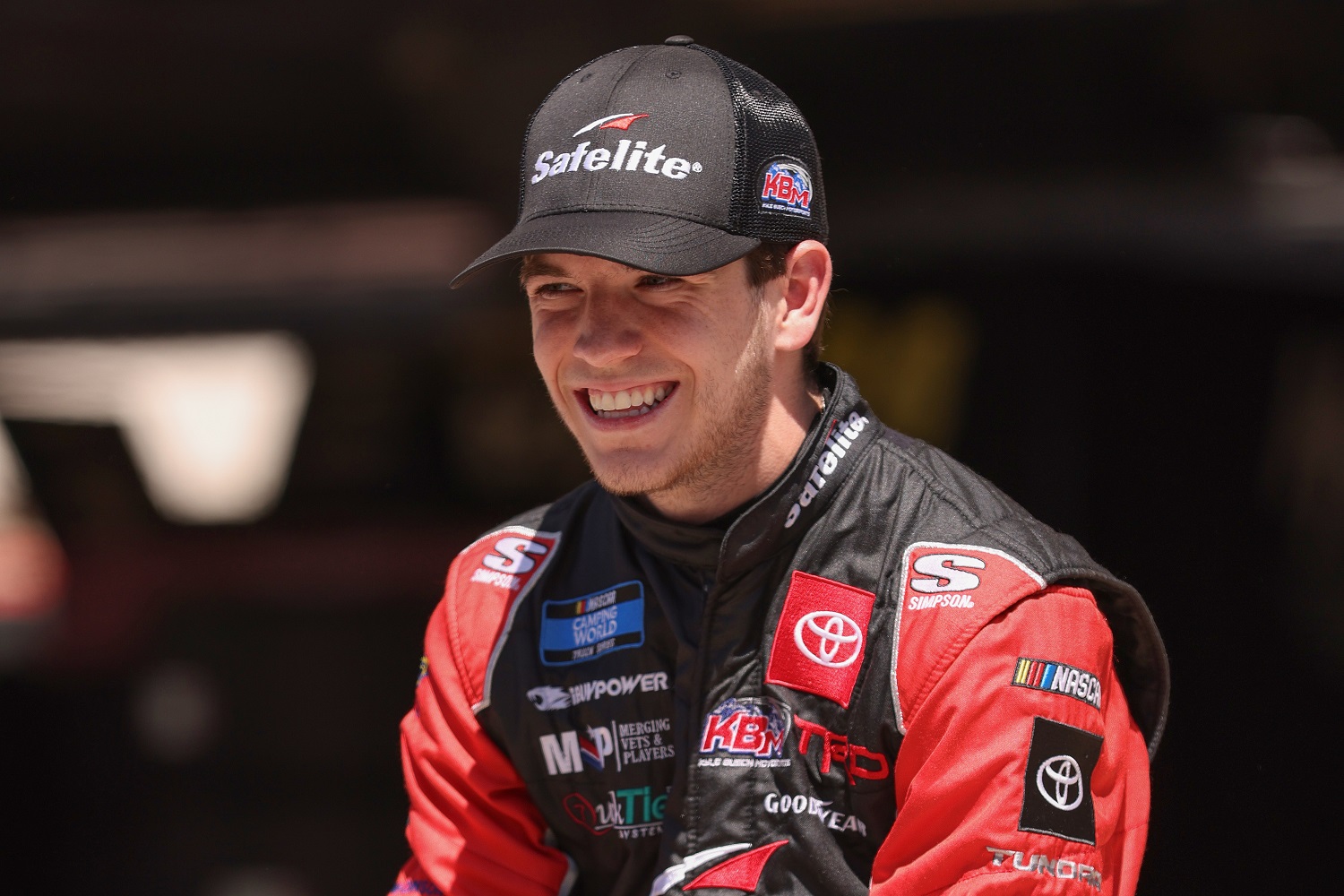 Chandler Smith will debut in the NASCAR Xfinity Series on April 23 at Talladega Superspeedway, the Sam Hunt Racing team announced Thursday. The opportunity is the start of a three-race deal that includes appearances at Dover Motor Speedway and Homestead-Miami Speedway.
It's a nice step up for the 19-year-old from Talking Rock, Georgia.
"It's definitely going to be exciting," Smith said in the team's announcement. "The experience just being able to come up and do a longer race and have more pit stops with a different car instead of a truck is going to be all in all a lot different than what I'm accustomed to.
"I'm really looking forward to the challenge."
Everything we've seen thus far from Smith suggests he's up for the challenge.
Chandler Smith made strides last season in the truck series
Chandler Smith was still 10 days short of his 17th birthday when he made his NASCAR truck series debut in 2019, and he left quite the impression. He finished in the top 10 in all four appearances that season, then ran a partial schedule the following year with five more results in the top 10.
Kyle Busch Motorsports put Smith in the No. 18 Toyota truck for a full season in 2021, and he showed potential with five top-10 efforts in his first 16 races. But it was his performance down the homestretch of the season that turned heads as Smith pulled off a solid playoff run after qualifying on points.
He finished seventh at Darlington and then won at Bristol to coast into the final eight. Wrecking at Las Vegas and then finishing 19th at Talladega all but ended his shot at the Championship 4, but Smith ended his season on a high note. Though Ben Rhodes earned the championship by finishing third at Phoenix, it was Smith who took the checkered flag that day.
The Xfinity Series opportunity is a good one
Sam Hunt Racing is a latecomer to the Xfinity Series, having fielded its first car in the final race of the 2019 season. The team operates the Nos. 24 and 26 Toyotas, but it hasn't gone with full-time drivers thus far. Instead, it has rotated rides among guys like John Hunter Nemechek, Jeffrey Earnhardt, and Ryan Truex.
There have been no victories yet, but Nemechek finished third at Richmond last season and fifth at Phoenix in 2022, so the No. 26 car that Smith will be driving has some juice to it.
Smith is second in truck series points, riding a string of four straight top-10 results that began with a win at Las Vegas. If he shows some proficiency in the Xfinity car, it's likely Sam Hunt Racing can find him more rides this year and next.
"It's big for me to join Sam's team," Smith said. "(SHR) is still kind of a smaller team. They are still learning a lot and in their baby years, and I feel like I may have a little bit to bring to the table myself to help them excel and to bring a new aspect to the team.
"Hopefully I can be an asset and help a little bit with their development and growth. I can't wait to be a small part of this team's huge success as it continues to grow."
If he succeeds in that mission, he might just earn an invitation to take a Cup Series car out for a Sunday spin by 2024.
All stats courtesy of Racing Reference.
RELATED: Joe Gibbs' First Cup Series Driver Into His Extra Xfinity Car Is Bubba Wallace Instead of 1 of His Own Stars